Some California desert cities hope to attract tourism by painting their history on walls. It's a form of public art that has less to do with the mural traditions of Los Angeles -- rather, it comes from the north.
The blueprint for what I call the rural mural movement, and a "direct pedigree" to the murals in Central California, began with the Chemainus Mural Project in Vancouver Island, B.C., Canada. By painting well-crafted monumental works that focus on local history, the Canadian mural program is credited a factor in its economic recovery of Chemainus.
Karl Schutz authored the Chemainus movement, and has gone global with others following his teachings on how to seek walls, local stories, and funding for "first-class" artists to create a "Wow factor." When his Chemainus Mural Project was featured in a 1994 Smithsonian exhibition, the article was brought to the meeting of Twentynine Palms merchants, who were looking for ways to restore their own town.
Known as the gateway to Joshua Tree National Park, and home to the Marine Corps Air Ground Combat Center, Twentynine Palms recently got attention when the late Huell Howser's "dream house" went on the market.
Howser was part of a few unveiling ceremonies for the Twentynine Palms mural program, and in 1996 Howser's "Visiting" series documented the scene which, at that time, had eight completed works. The largest crowds for a mural debut have been for the ones welcoming or honoring soldiers from the local base.
"Twentynine Palms' [program] really had no shortcomings," said Schutz. "They did it by the book and, in some cases -- unveiling ceremonies [for example] -- better than Chemainus."
Murals number over 20, and the governing non-profit, The Action Council for 29 Palms, plan to mark the 20th Anniversary of their first mural, which was unceremoniously lost by development for a project that didn't get off the ground.
Unveiled on November 19, 1994, that first mural, "In Memorium," told the story of early homesteader Bill Keys, and its loss taught the town to make sure that anyone promising to open up a store, and need to demolish a building, are aware of importance of these murals to locals.
Over a cup of morning coffee, one Twentynine Palms mural program founder, Larry Briggs, quietly shook his head thinking of that lost piece, but perked up when he was asked if there were ideas in place for new works. Ray Kinsman, who helped pioneer the program, said they "learned a lot about east and west facing walls." Next to him was Wayne Winiecki, an artist who has helped keep the murals maintained with an energetic non-stop desert spirit.
Of course, sometimes it seems getting a mural up is the easy part. Now funding has to be sought to keep the current portfolio vivid, and to restore lighting on the walls so they work as nighttime markers for those traveling through town.
The town's murals, which include paintings by veterans Richard Wyatt, Art Mortimer, and John Pugh, are strong in craft, and conservative, as can be expected for a military town. Many of the early pieces were ritualistic on history of civic leaders. That may be of interest to travelers who explore region's history, but followers of murals in its contemporary form of street art may leave disappointed.
Meetings were being planned to discuss if new styles of murals should be sought after, according to Cynthia Truitt, Executive Director of Twentynine Palms Chamber of Commerce. As she said that, tourists from Vancouver Island, near Chemainus, walked in the chamber lobby looking for information on the murals.
What did they expect to be about, I asked. "Well, I think the [purpose of the] murals, that is to tell the story, the history of the town," said Eleanor Zimmerschied, in a playfully terse German accent.
These visitors will enjoy Tim O'Connor's 1997 mural about Johnnie Hastie, the town's first source of public transportation, with his first bus made from a used 1928 Chevrolet truck. Or Richard Wyatt's 1996 piece on Bill and Elizabeth Crozier Campbell, who became homesteaders, and found artifacts that made their way to the Southwest Museum of Los Angeles.
How does she feel about contemporary street art? "Those modern ones? I'm not really for that," she said. "It just doesn't fit in."
On the main road that leads to a Marine Base, the next mural could be about a late resident who was a former marine -- Huell Howser -- and be created by Kent Twitchell, who is also a veteran. In a town that got a boost by storytellers, that would fit right in.
A desert landscape, with colorfully illuminated pre-dawn sky, is part of a panorama of three stages of sunrise at three historical Easter sunrise services, from the 1930s to present. The 14-foot by 140-foot mural was designed and painted by artist Richard Wyatt, one of two murals by the Los Angeles artist. "Sun Rises" is on the north facing wall of the Little Church of the Desert (6079 Adobe Road) Dedicated on April 7, 2001.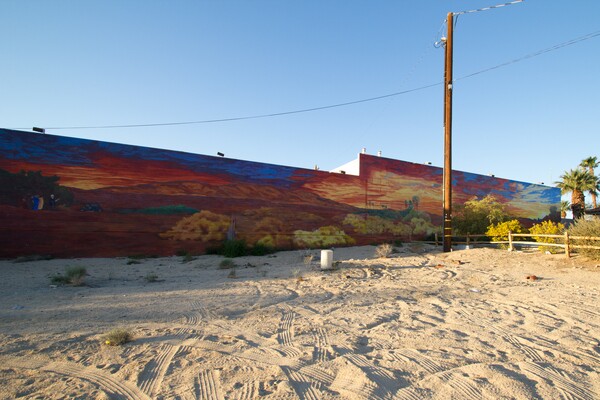 "Valentine's Day" by John Pugh is a trompe l'oeil mural story about an artist who fell asleep while painting a mural. "As the artist dreams about his subject, Cattle Days in Hidden Valley, in what is now Joshua Tree National Park, a rodeo bull named Valentine is metamorphosed into reality next to the scaffolding." When dedicated on October 25, 2000, some were wondering when it would be completed. It's become one of the most photographed murals in town, said Larry Briggs.
"The Flying Constable" by Jack Cones is the "beloved lawman" from 1932 to 1960 who watched over his 2,800-square-mile beat in a Piper J-3 Cub. Muralist Tim O'Connor of Twentynine Palms learned of the constable after hearing stories of Cones while taking flying lessons at nearby Cones Field in the early 1970s. It was dedicated on January 27, 1996.
Artist Makoto Hashigami of Tokyo, Japan, makes annual visits to Twentynine Palms and joined the mural program with "The Spirit of Mara," a reflection of the Mara Oasis as the life-giving grounds that once extended a mile along the southern rim of Twentynine Palms. The mural is on a bungalow of the Twentynine Palms Inn, a historic spot that sits near the last pond. Both inn and pond are local landmarks. The mural was dedicated on May 9, 2008.
"Grococcyx californianus" is the 60 by 15 foot mural of a desert roadrunner with a baby lizard in its mouth that greets you as you enter Twentynine Palms from the west. Painted by local artist Chuck Caplinger, it replaced a piece by Action29 that suffered some damage. This was commissioned by the operators of the Smoketree Building, and while the style is different, it has its own "wow" factor. The other side has a mature lizard, which so far has avoided being on a roadrunner's menu.
Los Angeles artist Art Mortimer and a group of volunteers spent a weekend in April 2013 painting "Keys' Desert Queen Ranch." The artist took the week to lay the design and mix colors. Volunteers came on Saturday and Sunday, and a few passing through town stayed on, to help paint the mural, an homage to a previous mural about Key's Desert Queen Ranch.
Photos of Keys Ranch courtesy of Art Mortimer. Other photos by Ed Fuentes.