It's been made clear how Kent Twitchell's works are important to the Los Angeles mural landscape, but not many know of his masterpiece quietly marking the stage left and stage right walls of an inland Southern California historic theater.
Those two images of Will Rogers also mark the site of the cowboy humorist's last public performance.
The project began when the muralist was brought in to create another of his cultural "monuments" on the back wall of the California Theatre of the Performing Arts in 1997, an historic edifice that rivals Downtown Los Angeles movie palaces. "I did some research and decided to propose either Wyatt Earp, who settled in the area, or Will Rogers," said Twitchell earlier this year when I asked him how he ended up with works in San Bernardino.
When he learned Rogers' last performance was in that theatre, Twitchell decided to focus on him and spent a week as a guest in the home of Joe Carter, the director of the Will Rogers Museum, in Claremore, Oklahoma. "He showed me absolutely everything there was to see and gave me free reign," said the artist.
The first design was a full profile of Rogers in cowboy gear, which according to Twitchell was scrapped at the last moment when plans to develop a complex next door moved forward, eventually blocking the perfect wall canvas. So the artist revisited the concept and decided to paint Rogers from the waist-up on the building's east and west facing exteriors, using the 1928 theater's towering flyspace.
It turns out, the two images make an interesting installation by showing two sides of Rogers' career.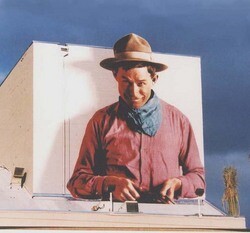 Based on archival photos from the Will Rogers Museum, the rope-in-hand cowboy persona speaks about Roger's vaudevillian roots. Completed in 1998, it faces the east (stage left) as if he is looking toward his home state, Oklahoma, and further east where he became a major box office draw on Broadway.
An image of Rogers as statesman, completed in 1999, is based on a shot from his radio days and resides on the west wall (stage left) facing Los Angeles and Hollywood -- where he became a multi-media figure. Twitchell notes that he was the number one box office draw for 20th Century Fox, and was able to make an easy transition from silent films to sound, all while he entertained on radio airwaves.
That, plus his writings, made Rogers a leading voice in the national literary scene as a journalistic political pundit. "I belong to no organized party. I am a Democrat," Rogers has been quoted as saying, along with "There's no trick to being a humorist when you have the whole government working for you."
As a poetic site-specific detail, The California Theatre sits near Route 66, the mother road also known as "Will Rogers Highway" -- a fact not lost on Twitchell, who mixes his mid-western roots with realism. "I am a regionalist and folk artist at heart," he said. "I have been accepted by the elite, so I am in that word, but not of that world."
The two murals, titled "Will Rogers Monument," were recently profiled in the San Bernardino Sun, which reports that Rogers made several appearances in the inland region, including an "all Oklahomans" picnic prior to his performances at the California Theatre. They detail the last performance by Rogers at the theater as June 28, 1935. Rogers and his friend, renowned aviator Wiley Post, died six weeks later when their plane crashed in Alaska.
"Will Rogers Moument" is part of Twitchell's series that serve as cultural markers. The artist would still like to find the right place for a mural that will portray Wyatt Earp.
That would be another addition to his realism portfolio that began after serving as an Air Force illustrator from 1962 through 1965. During that time, he admired European sculpture while stationed aboard. "My earliest plans were for sculpture pieces in places where they were not expected, but I had painted pictorial signs," recalls Twitchell, jokingly referring to this early work he did as a teenager in Michigan in the 1950s as "commercial realism." After the service, Twitchell studied art at East Los Angeles College (AA, 1968), California State University, Los Angeles (BA, 1972), and the Otis College of Art and Design (MFA, 1977).
"My first exterior stuff was actually psychedelic colors and patterns on the walls in front of my yard in 1968," he said, before quickly moving on to landmark works with "Steve McQueen" and "Strother Martin" in 1971. His "next major thing after Martin" was in 1973 with the 70-foot high groom at Second and Broadway, he said. "'The Freeway Lady' was 1974, then I went back to paint the bride."
"Bride and Groom," on the side of the Victor Clothing Company on Broadway between Second and Third Streets, shares the wall with "El Nuevo Fuego" by East Los Streetscapers; the opposite wall holds "Nino y Caballo" by Frank Romero, and "Pope Of Broadway" by Eloy Torrez.
Twichell of course, is a Los Angeles Chamber Orchestra collaborator with "Harbor Freeway Overture" (and its pianos) and was recently honored as one of the legends of street art at "Urban Legends," an exhibition that featured a detail of a un-produced Micheal Jackson mural. The busy artist is currently working on restoring and adding to the 1942 Helen Lundenberg murals inside Bob Hope Patriotic Hall, and overseeing restorations on a number of previous works in the Los Angeles region.
Even with all that, it can be argued that Twichell was introduced to new generation of muralists and street artists when his Ed Ruscha project at S. Hill Street and Olympic Blvd -- begun in 1978 and completed in 1987 -- was painted over in 2006 by a contractor hired to work on a federal-owned building. It was settled in 2008 for $1.1 Million after Twitchell filed suit against the U.S Government and 12 other defendants, upholding the federal Visual Artists Rights Act and the California Art Preservation Act. The settlement is considered a landmark moment in artist's rights by the public art world.
And you know if he was around, Will Rogers would have had something to say about that.