Valhalla Memorial Park and Portal of the Folded Wings: The Criminal Beginnings of a Burbank Burial Ground
It is flat. The ground is flat, the headstones are flat to the level ground, and the mausoleums are long and low. In many ways, Valhalla Memorial Park feels more like a 1960s industrial park or a community college than a cemetery. Neighboring Bob Hope Airport is visible over the uninspired brick wall, and planes soar above with clockwork regularity. There are some lovely shading trees, and a large, ornate fountain, which reminds me of the grey-peach grandeur of Paris. The spell is broken when I notice a 99 Cent Store bag and a bunch of Cheetos floating in the murky water.
On the Sunday afternoon of my visit, the cemetery is sparsely populated by Latino families. They sit around particular graves in lawn chairs, picnicking and visiting, while their children run around throwing footballs and kicking soccer balls. Many of the graves have been decorated for Halloween, and splashes of orange and silver brighten the brown-green expanse. I walk down a long, straight, tree-lined road toward the incongruous Portal of the Folded Wings, a massive Mission Revival structure of dingy looking marble, situated on the edge of the yard. In front of it is a mid-sized replica of the doomed Columbia Space Shuttle, dedicated to the astronauts who perished within.
Inside the towering Portal of the Folded Wings are pine needle covered brass plaques commemorating or marking the resting place of over fifty of the brave pioneers of aviation. Two black crows perch near the top of the painted rotunda. A faded sign tells me that an aviation exhibit, purportedly behind one of the locked portal doors, will be open on Sundays from 1 to 3, "if the weather is good." It is 2:30 on the nose, and the weather is standard SoCal perfection.
In Norse mythology Valhalla is the "hall of the slain," an enormous gallery in heaven filled with valiant warriors and gods. Valhalla Memorial Park is now known primarily for the Portal of Folded Wings, dedicated to those daredevils who seemingly did the impossible and soared into the heavens. But the real story of this Valhalla is strictly earthbound, a dirty tale of greed, corruption and remarkable stupidity. It is a tale of highly flawed humans, with no winged gods in sight.
Fraud and Punishment
"You don't get this idea over to enough people. These sections are worth $5000. Whether you believe this or not makes absolutely no difference. Make the prospects believe it." -- John R. Osborne to a Valhalla Salesman 1
It must have seemed like such a sure bet. In March, 1923, a new company called the Osborne-Fitzpatrick Finance Company was incorporated in Los Angeles. C.C. Fitzpatrick was to be president of the corporation, and a young man named John R. Osborne would act as vice-president and treasurer. The new company leased offices 6199-6200 in the Pacific Mutual Building downtown. Using funds raised from investors, they bought 65,000 acres of flat acreage amid the dairy farms and stock yards of rural Burbank. They paid $1000 dollars per acre. The property could only be reached by a long, bad dirt road, and was over an hour and a half away from any of the mortuaries in Los Angeles.
This was an important fact, since Fitzgerald and Osborne planned on building a graveyard they had christened Valhalla Memorial Park on the site. But Fitzgerald, Osborne, and Osborne's wife, Laura, were patently uninterested in facts. Over the next year, they employed hundreds of salesmen to sell these lots, which ranged greatly in size and price, with the promise of a lifelong investment or quick profits when the lots were resold at a higher price. By targeting widows and people with no investment experience, their salesmen were so successful that the company was quickly able to buy an additional 52-acres for an adjacent Mausoleum Park.
One man sold his restaurant to buy six cemetery sections, and many elderly people invested their life savings. They were convinced in part by Osborne and Fitzgerald's claims that they were experienced graveyard managers. Through circulars, a small yellow booklet, and bulletins issued to salespeople, the company conveyed one of their most persuasive arguments. The cemetery was an excellent investment, they claimed, due to L.A.'s rapid expansion, and the fact that "the population of Los Angeles being composed largely of people coming here because of ill health and advanced age, the death rate was inordinately high." 2
Because of this, all available burial ground in Los Angeles would be exhausted in eight years. They also claimed that due to this "great shortage of burial space" and the city's refusal to add any additional cemeteries, bodies were currently being buried one atop another in 3-foot graves instead of the customary six. 3 All this meant that investors could flip their plots in as little as 30 to 90 days for quick and "immense profits," as space became more scarce. One woman was promised a $4000 return on a $650 investment. 4
But Osborne and Fitzpatrick didn't stop there. They sold many plots multiple times, giving identical deeds to unsuspecting investors, most of who paid in monthly installments. When suspicious salesmen questioned the facts they were instructed to spout, they were given the run around or fired. One salesman even went to local undertakers to inquire about the supposed shortage of space and was told there wasn't one. Suspicious investors also began to visit the barren property, which they had been promised was being greatly improved, to witness nothing but a few workmen "wandering around like lost souls, apparently trying to accomplish nothing and succeeding very well." 5
By early 1924, hundreds of the estimated 4000 section buyers in the cemetery had begun to organize. Since the promised flipping never materialized, many of the investors were going broke and falling behind on their monthly payments. Meetings of over 1000 people were held in local halls, and a committee was formed. A letter charging fraud was sent to local Real Estate Commissioner Keiser, who opened an investigation into the park and went to inspect the property. At a packed hearing called by the commissioner, Osborne admitted he had no previous experience in the management of graveyards, and that his misleading lectures to salesmen were meant to be "inspirational only." 6 A subsequent hearing descended into violence when a former sales manager at the company punched an attorney, who claimed that he had "trimmed" an elderly lady out of her life savings. "I've never trimmed anybody in my life!" he shouted. 7
Finding gross fraud, including the fact that there was room in Los Angeles and nearby cemeteries for over one million burials, Keiser recommended the case to the DA. Individual investors also began to sue the company. In June, 1924, the federal government opened an investigation into the goings on at Valhalla, where Fitzpatrick and Osborne were believed to have netted between three and four million dollars. Amazingly, they retained control of the cemetery, and that same month began construction of a large ornamental gateway. The 78 foot tall portal was designed by local architect, Kenneth McDonald, in the Spanish Mission Revival style. The statues and decorative moldings were created by sculptor Federico A. Giorgi, who had created the massive Babylonian elephants and lions for the film "Intolerance." The portal would end up costing over $140,000 to build. Finally, in December, 1924, the federal government charged Osborne, Fitzpatrick and four others of using the mails to defraud, in connection with the promotion of the project.
On a brilliant Sunday afternoon on March 1, 1925, the gateway was dedicated and a concert was held for the public at Valhalla, where burials had already begun. In July, the trial of Osborne, Fitzpatrick, and two others began in the courtroom of Federal Judge McCormick. Countless witnesses for the prosecution testified, including three people who exhibited their deeds to the same plot of land. Then there were the investors who had discovered that the land they had bought was actually in the artificial lake, outside the cemetery walls, or underneath the mammoth new gateway. Not surprisingly, Osborne and Fitzpatrick were found guilty of ten charges by an all-male jury. On August 15, 1925, the pair were reported to be "visibly staggered" when they were sentenced to ten years and ten days in a federal penitentiary. 8
The Duke, the Football Star and the Bookie
"I never worked harder on anything in my life than I did in that case. I was actuated by my sympathy for the boy [John R. Osborne] and his parents, because I had known them for a long time and because I believed that the boy had been dominated by another party." -- Attorney Clara Shortridge Foltz, on why she filed for a pardon for John R. Osborne 9
He said President Coolidge was touched by his efforts, and promised to reduce the sentence from ten to two years. -- Los Angeles Times, July 27,1929 10
The duo immediately filed a series of appeals, which left them free on bail, and with much of their ill-gotten fortunes still in-tact. It is here that Fitzpatrick temporarily slips out of our story, and the gullible Osborne family takes center stage. While awaiting the outcome of his appeals, John R. Osborne, now referred to in the papers as the "millionaire promoter of Valhalla Memorial Park," 11 hired a "dapper automobile salesman" named Jack Gordon as a valet and travelling companion. 12 In November, 1925, the pair was staying at the Maryland Hotel in Pasadena when Osborne went to the bathroom to shave. When he returned, he found that $103,000 in liberty bonds, $800 in cash, and his valet had all vanished. Osborne went into hiding, perhaps fearful of creditors or Gordon's wrath, and phoned the police to report the robbery.
It was soon revealed that Gordon was not simply a man-about-town, but a most-wanted-in-several states Chicago gunman and professional crook, whose real name was Harold J. Whittaker. Whittaker, who had numerous aliases, including "the Duke," was arrested in Cleveland in January of 1926. It was believed that with the help of his girlfriend, Katherine H. Donovan, he had converted the bonds into cash that he used to buy "fur, cars, and other luxuries striking the fancy of asserted criminals." He was brought back to Los Angeles and put in the new county jail. He escaped three months later.
While Whittaker was on the lam, Osborne and Fitzpatrick's luck ran out. The Supreme Court declined to hear their case. In June 1927, a U.S. Marshall escorted them to the notorious Leavenworth Federal Prison in Kansas to serve their ten year and ten day sentence. It was here that Osborne made the acquaintance of former USC football star George "Rush" Meadows, who was serving time for selling stolen liberty bonds. With his son making new friends in jail, John E. Osborne, the father of John R., took over the management of the Valhalla Memorial Park. He took no salary, and attempted to pay back investors who his son had wronged.
"Duke" Whittaker had escaped clear across the country. He was finally recaptured in November, 1927, after robbing a dance studio. When arrested, he said his name was George Martin, and claimed to know nothing of the jail break in California. But local New York detectives were able to call his bluff, using a police circular that featured his mug-shot and fingerprints.
As Whittaker was going back to prison, Rush, who had been called "Malicious Meadows" during his football glory days, was getting out. He headed home to California, and was soon knocking on Osborne Sr.'s office door. According to Osborne Sr., Meadows initially tried to entice his friend's father into joining him in a Japanese colonization scheme in Mexico. When this didn't work, he broached the subject of getting Osborne Jr.'s sentence commuted or reduced. He claimed to have ties to local prominent attorneys and to officials in Washington. Osborne Sr., his wife, and his daughter-in-law, Laura, eventually paid Meadows over $23,000, which they believed was being paid to attorneys and officials to obtain a pardon or parole. So confident was Meadows in the Osborne's stupidity, he even claimed to have met with President Coolidge in Washington to discuss the matter. On August 17, 1929, he was convicted of 11 counts of grand theft for stealing from the Osborne's, and sent back to prison.
Osborne and Fitzpatrick were released from Leavenworth in 1930. Again, unbelievably, they returned to leadership positions, along with Osborne Sr., at Valhalla Memorial Park, which was now a fully functioning cemetery. Burbank had ceased to be a rural backwater, and was slowly becoming the center of West Coast aviation. An airport, originally called Angeles Mesa Drive Airport (now Bob Hope Airport), opened next to the cemetery in 1928, and folks in the aerospace industry moved to the area. Many of the middle class chose to be buried in the cemetery. The grand Mission Revival gateway had become a popular spot for public concerts and live radio broadcasts.
It seems that the cemetery's stockholders were wary of Osborne and Fitzpatrick's resurgence. In 1931, a complaint was filed by four lot holders, asking for the appointment of a receivership to take over Valhalla Memorial Park. According to stockholders, "assets were being dissipated and there were not sufficient funds to guarantee perpetual care of the lots."(LA Times may 28,1931 petition) In 1932, Osborne filed multiple suits against stockholders for slander. He said they had condemned him to "hatred, contempt and obloquy" in many forums. 13 Rather shortsightedly, Osborne claimed he "had enjoyed a good name and reputation and had a wide circle of business, financial and social friends," before these slanderous allegations.
After this, the story gets even murkier. In September of 1935, Osborne Sr. was called to an unspecified business meeting downtown. Instead of going to the meeting, he killed himself in his garage, with a bullet to the heart. He was buried at Valhalla. Eventually, the Osborne-Fitzpatrick Finance Company was forced by the state to sell Valhalla, and Fitzpatrick disappears from our view.
John R. Osborne seems to have found a new profession, that of bookmaker for "the largest bookie joint west of Chicago." 14 In 1941, he turned state's witness. Under promise of immunity, he told a grand jury about a gambling establishment that corrupt policemen had allowed to operate for more than a year, near Santa Monica Boulevard. and La Brea Avenue. Shifty to the end, he refused to admit to the grand jury that he had been promised immunity, much to the annoyance of the District Attorney.
Same Dog, New Trick
In 1950, the famed Pierce Brothers bought Valhalla Memorial Park. A new entrance off a more convenient thoroughfare, a new administration building, mortuary chapel, and three new mausoleums were to be built as part of a plan for extensive improvements of the grounds. The construction of a new entrance meant that McDonald's massive Spanish Revival portal, the jewel in Valhalla's crown, would no longer serve any purpose. But then a plan was hatched. Aircraft manufacturing giant Lockheed Corporation (now Lockheed-Martin) had come to Burbank in the 1930s and bought the airport, changing its name to Lookheed Air Terminal. Aviation innovation surrounded Valhalla, so it was only natural that the cemetery should get in on the town's main business.
Spearheaded by aviation historian James Gillette, the 1924 gateway was closed to traffic and repurposed as The Portal of the Folded Wings, a shrine to aviation. On December 17, 1953, the new shrine was dedicated, on the 50th anniversary of powered flight. A host of dignitaries attended, including many aviation pioneers like Charles Taylor, who built the original motor for the Wright brothers plane, and Matilde Moissant, the second licensed female pilot in the Unites States. They looked on as the widow of Walter R. Brookins, the first civilian pilot instructor, placed a wreath on a plaque, marking the spot where his ashes had recently been interred. The Burbank Symphony orchestra played, and Lieutenant General Ira Eaker spoke:
Let us dedicate ourselves to the hope than the next half century of flight will see as much progress as the last. -- Los Angeles Times, December 18, 1953 15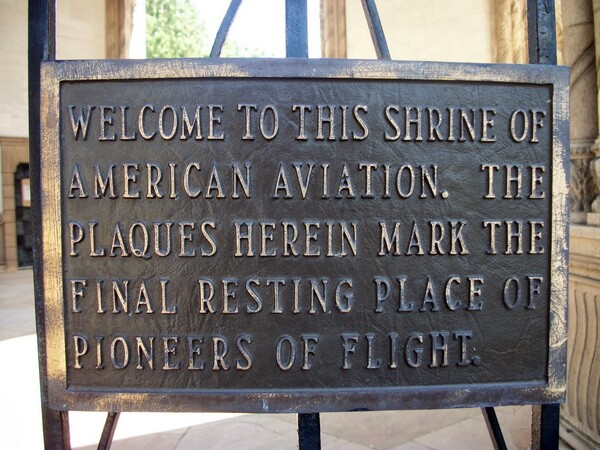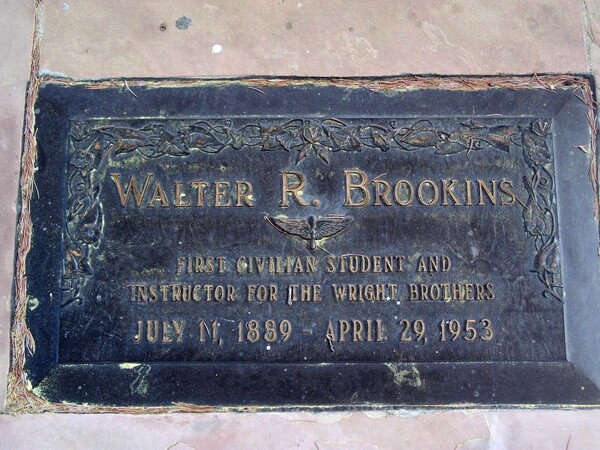 The Portal of the Folded Wings became (and remains) the site of frequent ceremonies and services honoring aviation pioneers, including Taylor and Moissant, who would both be interred there. Plaques were dedicated to Amelia Earhart and Billy Mitchell, considered the father of the Air Force. The burials continued after the Pierce Brothers sold Valhalla in 1958. Other notables buried in the portal include Winfield Bertrum Kinner, Evelyn "Bobbi" Trout, Augustus Roy Knabenshue, James Floyd Smith, Hilda Smith, and Elizabeth Lippincott McQueen.
On July 18, 1969, in an event so ironic it is almost unbelievable, a small twin-Piper Navajo, owned by United Clearing Inc., that had just taken off from Burbank Airport, tragically crashed into the dome of The Portal of the Folded Wings. The pilot and one passenger were killed. Another survived. The crash was blamed on pilot error, and the dome was extensively damaged. It was soon repaired to the tune of $70,000.
The rest of Valhalla continued to be filled with the earthbound citizens of Los Angeles and its surrounding cities. Some non-aviation notables buried there include comedian Oliver Hardy, silent film star Mae Murray, the wrestler Gorgeous George, and the actress Gail Russell. In recent years, the Latino and Armenian population has greatly increased at Valhalla. In 1991, the cemetery was bought by mortuary giant Service Corps International, although it still retains the Pierce Brothers name.
Not surprisingly, there is no mention of Valhalla's scandalous beginnings to be found on the cemetery's official website. The company-sanctioned story of Valhalla is now the tale of The Portal of the Folded Wings. Perhaps it is for the best -- in spite of all their duplicity, Osborne and Fitzpatrick succeeded in building a cemetery more associated with heroes and heroines than with shady plots and dirty deeds.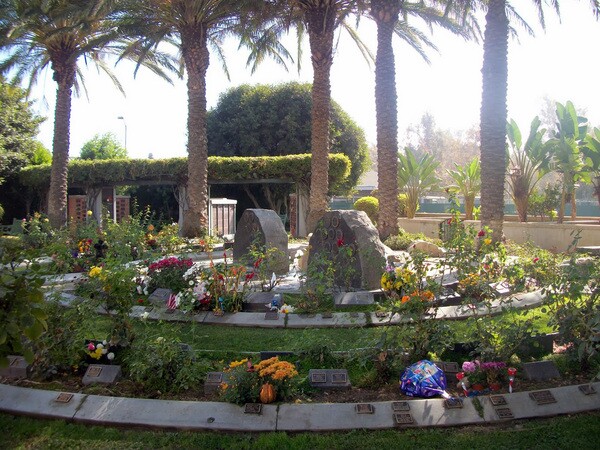 Additional Photos by: Hadley Meares
_____
1 "Salesman on stand in fraud trial" Los Angeles Times, June 18, 1925
2 "Valhalla investor files suit" Los Angeles Times, March 4 1924
3 Ibid.
4 Ibid.
5 "Valhalla park fraud charged" Los Angeles Times,February 9,1924
6 "Financiers quizzed on Valhalla" Los Angeles Times, March 14,1924
7 "First battle in cemetery conference" Los Angeles Times, March 29,1924
8 "Valhalla pair sentenced" Los Angeles Times, August 15, 1925
9 "Witness flays rush meadows" Los Angeles Times, August 10, 1929
10 "Jurors hear Osborne" Los Angeles Times, July 27,1929
11 "Police hear from Osborne" Los Angeles Times, November 22, 1925
12 "Valet seized in Osborne theft" Los Angeles Times, Janurary 29,1926
13 "Cemetery head seeks damages" Los Angeles Times, January 27,1932
14 "Huge betting plant exposed" Los Angeles Times, May 23, 1941
15 "Portal of Folded Wings dedicated in Burbank" Los Angeles Times, December 18, 1953