The deafening roar of the crowd. Colorful flags waving in the air. With June here, these are just a few of the images that will hit our screens during the highly anticipated 2014 FIFA World Cup. The soccer tournament will be one of the highlights of the summer for many in Los Angeles, as people cheer on their team. One of the events hoping to harness the soccer mania is World Cup L.A., a public viewing festival taking place throughout the tournament. The community-based viewing festival will include live broadcasts of the 2014 FIFA World Cup at pop-up events across Los Angeles.
For those itching to watch the game in a communal space, World Cup L.A.'s pop-ups will revolve around TVs placed on streets and stores that face sidewalks, vacant lots, and other public places, so that people can gather to watch the games together. The design of the pop-ups is inspired by images from the last World Cup, where small, spontaneous clusters of people gathered around screens to watch the game.
"What we've noticed is that people will watch the World Cup in any way that they can," said Alex Sasayama, one of the coordinators of World Cup L.A.
One of the motivators for the outdoor festival is the city's growing interest in reclaiming public spaces. For the organizers, popular events like CicLAvia show that Los Angeles residents are interested in getting out of their cars and meeting neighbors in their local community.
"There are a lot of World Cup events being planned in bars and restaurants, but there isn't a whole lot happening outside in public spaces, whether it's parks or squares or on the sidewalk," Sasayama said. "We wanted to take advantage of the World Cup to bring people together."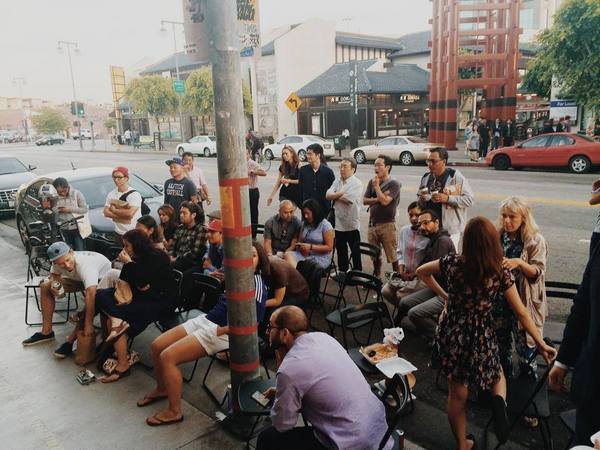 LA-Más, a group of designers, architects and landscape designers focused on community development, is spearheading the project. "Alex had approached us because he knew that we were really interested in the idea of doing temporary projects throughout L.A. to understand how people are using the sidewalk and the street -- how do we activate the streets, how do we engage property owners, how do we make more events in L.A. more local," said Elizabeth Timme, Co-Director of LA-Más.
Organizations such as the Coalition for Responsible Community Development, East L.A. Community Corporation and the Little Tokyo Service Center have also joined in on the efforts as community partners.
"This isn't just a one-off -- we don't people to just watch the World Cup and it's over," Sasayama said. "We want people to contribute to long-term efforts to make healthier, safer neighborhoods where people have opportunities to gather."
The games shown during the pop-ups will feature teams that resonate with particular communities (think a team Japan game screened in Little Tokyo) and also showcase players from other countries besides the U.S. team.
"L.A. is a global city and we want to engage Angelenos from across the world," said Sasayama, whose parents are originally from Japan and Argentina. "I've been excited for the World Cup for so long because it's not just about sports. It's about people and it's something that people from all over the world can share."
The group's first pop-up events were held over the weekend in downtown L.A. and Little Tokyo. Upcoming locations and the viewing schedule will be announced via their website and social media channels. Some of the areas slated to have pop-ups include South Los Angeles and Boyle Heights.
To encourage community participation, World Cup L.A. has also developed a DIY pop-up kit that instructs other people on how to host their own communal viewing party. The budget-friendly kit recommends procuring items like a TV, chairs and tape. The kit will also provide information on how to outreach to friends and family as well as how to set up the pop-up.
"With a little tape you can demarcate -- it's the idea that you can take back the sidewalk and take back the space," Timme said. "The other thing is radio - we have little fun ideas on how to promote collectivity and engagement and one of the things is bringing your radio or downloading a podcast on your phone and putting it on speaker so everyone can listen to the game around you. This is a design that talks to understanding how these neighborhoods can have greater street investment, greater street utilities."
To learn more about World Cup L.A., visit their website, follow their updates on Facebook and Twitter (#WorldCupLA), and learn about their crowdfunding campaign on CrowdRise.