'Cinema Series': 25 Years of Bringing the Community Together Through a Love of Film
"I couldn't even begin to name all the wonderful actors who have been through the doors of the Cinema Series," says Michele Garza, who founded KCET Cinema Series back in 1994.
Let's give the list a start, though. Gwyneth Paltrow stopped by with "Shakespeare in Love." Meryl Streep was a surprise guest for a screening of "August: Osage County." Geena Davis popped in recently with the documentary she produced, "This Changes Everything." On the night following our interview, Renée Zellweger was set to appear in support of "Judy."
Plus, there are the actors who have received KCET Cinema Series' Lumière Award: Shirley MacLaine, Kevin Costner, Dame Judy Dench, Gary Oldman and Sir Ian McKellen.
Al Pacino has visited KCET Cinema Series multiple times. So has Michael Caine.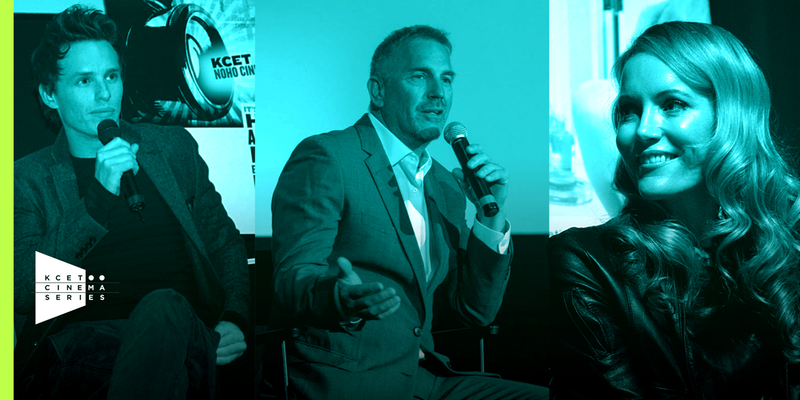 But, it's not just about celebrities.
In 1994, Garza conceived of the KCET Cinema Series as a signature event that would bring together the public television station's audience. The concept: Book films before their theatrical release and bring in a few of the creative minds behind the movies to field questions. It was an event model that didn't exist at the time. "Nobody was doing anything like that at the time," says Garza.
A few more things aligned to help make this series possible. The Television Academy of Arts and Science Theater, which had recently opened in North Hollywood, was a perfect spot to hold the event. Plus, Garza was able to secure a $25,000 grant to get the event off the ground from a then little-known company called Yahoo.
KCET Cinema Series was an immediate success perhaps because the event series provided an early look at the lay of the land in cinema while providing viewers with great insight coming from the filmmakers and on-screen talents themselves. The series grew from one annual series to two. Then, due to demand, they added two more series on the Westside. Now, the summer and fall series are held at Santa Monica's Aero Theatre while the spring and winter series take place at ArcLight Cinemas in Sherman Oaks. This year's fall series, which just concluded, included buzz-generating films like the documentary "Linda Ronstadt: The Sound of My Voice" and biopic "Judy."
The winter series is particularly popular, since it often includes films that will be up for award consideration. That one sells out in less than 45 minutes.
There are members who have been attending KCET Cinema Series since the beginning. Garza notes that 25 years later, KCET Cinema Series is bringing in second, even third, generation viewers. That's something to be proud of.
"We want it to represent who we are as an institution," says Garza. That said, KCET Cinema Series isn't the place to find the latest blockbuster. Instead, they focus on a mix of films that audiences may otherwise miss: indie and foreign films, documentaries, festival hits. "We want people to be challenged," says Garza.
When it comes to programming, KCET Cinema Series relies on Pete Hammond, Deadline columnist and "Must See Movies" host who has been hosting KCET Cinema Series since 2001.
"I look at it as my own little film festival and I'm the programmer," Hammond says by phone with a laugh. He travels to the big film festivals, like Telluride and Cannes, with an eye open towards what will play well for KCET's audience. That often includes future award winners, like "The Green Book," which played at KCET Cinema Series in 2018.
When possible, he likes to surprise the audience too. Hammond recalls when they screened "The Phantom of the Opera" years ago. He brought out the cast and director Joel Schumacher. Very few people knew who he would bring out to fill the one empty seat before the audience. "I brought out Andrew Lloyd Weber and the place went crazy," says Hammond.
Sometimes, the response from audience members is a little unexpected. Hammond recalls when "Youth" screened at KCET Cinema Series and stars Michael Caine and Harvey Keitel were special guests. The two actors were standing with Hammond in the back of the theater when a couple left before the Q and A session and the man very vocally expressed his displeasure in the film.
Not every movie will be to every audience member's taste, but that's part of the experience of going out see film in a theater as well.
KCET Cinema Series was created with the intent of bringing together an audience away from their television sets, and that mission has endured for 25 years. "Now, there's more pressure than ever, with streaming and everything, to never leave your couch," says Hammond. "There's something very different about going to see a movie with a group of other people and having that shared experience, then having the Q and A afterwards to carry it on."
"That's what this series has been so successful at doing for a quarter of a century," Hammond adds. "It's more important now than ever."
Get your Cinema Series Pass on this link. Miss a few of the great post-screening discussions for Cinema Series? Listen to their recordings on Soundcloud.