The James and Paula Coburn Foundation (JPCF) celebrates the legacy of Academy Award-winning actor James Coburn and his wife Paula and their shared commitment to improving the community through music, art and education, as well as physical and spiritual health. The tax-exempt, private philanthropy supports charitable organizations devoted to the arts and sciences, as well as to non-profits involved in the conduct of treatments or cures for cancer and the care of indigent cancer patients.
Lynda Erkiletian, Executive Director of the James and Paula Coburn Foundation provided us with additional details about the Foundation's work, its support of the KCET Cinema Series and the extraordinary couple's enduring legacy.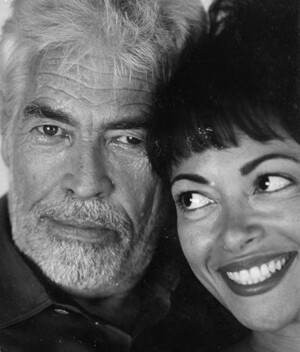 How are you connected to the Foundation? Describe the importance of the Foundation's work and why it matters to you.
Paula Coburn was my best friend -- I think of her as my "soul sister." It is bittersweet being executive director of the JPCF because I miss my friends deeply. I always say, "find the gift," and the gift is that I am joyful because I'm able to honor their memory. The foundation is a reflection of the Coburns' mind, body and soul connection to their friends, family and the universe.
What goals did the Coburns set out in establishing this Foundation?
It was conceived to support projects harmonious with their values and beliefs. After Jim's death in 2002, Paula labored tirelessly to preserve his memory, including continuing to work on his unfinished autobiography. Tragically, she was diagnosed with cancer the following year, but before she died in 2004, she designated a list of organizations they both highly regarded to be the sole beneficiaries of this Foundation. At her request, I am committed to continuing their legacy by publishing James Coburn's biography and supporting the organizations that were near and dear to them.
What inspired the Coburns' love of, and passion for, KCET?
Both Jim and Paula were participants, patrons and lovers of the arts. Music, dance, visual arts and drama were of pivotal significance to them. KCET provides exposure to these and a myriad of other inspirational subjects. KCET's mission to educate the public free-of-cost was an equally important factor, a lifelong appreciation of which was instilled in Jim by his mother.
Why did the JPCF decide to support KCET's Cinema Series?
The Coburns were both long-time contributors to KCET, so the KCET Cinema Series presented the chance to sustain the programming they highly valued while honoring their passion for film. I was also enthused by the opportunity to recognize Jim's contributions to his craft, as well as resurrect his films forgotten by or unknown to contemporary audiences.
We had the opportunity in 2009 to experience just that by screening "Our Man Flint," "The Americanization of Emily" with director Arthur Hiller, and "Man From Elysian Fields" with director George Hickenlooper and actor/screenwriter Andy Garcia.
The 2009 KCET Cinema Series was a tremendous success and inspired us to sponsor yet another series this year. This past spring, we screened the western comedy, "Waterhole #3" followed by a Q&A session with James Coburn's costar in the film, Margaret Blye. This fall, the JPCF and KCET plan to screen the James Coburn classic, "The President's Analyst," in honor of the upcoming elections.
What are some of the other charitable organizations the Coburn Foundation supports?
JPCF supports the Los Angeles Philharmonic, Los Angeles County Museum of Art (LACMA), Clairbourn School, Motion Picture & Television Fund, and Operation Smile. We also support charities involved in the conduct of treatments or cures for cancer and the care of indigent cancer patients such as St. Jude Children's Research Hospital and Men Against Breast Cancer.
What do you think is James and Paula Coburn's most enduring legacy?
Jim and Paula were generous and genuine goodwill ambassadors. They were both unique and passionate people who ventured to meet each day with an open mind and heart - approaching every aspect of life with creativity and curiosity. Our Foundation's motto, written by the 13th century poet, Rumi states: "Let the beauty we love be what we do."
This really describes Jim and Paula perfectly. Their lives will undoubtedly continue to inspire long after death.