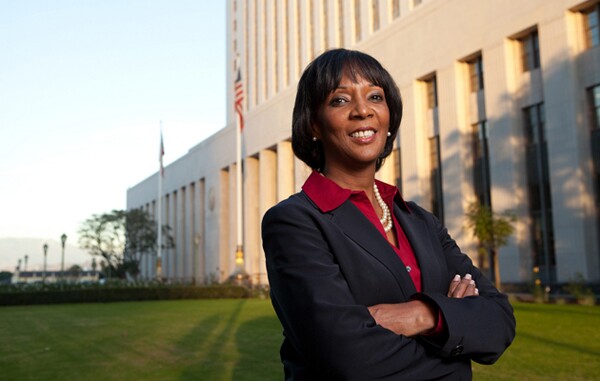 Chief Deputy District Attorney Jackie Lacey will replace Steve Cooley and become the first black and first female district attorney in Los Angeles County.
Lacey, who was endorsed by Cooley, defeated Deputy District Attorney Alan Jackson, a longtime prosecutor best known for leading the murder prosecution of music producer Phil Spector, according to vote tallies released early today.
During the campaign, Jackson stressed his success as a prosecutor, while Lacey emphasized her management skills as key to running the District Attorney's Office.
"I'm the only candidate who's been a prosecutor for 16 years and had 12 years of leadership experience," Lacey told City News Service. "While the prosecutorial experience is very important ... the D.A.'s Office is a law firm and the district attorney is not the person who goes to court. He or she is the leader of the largest prosecutor's office in the nation and puts policies in place and supports prosecutors who are in the courtroom. ... It takes a couple of years for someone to even learn everything there is to know in order to run that office and I am the best prepared candidate for that job."
Lacey, a Los Angeles native and USC Law School graduate, has worked for the D.A.'s Office since 1986. She has tried about 60 felony cases to jury verdicts, including 11 homicides and the county's first trial of a race- motivated hate crime, according to her campaign. She is now second-in-command to District Attorney Steve Cooley and a longstanding member of the office's executive management team.
Lacey said she would prioritize public safety and victims' rights as well as the expansion of alternative sentencing courts that offer options for low-level offenders.
Jackson has been with the District Attorney's Office for 17 years and is assistant head deputy of the office's Major Crimes Division. He has led the prosecution of more than 60 felonies -- nearly half of them homicides -- and has a 96 percent felony conviction rate, according to his campaign.
The race was at times combative, with each campaign accusing the other's candidate of lying. In television ads, Jackson accused Lacey of "being dishonest under oath'' to advantage Cooley: a reference to Lacey's testimony in a labor dispute involving the D.A.'s Office and in a subsequent hearing when she said she had mis-spoken. Lacey's camp has accused Jackson of lying about whether a party held by a campaign donor was a fundraiser -- the donor and party host turned out to be a convicted felon jailed in connection with a mortgage loan scheme, forcing Jackson to return his $3,000 contribution.
Neither charge seems to have gotten much traction, based on prominent endorsements for each candidate.
Lacey was endorsed by Cooley, Sheriff Lee Baca, California Attorney General Kamala Harris, Mayor Antonio Villaraigosa and Los Angeles County Supervisors Gloria Molina and Mark Ridley-Thomas. She was also backed by the Los Angeles County Democratic Party in the non-partisan race. Jackson was endorsed by former Los Angeles Mayor Richard Riordan, Los Angeles County Supervisors Michael Antonovich and Don Knabe and many other elected officials and local police associations. He was also backed by the Los Angeles County Republican Party.