Photo: Vox Efx/Flickr/Creative Commons License
When the polls close at 8 tonight, the results from the Los Angeles City Clerk will start coming in, first with vote-by-mail ballots beginning at approximately 8:30 p.m., then from polling locations from across the city. Watch and reload this page for our live updates from KCET's Ballot Brief throughout the night.
3:26 a.m.: With the final update of the night from the L.A. City Clerk's office posted, here's what we know below. And remember, City Clerk June Lagmay has a few weeks to certify results, meaning they are not truly final until then. Plus, there are many provisional and vote by mail ballots that still must be counted.
Mayor: Eric Garcetti wins. See update immediately below for information.
City Attorney: Assemblyman Mike Feuer beats incumbent Carmen Trutanich (story).
City Controller: Attorney Ron Galperin has a 12-point lead over City Councilman Dennis Zine. (story)
Prop C: It easily wins, although it's only an advisory vote related to Citizens United.
Prop D and Ordinances E, F: Prop D to limit and tax medical marijuana stores wins over ordinances E and F.
City Council Races: Assemblyman Gil Cedillo (CD1), Assemblyman Curren Price (CD9), and Garcetti Field Deputy Mitch O'Farrell (CD13) all had similar leads -- around 5 points -- over their respective opponents. In the special open primary election for CD6, Assemblywoman Cindy Montañez will go to a runoff against School Board Member Nury Martinez.
LAUSD: Monica Ratliff leads Antonio Sanchez by nearly 4 points.
L.A. Community College District: Nancy Pearlman presumably wins with a 14-point lead over David Vela.
2:49 a.m.: Hey, Los Angeles, we have a mayoral winner.
2:27 a.m.: A behind-the-scenes look at ballots being delivered for counting by L.A. Times Photographer Luis Sinco:
1:44 a.m.: Once again, Eric Garcetti's lead in the mayoral race widens. He now has an 8-point, or 22,000-vote, advantage over Wendy Greuel. For those who have been with me all night, that 54-46 number is the outcome of LMU's exit polling today. Over 70 percent of polling places have reported so far.
In the citywide races, Ron Galperin maintains his lead over Dennis Zine in the race for City Controller; the city attorney contest has already been decided. The three city council district seats remain the same as earlier tonight, with Gil Cedillo (CD1), Curren Price (CD9), and Mitch O'Farrell (CD13) all in the lead. By the looks of his Facebook page, Jose Gardea, who is running against Cedillo, may have given a concession speech.
12:58 a.m.: Results in the mayoral race have widened to over 7 points for Eric Garcetti with over 17,000 votes between him and Wendy Greuel. About 60 percent of polling places have reported.
12:54 a.m.: Meanwhile...
12:51 a.m.: Read the story: Mike Feuer Wins, Carmen Trutanich Ousted as L.A. City Attorney
12:17 a.m.: Yes, we can laugh! Our city politics, as observed tonight by late-night TV host (and Eric Garcetti supporter) Jimmy Kimmel: "Today was Election Day here in Los Angeles. We voted on three medical marijuana measures. Last time, we voted on whether condoms should be required in porn videos. The city is like an over-regulated frat house." (h/t "SoCal Connected" Producer Dina Demetrius)
12:09 a.m.: With a little under half the polls reporting, mayoral candidate Eric Garcetti's lead over Wendy Greuel holds -- now with a nearly 6-point lead, or a difference of more than 12,000 votes.
12:01 a.m.: Mayoral candidate Eric Garcetti at his election party inside the Hollywood Palladium: "Well, the results aren't all in, but this is shaping up to be a great night. So let me start by saying thank you ... We faced some powerful forces in this race. We didn't have the most money ... but we had something more important: We had a people-powered campaign and we had a commitment with that people power to let the voters of Los Angeles choose the next mayor, not any power brokers."
Over at Wendy Greuel's election party at Exchange L.A.: "No one said it was going to be easy or quick, but when you're playing the championship of L.A. politics, sometimes the game goes into overtime," she said, noting that there were many ballots still to be counted.
11:48 p.m.: And we have an apparent winner in the race for City Attorney: Assemblyman Mike Feuer. Reporting from Rocco's Tavern, a bar in Studio City, L.A. Times' Abby Sewell tweets that incumbent Carmen Trutanich has conceded. "I can walk out of here knowing I've done a great job," he told supporters.
11:26 p.m.: More numbers continue to come in and mayoral candidate Eric Garcetti widens his lead over Wendy Greuel to 3.5 points, or 6,109 votes.
10:58 p.m.: Eric Garcetti takes the lead with over 191,000 total votes counted. He has a 2-point, or 3,500-vote, advantage over Wendy Greuel. Also in Council District 13, the gap Garcetti's former field deputy Mitch O'Farrell had over John Choi has closed; there's now a difference of 159 votes.
10:40 p.m.: It should also be noted that there's a special election going on today. Last November, San Fernando Valley City Councilman Tony Cardenas won a seat in Congress, leaving his sixth district up for grabs. Unlike the rest of today's contests, it's a primary election in his district. Right now, former Assemblywoman Cindy Montañez leads with 46 points over five other candidates. She'll need a majority by the end of ballot counting to avoid a runoff.
10:32 p.m.: Although more than 11,500 ballots have been counted, not much is clearer (see the 8:53 p.m. update below for a general picture). The difference between the mayoral candidates is 233 votes, with Wendy Greuel in the lead.
10:26 p.m.: So why did the L.A. City Clerk release an update of just 838 at-poll votes? It's something that reporters -- including me -- have been joking about. Spokesperson Maria Garcia tells me that they are pushing updates as frequently as possible. The first batch of ballots were delivered around 9:30 tonight.
9:51 p.m.: Not much change with the second update from the City Clerk's office. Only 838 votes from the polls were counted.
9:25 p.m.: While we wait for the second update -- from here on out, it will include votes cast today -- here's a note about vote by mail: It's not necessarily an indicator of a winner. You may remember that in the March 5 Primary, a non-frontrunner taking a massive lead in the City Council District 13 race when the mail-in vote results came in. Sam Kbushyn scored 27.13 percent of that vote, easily beating Mitch O'Farrell and John Choi, both who actually made it to today's ballot. All that is to say that this could be a very long night for some races.
8:53 p.m.: Vote by mail ballots have been tallied and it shows a very close race for mayor with Wendy Greuel leading Eric Garcetti by less than 2 points. As for other races:
City Attorney: Assemblyman Mike Feuer has a healthy 17-point lead on incumbent Carmen Trutanich.
City Controller: Newcomer Ron Galperin has a 4-point lead over City Councilman Dennis Zine.
Medical Marijuana Measures: Prop D, the one placed on the ballot by city council to limit the number of dispensaries in the city, is taking the lead over ordinances E and F.
Citizens United: The advisory vote (Prop C) to support overturning the controversial U.S. Supreme Court decision on campaign financing is easily winning by nearly 50 points.
City Council Districts: Political insiders take the early lead: Assemblyman Gil Cedillo in CD1, Assemblyman Curren Price in CD9, and former Garcetti district field deputy Mitch O'Farrell in CD13.
LAUSD: Monica Ratliff takes the lead nearly 4-point lead for District 6.
Community Colleges: Nancy Peralman has a healthy 22-point over David Vela.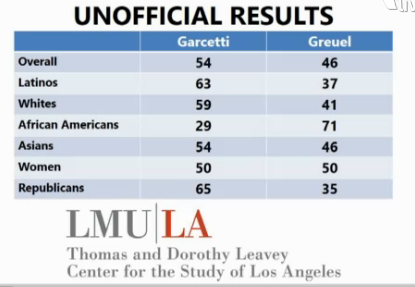 8:30 p.m.: No results from the L.A. City Clerk yet, but unofficial results from Loyola Marymount University's exit polling shows Eric Garcetti in the mayoral race as winning with 54 percent (Wendy Greuel at 46 percent). The poll, put together by the school's Center for the Study of Los Angeles, was based on a survey of 800 people at polling places in 25 precincts, along with a telephone survey of people who had cast ballots by mail.