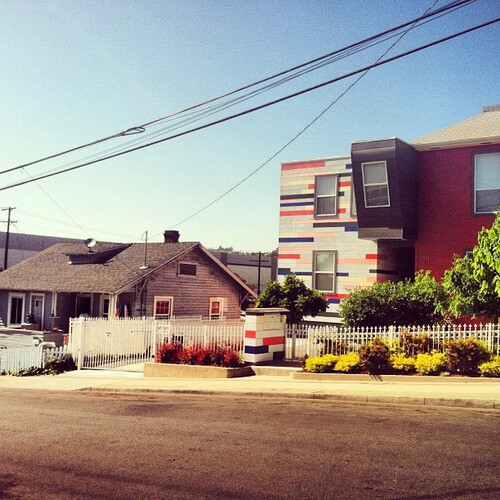 The NELA Riverfront Collaborative is an interdisciplinary project that builds upon the growing momentum of efforts already underway to transform the Los Angeles River into a "riverfront district" and to create a focal point of community revitalization. KCET Departures is the media partner of the Northeast Los Angeles Riverfront Collaborative. For more information visit the website www.mylariver.org
One month down and it looks like we have already finished our first round of resident surveys in all five NELA neighborhoods. The tedious process of data entry has begun, but no preliminary analyses or statistics have been generated yet. As a human sounding board for a decent fraction of our total survey responses, I can attempt to coalesce my conversations into more general neighborhood trends.
Atwater Village boasts streets lined with trees, meticulously trimmed lawns, and sidewalks active with joggers, dog-walkers, and playing children. These residents seem to want the L.A. River to be as manicured as their yards. They requested more plants, a repaired and extended bike path, and the removal of the concrete. Lofty aspirations for the near future, but it is exciting to hear people explain thoughtful and clear visions of the river with an inspiring sense of confidence that their ideas will be achieved.
Adjacent to busy San Fernando Road, Glassell Park had its residents speak of traffic and transportation issues. One respondent mentioned several traffic accidents, one ending in death, at busy intersections that are quizzically devoid of stop lights, pedestrian cross-walks, or even stop signs. There seemed to be an overall interest in the river, but a difficulty in accessing it. These residents might benefit most from increasing public transportation to the river and more access on the eastern bank.
Cypress Park, nestled at the base of Mt. Washington, had some of the most active streets of all the neighborhoods. With so many people chatting or walking or playing on the street, I wasn't surprised that an ice cream truck made multiple rounds of the area. Residents named gang activity and lack of street lighting as the main concerns. Almost everyone I spoke to emphasized that the community had come a long way however. Crime has been decreasing, and I sensed universal excitement over the new Rio De Los Angeles Park on San Fernando Road. These people are certainly in tune with the progress occurring around them and I can only hope that hearing about the Riverfront Collaborative project increases their anticipation for the future.
My knowledge of the project and persuasion skills were put to the test in Lincoln Heights. Many residents shared a sense of skepticism for anyone speaking of neighborhood improvements. There was one woman that may have illuminated the root of the issue. She has lived in Lincoln Heights for around 30 years and alluded to being ignored or overlooked by the city in terms of maintenance and upkeep of infrastructure. I don't blame her, but I also believe that this is exactly why it is important for us to reach members of this community. The majority of residents I spoke to do not utilize the river, and a few have never heard of it. This reveals an ocean of opportunity in deepening Lincoln Heights' connection to the river. Even so, I believe that this brilliant cohort of interns have already begun to tend a spark of curiosity for the vision of a riverfront district.
One of the first people I talked to in Elysian Valley referred to his neighborhood as Frogtown. I couldn't help but smile. It's clear that the history of this community is tightly linked to the history of the river. The namesake, I later learned, is from periodic invasions by armies of frogs emerging from the channel. Many residents were concerned about access to the river. The L.A. River bike path cradles Elysian Valley's eastern margin and is dotted with entrances from dead end streets in the community. Unfortunately, many of these entrances are foreboding holes in chain link fences that only serve to deter residents eager to continue their relationship with the river. One resident mentioned that several of the Rio Vistas project designs have already been approved by the city. It may only be a matter of time until these bright students' imaginations and hard work come into fruition.
Interestingly, a common thread that ties these neighborhoods together is the residents' pride in their fellow neighbors and the sense of community that is felt because of this. "What are you most proud of in your neighborhood?" is overwhelmingly answered in every neighborhood with "the people." Many respondents have expressed that they know all of their neighbors; a kind of knowing that is much more intimate than simply being on a first name basis. Each street feels more like an extended family rather than separate units that are only coincidentally bound together by address. This familial unity was illustrated to me by a student I talked to in Atwater Village. She raised her voice to almost a yell and faced the next door house when she told me that she believes the biggest problem in her neighborhood is "NOSY NEIGHBORS." While she sees this as an issue, I see a well of social capital that increases the resilience of communities faced with change. I look forward to seeing neighborhood bonds grow and strengthen as the identity of Northeast Los Angeles is reflected in each step towards the creation of a riverfront district.