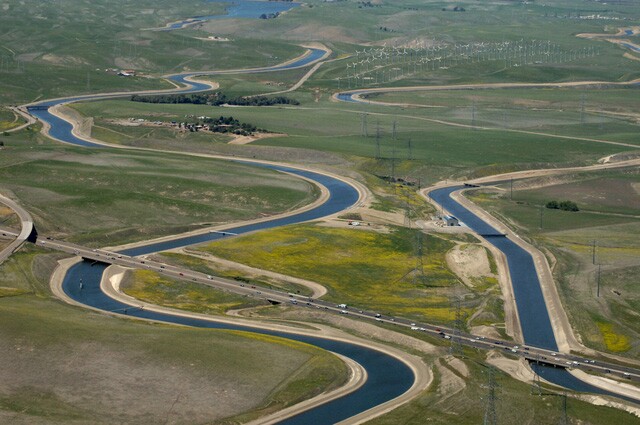 An explanatory series focusing on one of the most complex issues facing California: water sharing. And at its core is the Sacramento-San Joaquin Bay Delta. Stay with kcet.org/baydelta for all the project's stories.
The Delta. The nickname for the 1,150 square mile floodplain fed by the Sacramento and San Joaquin rivers may be the only simple thing about a place that, it turns out, isn't actually a delta, with islands that aren't strictly islands, and that is protected by levees that -- you guessed it -- aren't really levees.
Rather, trapped inland from the Pacific and San Francisco Bay behind a bottleneck strait, the Delta's mouth narrows at its ocean-most point precisely where most deltas fan out to open water. With fresh water tumbling in from the easterly rivers and its westerly border protected by this inverted arrangement from Pacific tides, generations of Delta farmers have managed to drain the region's wetlands to grow alfalfa, corn, asparagus, rice, wine grapes, and canning tomatoes. Call their farm tracts "islands" and an engineer will scold that they are most certainly not that. No, they are sunken "polders" protected from streams, rivers, and irrigation ditches by earthen mounds that the locals call "levees." But these, admonish UC Davis engineers, are not levees. They're dikes.
Call all those things what you will, what makes the Delta the Delta is water. After winter rain and snow, roughly half of California's fresh water arrives in this quirkily engineered, mis-named place. Twenty five million Californians depend to some degree or another on freshwater from the Delta. Roughly a third of Southern California's supplies originate here.
Strangest yet for newcomers, the Delta's easterly wetlands don't seem particularly wet, at least at first glance. It's easy to drive through them on Interstate 5 without realizing that the land either side of the farm-truck heavy traffic could ever have been mistaken by an 18th century Spanish explorer for a lake. If the landscape finally speaks to the observer, it's as if a place pitted by tractors, lacerated by shipping channels, criss-crossed by power lines, mined by gas works, and bisected by highways is saying, "You'd look like this too if Spain, Mexico, the Forty-niners and then the 31st state of the nation had all had their way with you."
Only a detailed historical ecology project by the San Francisco Estuary Institute and a spin-off mapping project by the Institute, Stanford's Bill Lane Center for the American West, and KQED Quest offer a glimpse of what might have been recognizable to the 300,000 indigenous people who once hunted elk, beaver, and duck among the Delta's sycamores and tule reeds.
The descriptor favored by engineers and newspaper reporters for the Delta is "hub." Happen on a sentence to the effect that "the Delta is the hub of California's water system" and it's a safe bet that the writer is a member of what historian Norris Hundley, Jr. called California's "hydraulic society."
This society began to form earlier than most timelines acknowledge. Blocking flows of rivers is done all the time. Beavers do it. Miners did it. Early Delta farmers and Sacramentans relied on it in water years that could range from 25% of anticipated flow to 200 times normal in the switch of a season. Heavy flow years, they drowned. Light ones, salty fingers from the San Francisco Bay insinuated themselves east of the protective bottleneck of Carquinez Strait. In a pure gold reprint of an 1874 report on how Delta water might be diverted to irrigate the Central Valley, one of the modern editors noted in the introduction that, in 1850, California had six civil engineers. Twenty years later, it had 158.
By 1919, the U.S. Geological Survey had put the idea of flushing Delta water into the Central Valley to the Governor of California. By the Great Depression, a federal public works project under the Roosevelt administration began building the dams and canals that would become the federal Bureau of Reclamation's vast Central Valley Project. Not to be outdone, by 1960 then Governor Edmund "Pat" Brown, father of the current governor, had matched the federal farm water system of dams and aqueducts with a massive state-run one that would wet the whistles of Southern Californians. Legislation permitting what became the State Water Project opened with the concrete-pouring agenda that defines modern California:
"An aqueduct system which will provide for the transportation of water from a point or points at or near the Sacramento-San Joaquin Delta to termini in the Counties of Marin, Alameda, Contra Costa, Santa Clara, San Benito, Santa Cruz, Fresno, Tulare, Kings, Kern, Los Angeles, Ventura, San Bernardino, Riverside, Orange, San Diego, San Luis Obispo, Monterey and Santa Barbara Counties. Said aqueduct system shall consist of intake and diversion works, conduits, tunnels, siphons, pipelines, dams, reservoirs and pumping facilities, and shall be composed of a North Bay aqueduct extending to a terminal reservoir in Marin County; a South Bay aqueduct extending to terminal reservoirs in the Counties of Alameda and Santa Clara; a reservoir near Los Banos in Merced County; a Pacheco Pass Tunnel aqueduct from a reservoir near Los Banos in Merced County to a terminus in Pacheco Creek in Santa Clara County; a San Joaquin Valley-Southern California aqueduct extending to termini in the vicinity of Newhall, Los Angeles County, and Perris, Riverside County ..."
Governor Ronald Reagan was a year away from starting the pumping plant pushing Delta water over the Tehachapi Mountains into Southern California when newly bestirred environmentalists began throwing wrench after wrench into the hub of California's hydraulic society. Pro forma assurances to Delta residents that federal and state pumps would never leave local farms with a Delta too salty or too short of irrigation supplies had been de rigueur since the 1930s and the first big federal Central Valley Project. However, in 1970, a new federal law, the National Environmental Policy Act, required that the environment be considered in permitting big new projects. Hot on the heels of NEPA came the Clean Water Act, then both state and federal versions of the Endangered Species Act. Fish had lawyers. By the Wild and Scenic Rivers Act of 1968, elk had lawyers too.
If the hydraulic society began to form around an 1874 report to President Grant, its unraveling may be traced to 1982, the year that California went to the polls to vote on permitting what was the yet unbuilt crown on the hub of State Water Project: the Peripheral Canal.
Jerry Brown, son of the State Water Project's great champion Pat Brown, was in his second term as governor. The system that his father built had made what we know as Southern California possible, but its pumps in the South Delta had problems, not least a force so great that they reversed water flows, sweeping migrating salmon off course. Water quality was a concern, too. The existing pumps at the Delta's southerly border drew the Sacramento and San Joaquin river water only after it entered the Delta and mingled with unsavory contributions of farmers, Sacramento, Stockton, and the Pacific Ocean.
The proposed peripheral canal, however, bypassed the polluters. As it was envisioned, a 43-mile-long, 400-foot-wide, 30-foot-deep aqueduct would skirt the heavily developed eastern Delta, then deliver Sacramento River water straight to State Water Project pumps in the south Delta. Most importantly, if an earthquake caused a cascade of failure among the Delta's aging levees, and seawater rushed into the wreckage of America's strangely poldered little Holland, the Central Valley and Southern California would not lose a third of their water supply for however many years it took to flush salt out of the system and rebuild the dikes.
If voters had merely been asked to consider the canal, chances are decent that it would have passed. However, by the time the legislative pile-on that resulted in Proposition 9 was finished, there was a lot more at stake than a two to four billion dollar aqueduct nearly the size of the Panama Canal. Who would notice a dam or two for Glenn and Tehama counties tucked in the fine print?
Environmentalists would. They hated the project. Yet the blow that killed the canal may just have been provoked by the very protections built into the project for the Delta. "The Delta comes first," the then-head of the state Department of Water Resources told the Los Angeles Times when explaining line items for $60 million in fish screens and salt water protection projects near the bottleneck strait. The man most exercised by this, and companion legislation protecting wild and scenic rivers, was Central Valley farmer J.G. Boswell. And so, Kern County's biggest beneficiary of the State Water Project imports set out to defeat the single thing that would have earthquake-proofed his water supply. On June 2, 1982, straight from the department of strange bedfellows, the King of Cotton's support gave Northern Californians and environmentalists a nearly two thirds majority when California vetoed the Peripheral canal.
In the years since the veto, California has left the hydraulic era, according to the Public Policy Institute of California. We may still depend on Delta water, but as we are faced with updating aging pumping plants and aqueducts, we have entered what PPIC calls an "era of reconciliation."
Again, Jerry Brown is governor. Again he is seeking to complete the State Water Project with a northern diversion on the Sacramento River. Except this time the proposal is for twin tunnels that would burrow 150 feet beneath the heavily developed eastern Delta. This time the fish screens would be even better designed. And this time there will be even more layers of the kind of Delta restoration elements that drove J.G. Boswell into the arms of the Sierra Club.
Will it be built? Not if residents in most of the five counties surrounding the Delta have a say. Contra Costa County, which is entirely dependent on the Delta, does not want Los Angeles to have first draw on the Sacramento River. Delta alfalfa growers would cheerfully see every single almond grower in the Central Valley rip out tree crops and wait patiently to plant fallowable annuals in good water years. Speak to Delta farmers of habitat restoration and they point to their fields and claim birds and fish do just fine around their islands and levees.
Meanwhile, here in the Southland, the Metropolitan Water District of Southern California is, as it was in 1982, the single greatest champion of today's version of the Peripheral Canal. Again, it is still, warily, hoping for support on the tunnels from, in many cases, the same screw-fish farmers who, with Boswell, turned on the Southland in 1982. As it again pushes for a Delta bypass system, it has drawn up disaster plans for when the levees fail and Southern California loses a third of its water supply for what it estimates could be three years.
It would be merely gnarly if the problems facing reconciliation stopped there, but they don't. This time Southern Californian cities and Central Valley farmers using the State Water Project are being asked to build the tunnels with only one guarantee of how much water will be allowed to go into them. That guarantee is uncertainty. They will get their legal share of how ever much water happens to be available any given year. If drought has proved one thing to regions greened by aqueducts built during the hydraulic era, it's that the Delta's water needs have legal precedence. In the last eight years, the state's Department of Water Resources has not once met the allocation a full flow year might provide for the aqueduct system serving Southern California's cities. Last year, the allocation was only 5 per cent. This year, barring a late season bonanza, the allocation will be 20 percent.
In coming weeks, we'll introduce readers to the groups now being dragged kicking and screaming by an exasperated governor toward reconciliation. In the meantime, remember, we're in a drought. Only flush when it's brown. Ah, and Delta tracts are not islands. They're polders.