Staff at the Santa Monica Mountains National Recreation Area got some welcome news by way of a camera trap recently: P-33, a 15-month old puma kitten who had been feared dead, showed up looking quite healthy indeed in some of the images.
The automated photo session in February captured P-33, her brother P-32, and their mama P-19, snacking on a deer carcass in a spot not far from the Ventura County line in the National Recreation Area. P-33 hadn't been seen in some months and was feared dead: she, her brother, and another littermate P-34 have been tracked since they were about a month old.
The National Park Service made the photos available Wednesday on the Santa Monica Mountains NRA Facebook page. We've shared a few here. Due to the presence of the unfortunate deer that made up the pumas' meal, some of the photos might be disturbing to sensitive readers. If that isn't you, keep reading.
It's clear from the photos that at least in February, both kittens and Mom were looking great. Here's P-33, the rumors of whose death were clearly exaggerated, in apparent good health:
As NPS staff point out in their photo captions on Facebook, the photos give a glimpse into how pumas eat their food. Here, P-33 shears off a hunk of meat by using the knife-like carnassial teeth on the side of her mouth:
Brother P-32 is looking pretty fit himself as he examines the camera mechanism: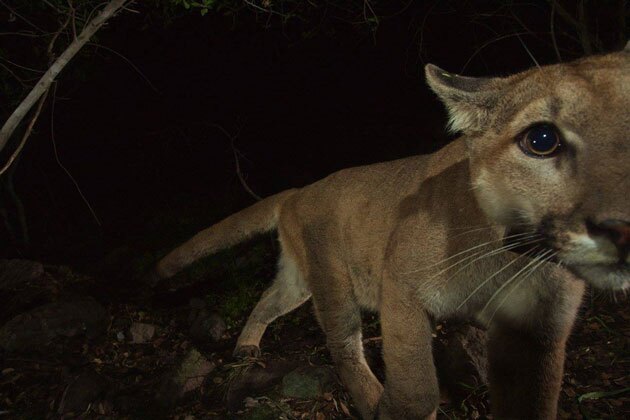 Sister P-34 apparently wandered off on her own to make her new life before these photos: puma cubs tend to stay with Mom until they're about a year and a half old. Santa Monica Mountains NRA staff suggest that P-33 and P-32 have probably headed out on their own by now as well. So this shot, which manages to get all three cats in the frame, is a little poignant now. P-19 (Mom) is on the left, P-32 on the right, and that's P-33 taking a little post-meal rest in the background between the other two:
And no collection of photos of one of North America's most fearsome predators is complete without the obligatory photobomb.
You can see the rest of the photos in the set on the Santa Monica Mountains NRA's Facebook page.