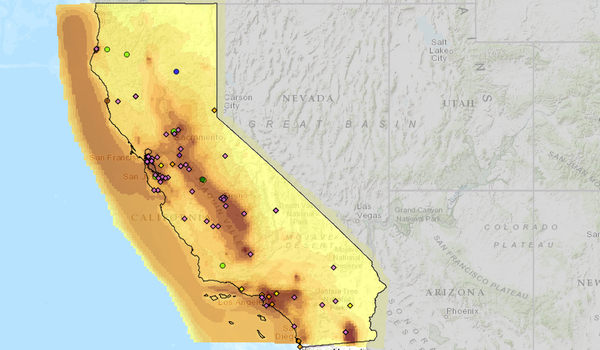 Environmental science is usually a combination of dry, depressing, and alienating. Those of us who write about it for a living try to deny it at times, but it's true. If you study the details of our effect on the planet's living systems, you find doomsday predictions on the one hand and impenetrable descriptions of acre-feet, megawatt-hours, visitor use days, and genetic scatterplots.
You'd scarcely think that all this boring bad news actually generates stories worth telling, but it does. Whether it's a story of how a wild animal struggles to make a living, or how humans envision their relationship to that animal, the environmental realm is full of narratives.
Now, a new tool developed by two graduate instructors at Stanford University is literally putting those stories on the map.
The story map, entitled Geographic Impacts of Global Change: Mapping the Stories of Californians, was developed as part of an undergraduate biology class by instructors Alexis Mychajliw and Melissa Kemp, under the guidance of Stanford biologist Elizabeth Hadly. Stories from a range of sources (including several from right here at KCET) are linked to hotspots on an interactive map of California, which mark as closely as possible the place where that story happened.
Story hotspots are color-coded depending on their sources, which range from government agencies to cultural minority groups to farmers and conservationists. The map is viewable through five broad category filters -- climate, population, biodiversity, invasives and diseases, and pollution.
Melissa Kemp says the project's intent is to give users a handle on those sometimes overwhelming and inaccessible topics. "Topics like climate change have become buzzwords," says Kemp. "We want this story map to allow people to really see how global problems affect them in their own communities."
"We wanted to focus on stories that people already have in those communities," adds Alexis Mychajliw. "It would have been too easy just to Google stories in the New York Times, or even the Los Angeles Times. Instead, we tried to emphasize the really local sources throughout the state."
Mychajliw says that the bulk of the project's work was done by Stanford undergraduate students Simone Barley-Greenfield, Osama El-Gabalawy, Jason Kaufman, Job Naliana, and ZiXiang Zhang. Each of the five focused on a specific area of the state, divided using the California Department of Fish and Wildlife's organizational regions as a guide. "It was a great opportunity for our undergraduate students," says Mychajliw. "they'd never had the opportunity to translate any of their work into the policy field before."
What's next for the project now that the Spring 2014 semester is history? Mychajliw and Kemp's plans include expanding the map to include the remaining 49 states, incorporate video and audio interviews, and reach out to K-12 teachers who might find the story map a useful tool. The two say they're also considering ways to allow people to put their own stories on the map.
I know I'll be using it as a way to see what kinds of stories I might be missing out there in the California landscape. Check it out.