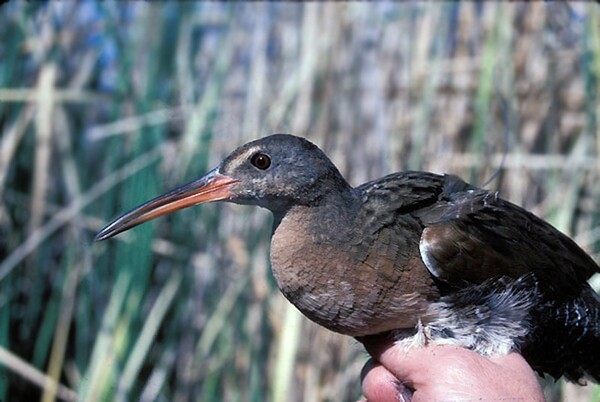 A national wildlife protection group announced today that it intends to sue two federal agencies for failing to protect the federally Endangered Yuma clapper rail from being harmed at industrial-scale solar power projects in the California desert.
The Yuma clapper rail, Rallus longirostris yumanensis, was listed as Endangered in 1967. Fewer than 1,000 of the birds, and perhaps fewer than 500, remain in the wild.
Since last July, two Yuma clapper rails have been found dead at solar power facilities in the California desert, likely as a result of mistaking those projects' photovoltaic panels for open water. As a result of those deaths, the Center for Biological Diversity announced Thursday that it will be suing the Bureau of Land Management and the U.S. Fish and Wildlife Service for the agencies' failure to make sure those facilities posed no threat to the rails.
One of the birds was found dead in July 2013 at the Desert Sunlight solar facility near Joshua Tree National Park. The other was subsequently found at First Solar's 150-megawatt Solar Gen 2 plant near El Centro.
Under the U.S. Endangered Species Act, any harm caused to an Endangered Species , either intentionally or by accident, is subject to fines of up to $50,000 and imprisonment for up to a year.
"These federal agencies have shrugged off their duty to protect these highly imperiled birds," said Ileene Anderson, a senior CBD scientist. "While we need to quickly transition to clean energy to avoid the worst effects of climate change, we also need to safeguard our imperiled wildlife. We can do both, but it has to be done right."
The eight-inch tall Yuma clapper rail is a subspecies of the more common clapper rail, which survives -- albeit in declining numbers -- throughout North America. The much rarer Yuman subspecies inhabits thickets of freshwater marsh vegetation and patches of open water along the Colorado River, its tributaries in Arizona, and freshwater streams and ponds in the California desert. Destruction of that rare desert wetland habitat devastated the rail's numbers in the mid-20th Century, leading to the subspecies' protection in 1967 -- part of the first group of species protected as Endangered under federal law, the so-called "Class of 1967."
Despite the Yuma clapper rail's 47-year tenure on the endangered list, USFWS has not yet designated critical habitat for the subspecies, a failing Anderson says means a lower level of protection for the bird than that to which it is entitled under the Endangered Species Act.
"Unfortunately, this is one of many cases of the Fish and Wildlife Service ignoring the needs of these very rare birds. Fewer than 1,000 are left in the wild in California, so they desperately need protection, including measures to make sure they survive the solar-energy boom," said Anderson.