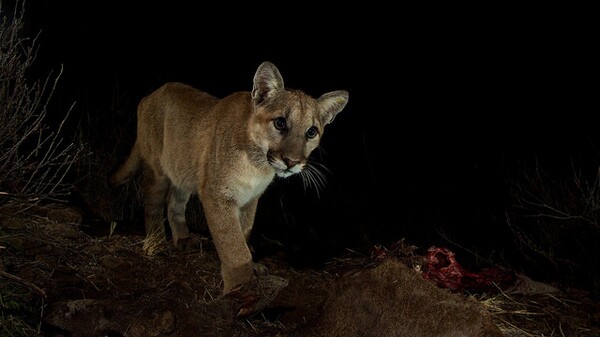 The campaign to build a freeway crossing to allow mountain lions and other wildlife to travel safely between the Santa Monica Mountains and other open space got a boost Friday, as elected officials and the National Wildlife Federation joined the effort at a rally in Agoura Hills.
At issue is the Liberty Canyon interchange on the Ventura Freeway -- Route 101 -- which is a dangerous barrier between the Santa Monica Mountains National Recreation Area and the Upper Las Virgenes Canyon Open Space Preserve, formerly Ahmanson Ranch, in the Simi Hills. That's a largely undeveloped corridor between the otherwise landlocked Santa Monicas and wildlands to the north, and a vital link between mountain lion populations in the Santa Monicas and the rest of Southern California.
As we reported in the wake of an October mountain lion fatality at the Liberty Canyon crossing, the freeway barrier poses a long-term threat to the mountain lions in the Santa Monicas; without regular influxes of new lions from elsewhere, the Santa Monica lions are already increasingly inbred. A safe wildlife crossing at Liberty Canyon would help alleviate that problem.
Hence the rally today, to kick off the new Save LA Cougars campaign, a collaboration between the Santa Monica Mountains NRA and NWF. Along with representatives from both organizations, those in attendance included spokespeople for Representative Henry Waxman, Assemblymember Richard Bloom, State Senator Fran Pavley, and L.A. County Supervisor Zev Yaroslavsky. Representatives from Caltrans, the National Park Service, California State Parks, the Santa Monica Mountains Conservancy, and other agencies and conservation groups were there as well.
"If we want Los Angeles' cougars to survive, we have to construct a bridge or a tunnel so they can cross the 101," said Beth Pratt, California state director for the National Wildlife Federation. "There is suitable habitat just on the other side of the freeway, but numerous mountain lions have already been killed trying to make it across. This is an eminently solvable problem."
Caltrans has applied for $2 million in federal funding to design a wildlife crossing, and has put up fencing in the meantime to reduce the chances that wildlife will make it onto the freeway. Organizers of Friday's event hope to demonstrate a broad base of public and agency support for the idea.
"Mountain lions living in the Santa Monicas need our help," said NWF President and CEO Collin O'Mara. "Together, we can reconnect the critical habitat of these majestic, elusive cats, which has been fragmented by freeways and urban development. The broad support at today's event demonstrates that there is the public will to transform the vision of a wildlife crossing over the 101 into a reality."