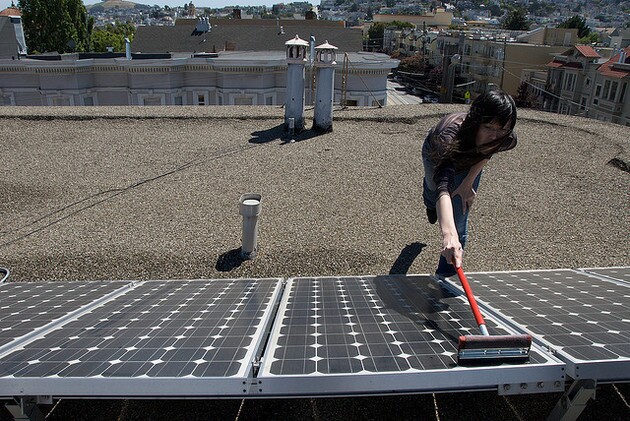 California's developed landscapes could generate enough solar energy to power the state several times over without building on intact wildlife habitat, according to a study published this week in the journal Nature Climate Change.
The study, by researchers at Stanford University's Carnegie Institution for Science, found that the more than 12,000 square miles of California that's already been heavily altered by humans -- cities, industrial facilities, parking lots, landfills, and so forth -- could generate enough solar power to meet the state's power consumption needs three to five times over, without developing a single additional acre of the state's beleaguered natural areas.
And though skeptics of urban solar rightfully point out that photovoltaic solar panels can't store power they generate for use at night, the Nature Climate Change study found that there's enough appropriate developed space in California for concentrating solar power plants to meet the state's energy needs almost three times over. Concentrated solar power can store solar energy as heat, allowing plant operators to generate electrical power after the sun goes down.
The study's authors, Stanford researchers Rebecca R. Hernandez, Madison K. Hoacker, and Christopher B. Field, looked at the potential for both small-scale (think "rooftop solar") and utility-scale solar development in California's heavily developed coast and interior valleys, as well as along roads and transmission lines elsewhere in the state.
They found that even excluding areas of the state that were merely "potentially compatible" with solar development -- those road and transmission line corridors mentioned above, for instance -- and limiting their calculations to the state's cities, suburbs, and industrial zones, simple fixed-mount photovoltaic panels like those increasingly found on rooftops could generate almost five times the state's total power consumption. That's based on estimates of California's future power consumption ranging from 35 to 47 terawatt-hours per year, with the most likely scenario around 40.
(A terawatt-hour is enough power to keep a 100-watt incandescent bulb lit continuously for 1.1 million years.)
When the authors changed that scenario to assume those photovoltaic panels were placed on single-axis movable mounts to track the sun as it crossed the sky during the course of the day, that figure rose to almost six times the state's power use, and six and a half times if those mounts allowed panels to move along two axes to follow the sun both east to west during the day and higher and lower in the sky as the seasons change.
And perhaps most surprising of all, Hernandez and her colleagues also found that the state's out-of-the-way industrial zones and other developed sites appropriate for parabolic trough mirror-based concentrating solar could provide 2.7 times the state's total power consumption all on their own. Parabolic trough power plants generate electricity by using reflected solar energy to heat a fluid, which in turn heats water to generate steam to turn turbines. Though some parabolic trough plants devote all the resulting heat to making steam directly, it's feasible using current technology to store some of that heat, whether as molten salt or in some other fashion, for use to generate steam after the sun sets.
According to the National Renewable Energy Laboratory, adding heat storage to a parabolic trough solar plant can raise its capacity factor -- the percentage of the time the plant is actually operating at full capacity -- from around 25 percent to up to 70 percent, making them approximately as reliable on a day-to-day basis as coal or nuclear power plants.
"Areas for small- and utility scale solar energy development within the built environment comprise 11,000-15,000 and 6,000 [terawatt-hours per year] of PV and CSP generation-based potential, respectively, and could meet the state of California's energy consumptive demand three to five times over," the authors conclude. "Solar energy within the built environment may be an overlooked opportunity for meeting sustainable energy needs in places with land and environmental constraints."
That definitely seems worth keeping in mind as state and federal agencies grapple with how to finish the embattled Desert Renewable Energy Conservation Plan. As we reported earlier this month, that plan's newly announced first phase will focus entirely on public lands in the California desert. In other words, the state's premier renewable energy development plan would seem to push California's renewable energy development policy in exactly the opposite direction from that suggested in one of the world's most prestigious peer-reviewed journals on the topic of climate change.