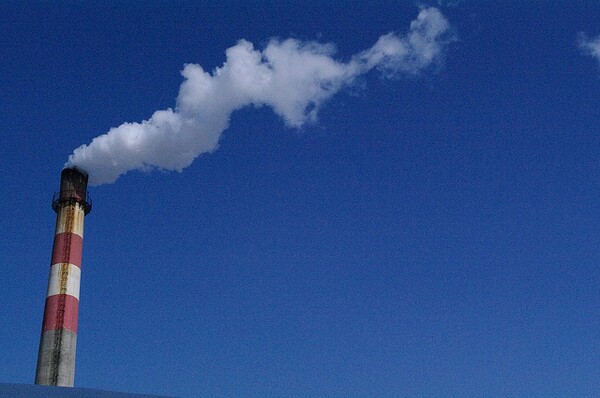 Well here's some news to ruin your weekend: the federal government's chief energy analysts say that despite a massive national investment in renewable energy, U.S. greenhouse gas emissions are climbing again.
According to the latest Monthly Energy Review put out by the U.S. Energy Information Administration (EIA), the U.S. dumped significantly more greenhouse gases into the atmosphere in the first half of 2014 than it did in the same period over the previous two years. That's a startling reversal of a decline in emissions from 2010-2012, and an indication that we really need to step up our game on the quickest, most cost-effective ways of reducing our emissions: distributed solar and energy efficiency.
"The growth in U.S. CO2 emissions is clear wake-up call that much more needs to be done to accelerate the growth of renewable energy sources, as well as improved energy efficiency, if the nation is to successfully address climate change," said Ken Bossong, executive director of the SUN DAY Campaign, which sent out a press release on the reported increase.
According to the Monthly Energy Review, U.S greenhouse gas emissions were 2.74 percent higher from January through June 2014 to than they were in the first half of 2013 and 5.96 percent higher than in the first six months of 2012. About 98 percent of greenhouse gas emissions in the U.S. come from the energy sector, including fossil fuel use for power generation, vehicle fuels, and home heating.
The biggest jump in emissions came from the residential sector, which dumped almost 17 percent more greenhouse gases from January through June of this year than in the first half of 2012. That's almost entirely due to increased natural gas and retail electricity use during the first three months of 2014, likely as a result of people struggling to heat their houses during the extreme "polar vortex" winter cold snap.
That also points up the importance of making sure homes in colder climates are well-insulated, which would cut down on both emissions and monthly bills, along with helping people stay comfortably warm.
Now for the better news: renewable energy production was also up during the first two quarters of 2014, now accounting for just under 12 percent of domestic energy production and 9.89 percent of U.S. energy consumption.