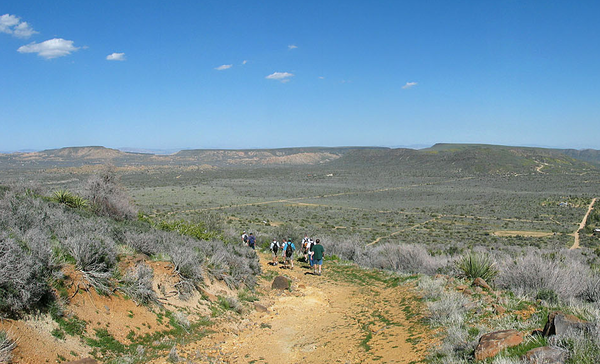 This view will stay this way for now | Photo: Ron's Log/Flickr/Creative Commons License
A controversial proposal to locate as many as forty 420-foot-tall wind turbines near a wildland preserve in the Morongo Basin appears to be a non-starter. Portland-based wind developer Element Power has informed the Bureau of Land Management that it doesn't plan to install turbines atop Black Lava Butte and Flat Top Mesa near the rustic hamlet of Pioneertown, citing insufficient wind resources.
Greg Thomsen, Special Projects Manager for the BLM's California Desert District, told ReWire that Element Power filed a formal "Request to Relinquish" its permit for testing wind resources on the site with the BLM's Barstow office on December 27. That request, since approved by the BLM, becomes official in late January.
The results of wind speed testing are generally guarded closely by developers as proprietary information.
The project, first proposed by Redlands-based Sierra Renewables, would have covered about 4,000 acres of two unique volcanic buttes adjacent to the Wildlands Conservancy's Pioneertown Mountains Preserve in the Pipes Canyon area. Element erected two meteorological testing towers in July 2011, igniting a firestorm of opposition from neighbors.
Those neighbors were already battle-hardened when it came to fighting energy interests: they'd just the year before beaten back a proposal by the Los Angeles Department of Water and Power to build a large transmission line, the so-called Green Path North, which would have bisected their rural neighborhood. That proposal was dropped by DWP in 2010, in part due to local opposition.
Without the transmission line, Element would have had to build seven or eight miles of generation tie line to connect to the grid. Between that and community opposition, Element's project would already have been a tough sell. Element's choice of a site of critical cultural significance to local Serrano Indians added even more obstacles. The land between the two mesas has been used seasonally by the Serrano for as long as anyone can remember. In 2012 James Ramos, the Chairman of the San Manuel Band of Serrano Indians sent the BLM a strongly worded letter opposing the project, and advocating that the BLM protect the land as an "Area of Critical Environmental Concern" (ACEC).
James Ramos has since won election to San Bernardino County's Board of Supervisors representing the district covering the mesas, adding significant political opposition to the project.
Local activist Frazier Haney, who's been working with anti-turbine group Save Our Desert when he's not managing the nearby Whitewater Preserve as a Wildlands Conservancy staff member, told ReWire that opponents aren't letting their guard down, and will continue to push for formal protection for the mesas. "It looks like this project's dead," Haney said. "But there's no guarantee that some other company won't come by in a year or two and start the whole process all over again. We're going to keep working to make sure that this land is protected permanently."
ReWire is dedicated to covering renewable energy in California. Keep in touch by liking us on Facebook, and help shape our editorial direction by taking this quick survey here.