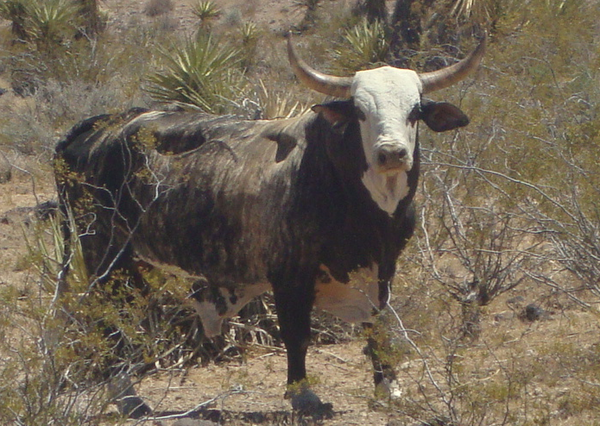 I couldn't have been more wrong last week in assessing the conflict over Cliven Bundy's illegally grazed public lands cattle has having "fizzled." Over the weekend a small throng of armed members of far-right groups showed up to lend Bundy support, eventually prompting the Bureau of Land Management to back down and release the cattle they'd rounded up so far.
It's a debacle for the BLM, and the ramifications of the weekend's about-face are likely to unfold for months. But even more disheartening is the speed with which blatant, easily debunked untruths about the issue spread throughout social media.
The weirdest of the allegations involve a proposal that's been dead for some months in a spot almost 200 miles away from Bundy's ranch, a project ReWire last covered in a story from almost a year ago. The fact that the project's in the wrong place and time hasn't kept the rumor-mongers from spinning tall tales about it, so it's time to put on our debunking hat.
In case you've missed the story, here's the basics: Bunkerville, Nevada rancher Cliven Bundy, who's a long-time adherent of the far-right Patriot movement, decided in 1993 to stop paying grazing fees to the BLM for cattle he grazed on public lands near his ranch in Bunkerville, in a scenic area called "Gold Butte" that happens to be good habitat for desert tortoises.
After five years of getting free grazing on those public lands, Bundy had his federal grazing permit revoked in 1998. That permit was bought by Clark County shortly thereafter and retired, as part of a mitigation arrangement allowing the county to develop desert tortoise habitat closer to the burgeoning city of Las Vegas.
Though environmental groups urged, and then sued, the BLM to evict Bundy's illegal cattle from Gold Butte within a couple years of his refusal to pay the modest federal grazing fees instituted by President Reagan, it took until 2012 for the BLM to act, but the agency quickly scuttled plans to round up Bundy's livestock, citing perceived threats to the safety of its field staff.
Earlier this month, with two new court orders forcing their hand, the BLM began rounding up Bundy's trespass cattle. Reaction was swift, with Bundy calling for a "range war" and saying it was time to take back the country "by force."
Though Bundy has the habit of referring to the Gold Butte area as his land, the Bundy family's actual land holdings in the area seem to be limited to a parcel of about 150 acres along the Virgin River used for growing melons. But what distinguishes Bundy from any other right-wing melon farmer is that he has gained backing from a wide range of far-right groups: the Montana Militia sent members to Nevada last week to bolster the supportive crowd. Internet preacher Wiley Drake called on his supporters to help Bundy resist President Obama, whom Drake referred to as a "half-breed." Some in attendance identified themselves as members of the "Oath Keepers" movement; Oath Keepers' Elias Alias informs us that the organization sent no formal representatives to Nevada, though it does support Cliven Bundy.
That's the context in which the BLM backed down and released about 400 cattle they'd rounded up. And it's the context in which misinformation from Bundy supporters started buffeting social media.
Over the weekend, Kit Daniels at the conspiracy website infowars.com published a piece on the Bundy cattle roundup issue that took a few actual facts, then spun them into a story with implications so palpably wrong that it would be funny if so many people didn't seem to be swallowing them whole.
That story: U.S Senator Harry Reid is pushing the ouster of Cliven Bundy's cattle so that a Chinese firm represented by his son Rory Reid can build a solar facility on the site.
To make that case, Daniels cites a document discussing using Gold Butte as potential mitigation land for projects on the Dry Lake Solar Energy Zone in north of Las Vegas. Daniels also reports breathlessly that in 2012, the Department of the Interior released a master plan for solar in the southwestern states, which revelation was not exactly breaking news to us here at ReWire.
"Although these reports are in plain view, the mainstream media has so far ignored this link," writes Daniels.
So far, that's nothing out of the realm of reality: Gold Butte has indeed been mentioned as mitigation land to allow companies to build solar projects on other tortoise habitat, just as Clark County bought out and retired the local grazing permits to excuse its building sprawling suburbs on tortoise habitat in Vegas. If Daniels had stopped there, pointing out that the BLM's concern for tortoises seems to be erratic and context-driven at best, and that Reid has a long history of pushing for development of tortoise habitat if his political base stands to profit, there'd have been nothing wrong with the story.
But that wouldn't have been a good enough conspiracy, in that it all takes place on the public record.
So Daniels plops a specific project into the article's text, hilariously out of context for readers familiar with the details, but in a way that suggests it's the real reason for the BLM action to round up Bundy's cattle:
Back in 2012, the New American reported that Harry Reid's son, Rory Reid, was the chief representative for a Chinese energy firm planning to build a $5-billion solar plant on public land in Laughlin, Nevada.
The article then discusses the project at some length, quoting a Reuters article from August 2012.
There's a reason for that 2012 dateline in the Reuters piece: The "Chinese energy firm" being discussed is ENN Mojave Energy, and the project was canceled in 2013 after languishing for many months unbuilt and unfunded. There haven't been many articles on the project since 2012, for the simple reason that it became clear it probably wasn't happening around then.
To be clear, Daniels did not specifically say that the ENN Mojave Energy project was planned for the land on which Bundy's cattle now trespass. But that's certainly what people took away from it: Harry Reid ordered Bundy's cattle removed so that his son Rory could build a solar project on it for the Chinese Communists.
There are two little problems with that interpretation of the story, one of which lends support for the notion that Americans have no idea how to read maps: Bundy's cattle are in Bunkerville, Nevada which is here, and the proposed ENN plant would have been sited in Laughlin Nevada, which is here, and the two places are almost 180 miles apart.
Even if ENN's project was still a going concern, alleging that Bundy's cattle are being moved because of ENN is about like saying you got kicked out of your apartment in Los Angeles because your landlord wants to build a new building in Fresno. When the real reason is you haven't paid rent since the first year of the Clinton Administration.
The other little problem? The idea of land being used as mitigation for habitat destroyed elsewhere pretty much depends on the habitat being protected. Which means not building solar on it, whether by a Chinese-owned firm or an all-American crew like First Solar.
And that also means not building gas and oil wells, as alleged by another rumormonger site that's latched onto the Bundy Ranch issue.
Let's be clear: the BLM is its own worst enemy on this issue, and many others. The agency's ludicrous mishandling of this week's protests with "First Amendment Zones" and the like is part and parcel of a years-long and mounting disrespect for public involvement in the management of its own lands. The probably illegal denial of public comment at solar project hearings we reported on in 2011 remains BLM Desert District policy, an issue we're continuing to track.
That's not to say we have anything but sympathy for the BLM field staff put in the uncomfortable and dangerous position of carrying out agency policy in the face of armed opposition.
But some of Bundy's supporters have even gone so far as to issue threats against the staff of environmental organizations working on the Gold Butte issue and publish their home addresses online, which development is not only upsetting but part of a long and heinous tradition of the right wing targeting enviros for violent harassment. Getting threatened by angry melon farmers with guns is, sadly, nothing new for enviros.
That means it's crucial for the BLM to rise above its corporate culture and get this right.
And it also means that every bit of disinformation, whether spread by mistake or on purpose, can end up hurting innocent people. And that should matter to you no matter what side you find yourself on.
For The Record a previous version of this article claimed that Wiley Drake was affiliated with the Oath Keepers group. We've since heard from a representative of Oath Keepers that they have no connection with Drake. We have edited the article to reflect that correction, and to clarify the organization's role in supporting Bundy. We regret the error.