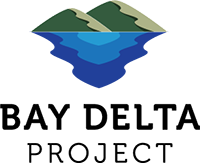 An explanatory series focusing on one of the most complex issues facing California: water sharing. And at its core is the Sacramento-San Joaquin Bay Delta. Stay with kcet.org/baydelta for all the project's stories.
As the state's multi-year drought groans on, it may be odd to learn that one of the biggest threats to one of the state's most critically endangered wildlife species is drowning in floods. But the riparian brush rabbit, which might have the most restricted range of any California mammal, has come close to getting flooded out of existence not just once, but three times in the last 40 years.
The riparian brush rabbit, which strongly resembles the far more common Audubon's cottontail, makes its home in the jungle-like forests that once grew in profusion throughout the Delta and the Central Valley. We've gotten rid of a lot of that habitat: as much as 95 percent of the region's historic riparian woodlands are now gone, according to some estimates.
Unlike other rabbits, the riparian brush rabbit won't cross open land to find new patches of suitable forest. And that makes it extremely vulnerable when something goes wrong in its home.
So vulnerable, in fact, that up until about 15 years ago, the total known global population of riparian brush rabbits was restricted to a single patch of habitat less than 258 acres in size, namely Caswell Memorial State Park.
That's "less than 258 acres" because the park totals 258 acres, some of which is taken up by campsites and parking and such, and a significant amount of which is the open water of the meandering Stanislaus River. Call it a little more than 200 acres of oak forest with a thick understory of shrubs and vines that made up the entire world habitat of Sylvilagus bachmanii riparius, one of eight subspecies of the more abundant brush rabbit, a.k.a. Sylvilagus bachmani.
In the days before agriculture came to this part of the south Delta, that forest was essentially continuous along riversides from the southern San Joaquin Valley through the Delta and into the Sacramento Valley. Where there were breaks in the trees, the surrounding plains usually had patches of shrubs here and there, potential cover for migrating rabbits.
By the 1960s, though, when the entire known world supply of riparian brush rabbits was sequestered in Caswell State Park, the surrounding fields near Ripon were devoid of native cover, converted entirely to farms.
In fact, Caswell Park itself would have seen the same fate had it not been for the sentiment former owner Thomas Caswell, who loved the riparian forest here so much that his descendants donated 150 acres of it to the State Parks for preservation in 1950. That donation formed the nucleus of the State Park, augmented by later purchases.
Caswell State Park, in other words, is an island of habitat in a sea of farm fields, and it's one well worth a visit for those curious about what the Delta's riparian forests were once like. Towering oaks shelter a thick understory of shrubs and vines, both native like California wild rose and Pacific blackberry, and invasive exotics such as edible figs.
It seems tailor-made habitat for the riparian brush rabbit. The rabbits prefer forest with dense understory, especially vines that they can make tunnels through. Though they'll venture out into clearings to eat grasses and wildflowers that like a little more sun, they never get more than about three or four feet from cover...and when startled, they dive for cover, rather than bounding away across the plain like their neighbors the Audubon's cottontails might do.
Riparian brush rabbits lack another behavior that benefits their Audubon's cousins: unlike the Audubon's, riparian brush rabbits don't breed all year. Riparian brush rabbit females are in season only for a few months, generally from January into May. Though they might still have several litters within this period each year, this restricted breeding period still limits the riparian brush rabbit's ability to recover from population crashes. That's especially true considering that only one in six baby riparian brush rabbits makes it to its first birthday.
And population crashes this subspecies has had. Though Caswell has been legally protected since 1950, that doesn't stop floodwaters from crossing the park boundaries. In 1976, flooding submerged Caswell Memorial State Park to the point where wildlife officials were navigating the forest in boats, pulling riparian brush rabbits out of trees. (They can climb trees, though not well.) In 1986, a short severe flood brought the Caswell's population down to an estimated 10-20 adults. That population may have been brought even lower after winter floods in January, 1997 and again in February 1998. In May 1997, census trapping failed to turn up a single rabbit, and officials feared the worst; after the February 1998 storms, a single male was live-trapped and evidence of other rabbits was found nearby. It may be that a few rabbits sought refuge on a nearby railroad embankment.
That railroad embankment was all that was left of the native upland habitat the rabbits needed to retreat to. With those uplands all converted to farms, they were in big trouble when the waters rose.
Things are looking up for the rabbit by comparison to those dark and flooded times. In 1999 another population of the subspecies was found at Paradise Cut, a flood channel of the San Joaquin River near Stockton. The U.S. Fish and Wildlife Service listed the riparian brush rabbit as Endangered in February, 2000, along with the riparian woodrat, which was also restricted to Caswell. At about that time, Cal State Stanislaus' Endangered Species Recovery Program, with funding from the federal Bureau of Reclamation, began a captive breeding program for the rabbit.
Starting in 2002, progeny of that breeding program were released onto the San Joaquin River National Wildlife Refuge. They were breeding successfully by 2003, in which year a third wild population was found on private land near Stockton. Afterwards, Faith Ranch, a private landholding with about 200 acres of riparian forest habitat, became another reintroduction site for the subspecies.
Hundreds of captive-bred riparian brush rabbits have since been put back into the wild, but threats remain. Flooding is presumably less of a risk as long as the drought persists, but wildfire can eradicate the rabbits and their habitat just as thoroughly, as can feral cats -- a significant threat to the Caswell Park population, among others.
Despite these heroic and promising efforts to bring the riparian brush rabbit back from the brink of extinction, in other words, the main problem still exists. The riparian brush rabbit, like so many other Delta wildlife species, evolved to thrive in a whole landscape of interconnected and interwoven habitat types.
We've fragmented their habitat, just as we've done with the valley elderberry longhorned beetle and the Chinook salmon and other species. And the only long term solution for any of those species will be restoring their habitat in large connected swaths across the whole landscape of the Delta and the Valley. Smaller-scale measures may be heroic, but they'll never solve the problem permanently.
For the record: A previous version of this story omitted mention of the Bureau of Reclamation's involvement in the captive breeding program. We regret the omission.