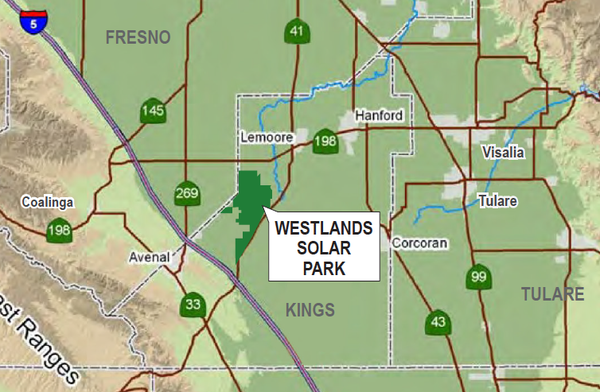 A proposed utility-scale solar development that so far enjoys wide support among environmentalists is taking a step forward. The Westlands Solar Park, slated to cover 24,000 acres of degraded farmland when it's finally built out sometime after 2020, has started the scoping process mandated under California environmental law for the solar park's overall plan, and for the transmission upgrades the project will require to get its 2.4 gigawatts of solar power to the rest of the state.
The Westlands Water District, lead agency on the project, sent out notices for scoping meetings on March 13. Scoping meetings are a precursor under the California Environmental Quality Act to a project's Environmental Assessment, which in an undertaking as large as Westlands Solar will involve a full Environmental Impact Review. Westlands Water District will be holding a public scoping meeting in Fresno on April 9.
Westlands is ambitious, and its backers plan to sell power to both investor-owned and public utilities. The project's proponents are keeping mum about power purchase negotiations at the moment. They'd have a lot of power to sell; after building out in 200 megawatt increments for 12 years starting this year, a completed Westlands would have the same peak output as both units of the beleaguered San Onofre Nuclear Generating Station put together.
Notably, 24,000 acres is huge: It's 37.5 square miles. Given the intense controversy over projects like BrightSource's Ivanpah Solar Electric Generating System, which covers one-sixth the area Westlands would cover, you might think that habitat-conscious environmentalists would be lighting torches and sharpening pitchforks over this proposal.
But Westlands Solar Park, proposed for a stretch of land between Kettleman City and Lemoore in Kings County, isn't sitting on world-class wildlife habitat: It's land that has been plowed up year after year for the last century or so. And though opposition is also mounting to converting prime farmland to solar production, Westlands isn't prime farmland. It's has been so heavily irrigated that naturally occurring selenium has contaminated the soil, making most of it unfit for farming.
In fact, you could argue that turning this land into a solar power complex might actually help wildlife: Irrigated agriculture on this land has long been blamed for devastating impacts on wildlife downstream due to selenium-contaminated drainage water, the 1982 Kesterson National Wildlife Refuge scandal being merely the most prominent example.
As environmentalist opposition burgeoned to the big desert solar proposals between 2008-2011, Westlands was mentioned over and over as a way the State of California could do huge utility-scale solar projects without trashing wildlife habitat. Lack of transmission capacity has been an obstacle, as has reluctance on the part of some Westlands landowners to offer up their property for solar development. But as the financial appeal of solar photovoltaic development grows and the profits from Westlands farming dwindle, the west side of the San Joaquin Valley has become the increasing focus of potential solar development.
Transmission remains an issue. Significant upgrade to the local grid will be needed if Westlands is to build out to its full planned 2,400 megawatts, and there will almost certainly be environmentalist objection to transmission plans, much of it reasonable.
And building out Westlands Solar could reasonably be criticized as a diversion from a more decentralized approach. Building 2.4 gigawatts of rooftop and urban solar would require far fewer transmission upgrades. It would certainly benefit more people than will any proceeds from Westlands Solar, which will essentially go into the pockets of an agency that's served as a San Joaquin Valley oligarchy for generations.
But it's still a welcome change for those of us who've long advocated putting solar on disturbed lands. It's hard to find land more disturbed than Kings County's worn out cotton fields.