Vireo, the groundbreaking made-for-TV opera, is now available for streaming. Watch the 12 full episodes and dive into the world of Vireo through librettos, essays and production notes. Find more bonus content on KCET.org and LinkTV.org.
It took 20 years for "Vireo: The Spiritual Biography of a Witch's Accuser" to take shape, but the opera is now preparing for broadcast this spring as a series of short episodes that will be available to view online.
Initially conceived by composer Lisa Bielawa while she was a student at Yale University, "Vireo" looks at the treatment of young women over the course of centuries in relationship to views on "hysteria" and visions. Up-and-coming soprano Rowen Sabala, who was a 16-year-old high school student when production began in 2015, stars as the titular character, taking viewers on a journey through witch trials and psychiatric treatments into the present day. With a libretto by Erik Ehn, this look at the power men have over the perception of women was directed by Charles Otte and filmed in a variety of locations, including Alcatraz.
"Vireo" was co-produced by Bielawa, Anne Marie Gillen, Grand Central Art Center and KCET. The opera is already an award-winner, having been the recipient of the 2015 ASCAP Foundation Deems Taylor/Virgil Thomson Multimedia Award, and stands to change the way we view opera. This cutting-edge project is unusual in the opera world for a myriad reasons. We looked at seven of those here.
1. "Vireo" was made for online broadcast.
"Vireo" wasn't just designed as a filmed opera, it was made for broadcast online. While the full opera clocks in at about 2 hours and 24 minutes, it's broken down into 12 chapters. Each of these chapters is comparable in length to the kind of web series you might find on YouTube. In other words, these are short slices of a much bigger story. Chapter 5, "The Cow," is less than 10 minutes in length. Meanwhile, Chapter 11 runs at about 17 minutes. This makes it easier for viewers to decide how they want to view "Vireo." It can be consumed in one sitting or over a period of days.
But, "Vireo" isn't just presented episodically, it was made that way. As director Charlie Otte points out in the "Making of 'Vireo'" video, this allowed them to do things like change up the locations, which wouldn't have been possible if they were filming it in one performance.
2. "Vireo" was filmed at various locations, including Alcatraz.
"This was conceived, from the beginning, as a piece of film," says director Charlie Otte in KCET's "The Making of 'Vireo'" video. Like films, "Vireo" uses multiple locations instead of a single stage. Amongst these locations is Alcatraz. The famed location turns up in the ninth chapter of "Vireo." The production notes for "Vireo" add that, to make this episode, shooting began on the boat to the Alcatraz and the team were able to work with the acoustics of the old prison. Other locations are found in Southern California.
3. "Vireo" is about a teenage girl and based on records of teenage girls.
"What was innovative then is still innovative now," says composer of Lisa Bielawa in the "Making of 'Vireo" video. Bielawa began work on "Vireo" twenty years ago. Back then, the opera was intended to be presented in a traditional setting. The story, however, was not typical of operas. "We wanted to make an opera about a teenage girl whose story would be modeled on actual teenage girls' personal histories from hundreds of years of Western history."
"Vireo" was based on research that Bielawa began as a Yale student, where she found records of groups of men analyzing the perceived conditions of teenage girls. These included documentation of the Salem Witch Trials and studies regarding "hysteria" in the Victorian era. All that became part of "Vireo."
4. The musicians change throughout "Vireo."
There is not one orchestra providing the music for "Vireo." For the "Alcatraz," the musicians were the American Contemporary Music Ensemble. Guest singers included members of Capella SF. Kronos Quartet performed in the first two episodes of "Vireo," as well as the final one, and "Magik*Magik Orchestra turns up in Chapter 11. Other performers include the San Francisco Girls Chorus and Chorus School, Orange County School of the Arts Middle School Choir, Shadow Hills High School Regiment of the Realm Marching Band and others.
"We're creating a huge community of artists that have been involved with this project," says Lisa Bielawa in "The Making of 'Vireo.'" "Hundreds of people that will have been in an episode because we can have them participate because of their relationship to the location where we're shooting."
5. The orchestra is frequently on stage with the singers in "Vireo."
You don't have to look down into the orchestra pit to see the musicians in "Vireo." They're often spotted in the same shot as the singers. Sometimes, the musicians are off to the side, or in a corner, creating an effect that's not so different from a break in the fourth wall. On other occasions, like when a marching band appears with the singers, they become part of the story. Other times, the camera might focus solely on the musicians. In all instances, "Vireo" lets the audience know that the musicians are not just anonymously playing sounds to accompany the stars of the show.
6. "Vireo" merges vastly different time periods seamlessly.
Thematically, "Vireo" looks at the treatment of young women over the course of centuries and, as such, the time periods shift quickly throughout the opera. This is obvious early on, when we see Vireo visually transform from a girl in the Middle Ages, to a contemporary teenager complete with colorful streaks in her hair, cutoff jeans and fishnets. Because this is a filmed opera, instead of a staged one, "Vireo" is able to move back and forth between these visual cues seamlessly, strengthening the similarities between the treatment of women over long periods of time.
7. "Vireo" was tailored to its performers.
The star of "Vireo" is Rowen Sabala, who was a 16-year-old student at Orange County School of the Arts when production began. Composer Lisa Bielawa told KCET that they were writing the opera as it was being made and so the music grew with its lead performer in the two-year production period.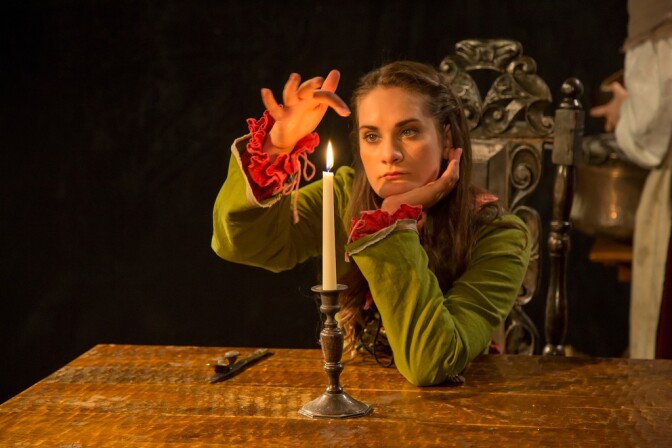 Top image: The full cast and performers in episode 11, shot at the historic 16th Street Station in Oakland, CA | David Soderlund