Weekly Vote Winner: Artbound's editorial team has reviewed and rated the most compelling weekly articles. After putting two articles up for a vote, the audience chose this article to be made into a short-format documentary.
Two things Southern California has in abundance: sunshine and plastic. Two more: high-tech industries and experimental spirituality. But it is precisely the union of all these unlikely counterparts that has given this region its special character and spawned some of its most unique artistic accomplishments. Chief among the artistic prime movers that pushed L.A. onto the international art-world stage was the Light & Space movement, the ultimate byproduct of Southern California's sunkissed and spaceward-thinking intellectual environment.
The broad spectrum of Light & Space practices included, but was not limited to the use of resin, polymer, enamels and other heavy-industry inspired, non-traditional materials, and an avowed interest in mathematics, physics, optics, and outer space. Artists like De Wain Valentine, Helen Pashgian, John McCracken, Mary Corse, Doug Edge, Terry O'Shea, Robert Irwin, Nancy Graves and many others became enamored with the materialism, and new materials, that became possible in Post-War California. Artists embraced both the wonders of the new technologies and an unencumbered access to novel imagery outlets. Synthetic materials created new possibilities. They sensed an opportunity to bring something absolutely new to the American art conversation -- something distinctly Southern Californian.
Long-time Armory Center Director, and the curator of several major exhibitions dealing with the history of aeronautics and space exploration, Jay Belloli, describes the factors that helped create this explosive moment in modern art. "The most wonderful thing about So Cal is its lack of history. It freed everybody from the past. NASA's Jet Propulsion Lab was at that time the center of the planet in terms of exploring the universe. Lockheed, Boeing -- they were all here. There was no other place like it in the world. Craig Kaufman, Larry Bell and his coated glass, Robert Irwin's disks and scrims. Ken Price got really bizarre really quick and took it somewhere else. Nancy Graves started making work based on the Moon Landing right away -- she really got it. That technology and those kinds of materials were not really available outside of Southern California, where it was researched and manufactured. Even with artists like Dan Flavin and Donald Judd -- it was different. Fabrication, vacuum forming, enamels, plastics, airbrushing -- that was all happening here."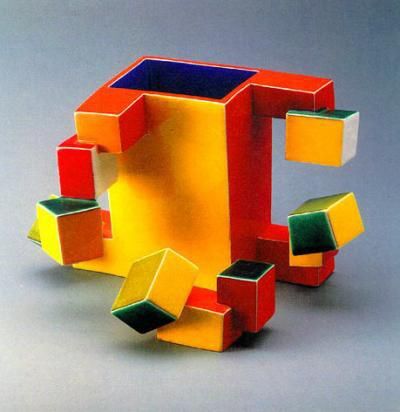 Jay Belloli's most recent foray into this realm was "The History of Space Photography," at Art Center's WIlliamson Gallery. As Leonard Nimoy wrote in the catalog, "There is mystery... wonder... magnificence. And there is a gift. It is the opportunity to reflect on the depth of time and space and to give thought to our place in it." This kind of thinking appealed to a new generation of artists ready to rush toward the future, to engineer a move away from the compelling but messy and emotional dominance of new Surrealism and Abstract Expressionism; toward something that transcended individual human fallibility and looked toward smoothness, perfection, mechanisms of perception, and cool science. What was more surprising, perhaps, was the enthusiasm with which the industries welcomed their interest and participation.
Jet Propulsion Labs had artist in residence Dan Goods. Fred Eversley was artist in residence at the Smithsonian Air & Space Museum in 1977, their first. Laurie Anderson was the first (and last) artist in residence at NASA overall; the project lasted two years before being scuttled by a Republican in a budget-shanking. Caltech has had an artist in residence for the past 15 years, most recently Michael C. McMillen. June Wayne was a regular and welcome visitor, especially at the Caltech observatories. There was a substantial collaborative attempt to mingle art, science and philosophy -- producing an unprecedented time of innovation and excitement in both fields.
One of the most popular expressions of this new left brain/right brain dichotomous spirit of cooperation was LACMA's "Art and Technology Program," a broad-based experiment that unfolded between 1967-71. As Belloli notes, "It's very important that it happened here. It would not have been possible in New York City, but it made perfect sense here." Howard Fox, in his updated introduction to the now web-archived catalog and report, describes "a series of carefully arranged and well-funded collaborations between artists and high-tech industries, [that] was surely the most ambitious and far-reaching effort to bring artists, scientists, and engineers together in creative, collaborative synergy up to that time. Senior Curator of Modern Art Maurice Tuchman posed these questions: What if artists had access to the materials, expertise, and manufacturing processes of the day's most advanced technologies? What if they were free to experiment with these materials and processes, and what if they could collaborate with the engineers and corporations who had developed them?" Corporations that came on board ran the gamut from purveyors of secret laser weapons, to lunar landing modules, to major movie studios.
Artists that were invited to submit proposals -- not all of which were realized but all of which are chronicled in the catalog -- included John Baldessari, Claes Oldenburg, Larry Bell, John Chamberlain, Christo, Walter de Maria, Mark de Suvero, Jean Dubuffet, Fred Eversley, Dan Flavin, Sam Francis, Hans Haacke, Donald Judd, Ellsworth Kelly, RB Kitaj, Roy Lichtenstein, Bruce Nauman, Jules Olitiski, Robert Rauschenberg, James Rosenquist, Richard Serra, Tony Smith, Andy Warhol, James Turrell, Victor Vasarely, and Peter Voulkos. The museum, in addition to thoughtfully offering the full 400-page out-of-print catalog as a downloadable PDF, has also collected an archive of the considerable responses to the show.
This month also sees the grand opening of a new gallery space at the Lancaster Museum of Art and History. Curated by Andi Campognone, "Smooth Operations: Substance and Surface in Southern California Art," looks at the use of new and untraditional materials in the fabrication of art objects, with a concentration on the postwar years in and around Los Angeles. Among the artists featured are Larry Bell, DeWain Valentine, Ronald Davis, Craig Kauffman, Judy Chicago, Roland Reiss, Norman Zammitt, Fred Eversley, and Jerome Mahoney, as well as younger artists like Eric Johnson, Lisa Bartelson, Andy Moses, and Eric Zammitt. Coincidentally, Peter Frank wrote the catalog essay for the MOAH show as well. In it he describes how "Southern California, in particular, found itself a locus of new material practice. On reflection, this is no surprise: already a center for technical innovation connected to the movie industry - and a center for art and design pedagogy as a result - the Los Angeles basin became the de facto hub for America's aerospace industry with the onset of World War II. By the 1960s, L.A. was teeming with inventors, inventions, and invented materials. Artists, naturally, were in and among these, and the art they produced speaks of this heady, experimental attitude. Indeed, the history of art in and around Los Angeles comes to its first peak, its first real breakthrough, with this surge in artistic use of the new synthetics... as they realized that they were making art that wasn't being - and, apparently, couldn't be - made elsewhere."
In the original report on the "Art and Technology" show, co-curator Jane Livingston wrote, "One of the fundamental dualisms inherent in the question of technology's uses in a humanist context has to do with the conflict between the belief that, in a word, technology is the metaphysics of this century, and therefore has to be accommodated from within, and the view that technology is somehow self-perpetuating, implacable and essentially inhuman. Nearly all the positions taken by artists and by their scientific counterparts with respect to the art/technology relationship are conditioned by one or the other of these antithetical beliefs." The late June Wayne was one of the most ardent supporters of fusing artistic and scientific methods in the studio and in society. With a large number of scientists counted among her wide circle of friends, she spent real time at physics and astronomy labs. The subject comes up repeatedly in art historian Betty Ann Brown's recent book, Afternoons with June: Stories of June Wayne's Art & Life. "June dealt with the complexities of modern science: the double helix of DNA, aeronautical design, genetic manipulation, and astrophysics. She often turned her prescient vision skyward, to the Space she described as an 'ineffably beautiful but hostile wilderness.' June always said that she was influenced by the proximity of JPL. The California-based center for robotic exploration of the cosmos, JPL built America's first satellite, Explorer I, in 1958."
Wayne was one of the earliest, though certainly not the only, to directly address the implications of the moon landing in terms of "the revolution in consciousness that happened globally when we all saw the whole Earth in perspective." She made her "My Palomar" suite of lithographs in honor of the view of space from the Caltech observatory down by San Diego; and the title of the later series "Empyrealite" means "of the sky, celestial, sublime." The metaphysical and philosophical, and even spiritual, implications of space exploration had much deeper roots than the phenomenology of televised space flight. There was another branch on the JPL family tree, in the form of its patron saint and co-founder, the rocket scientist, chemist, and practitioner of quasi-Satanic worship, Jack Parsons. Parsons was a gorgeous and charismatic genius who essentially invented rocket fuel, making manned space flight possible, and as such was a founder of NASA's Jet Propulsion Labs. He was also a high-level devotee of the Crowley/Huxley "church" of the OTO (Ordo Templi Orientis), the ideals of which were touted as transcendent, mystical, and surreal -- we are talking the real-life Doors of Perception here, especially given the nature of Parsons' research. In reality, it was a cruel, sex-obsessed, and possibly Devil-worshipping cabal through which L. Ron Hubbard passed at one point on his way to invent Scientology.
Parsons' wife and spiritual soul-mate, Marjorie Cameron, was a gifted artist and later on something of a mentor to artists like George Herms and Wallace Berman, who shared her affinity for patterning the darker spiritual dimensions of art and popular science. She starred with Anais Nin in Kenneth Anger's incendiary film, "Inauguration of the Pleasure Dome," and Berman used a picture of her on the cover of the first issue of his arts and alt-culture journal Semina. She was of course herself an advanced follower of the OTO, and throughout her life continued to make work that straddled the realms of the physical, hallucinatory, and universal. She continues to inspire new generations of dangerous women, spiritual seekers, and counterfactual scientists, just as the love of space-age materials continues to influence new generations of Southern California artists. For outsiders, it may be easy to initially dismiss the power of the connection between a sex-crazed black magic rocket scientist, his liberated wife, NASA, an aesthetic fetish for polymer resin, and a mind-expanding elevation in human consciousness triggered by seeing the Earth from space. But for those who know Southern California, we know it could not have happened any other way.
Dig this story? Sign up for our newsletter to get unique arts & culture stories and videos from across Southern California in your inbox. Also, follow Artbound on Facebook, Twitter, and Youtube.
Top Image: Fred Eversely: William Turner Gallery.