After 40-Plus Years, Barbara Carrasco's Censored Mural Finds a Permanent Home
After 40 years, Barbara Carrasco's epic (and censored) 1981 mural "L.A. History: A Mexican Perspective" finds a home where its stories can be told.
At 80 feet long, Barbara Carrasco's mural "L.A. History: A Mexican Perspective" covers Los Angeles history from prehistoric times through its founding to present-day landmarks. Originally commissioned in 1981 by the Los Angeles Community Redevelopment Agency to celebrate the city's bicentennial, the mural contains historical moments in the evolution of Los Angeles — but it was quickly censored.
Carrasco was told that she would have to omit 14 different scenes within the mural, including depictions of the 1943 Zoot Suit Riots, the internment of Japanese American communities and the death of reporter Ruben Salazar during the 1970 National Chicano Moratorium March. These scenes are woven in with other people, events and places that made the city what it is today — with a focus on multicultural contributions.
"Even though it's called "L.A. History: A Mexican Perspective," the first Jewish synagogue in L.A. is in there and Sandy Koufax, the famous Jewish baseball player," Carrasco said during a phone interview. "There's a lot of parts of L.A. history that a lot of people don't know about. Biddy Mason being portrayed in the middle is really important. She was the last Black slave in L.A. and I read her story way before I did the mural … She read the California law against slavery and took her owner to court and won her freedom."
The mural depicts a woman with long brown hair, the strands of which extend over 51 different scenes brought to life in acrylic on masonite panels. Many of the vignettes are bursting with saturated hues — save for some black-and-white or sepia photographs, a newspaper clipping and a film roll that mimic the feeling of a mixed-media piece.
Carrasco refused to remove any of the scenes and fought for ownership of the mural. Since then, it's lived many lives in a variety of spaces, with parts of it on view at spaces like Otis College of Art and Design, the Autry National Center of the American West and the Massachusetts Institute of Technology List Visual Arts Center in L.A. In its entirety, it was displayed at Union Station from late September to late October 2017, as part of the exhibition "¡Murales Rebeldes! L.A. Chicana/o Murals Under Siege."
People have tried to censor history for a very, very long time. I remember reminding artists that this could happen to you in five years, next year. You never know. But that's why we have to really fight against censorship of any kind.

Barbara Carrasco
This was the first time the mural was seen by the public in 27 years. According to an exhibition press release, the mural was previously on view for a short two weeks in 1990. Then, from March 2018 to August 2019, the mural landed at the Natural History Museum (NHM) as part of the exhibition "Sin Censura: A Mural Remembers L.A."
This makes its official, permanent home all the more significant. The Natural History Museums of Los Angeles County announced the acquisition of the work in March; it will reside in a welcome center that visitors can enter without paying admission. "L.A. History: A Mexican Perspective" will include a digital touchscreen measuring 70 inches with historical information on each vignette as well as behind-the-scenes content, both in English and Spanish.
During the mural's first stay at NHM from 2018 to 2019, Carrasco often spent weekends talking to visitors. She remembers going to the museum as a Girl Scout with her mom; Things came full circle when she saw parents looking at the mural with their kids. The little ones would then go to the interactive screen and choose which images to learn more about. Carrasco actually spent some time in NHM's History Department doing research for the piece, another thread that ties together the artist and the institution.
"Of all the places in L.A., it is a perfect home for it," Carrasco said.
Though the new welcome center won't open until 2023, visitors can learn more about the mural through a virtual exhibition by the same name of the 2018 installation. The page includes a virtual gallery and a video featuring Carrasco discussing the piece.
"As museums of, for and with L.A., we are honored to be stewards of Barbara Carrasco's mural 'L.A. History: A Mexican Perspective,' which highlights moments of cultural contact, struggle, innovation and the changing landscape of the city over time," said Dr. Lori Bettison-Varga, NHMLAC President and Director, in an email statement. "In 2019, we witnessed the powerful ways our visitors responded to the mural while it was on view at NHM in 'Sin Censura' and this virtual exhibition provides a new opportunity for people to engage with the history of Los Angeles before the mural will be seen by the community and wider audiences in our new NHM Commons Welcome Center."
One of the other vignettes that Carrasco was originally asked to remove a references David Alfaro Siqueiros's only U.S. mural "América Tropical," which was originally painted in the El Pueblo de Los Angeles Historical Monument in 1932 — and whitewashed about a decade after its display.
Carrasco said that when she first started pushing against the city's restrictions on her mural, she was advised by some of her peers to not "pick a fight with the city."
"People have tried to censor history for a very, very long time," Carrasco said. "I remember reminding artists that this could happen to you in five years, next year. You never know. But that's why we have to really fight against censorship of any kind."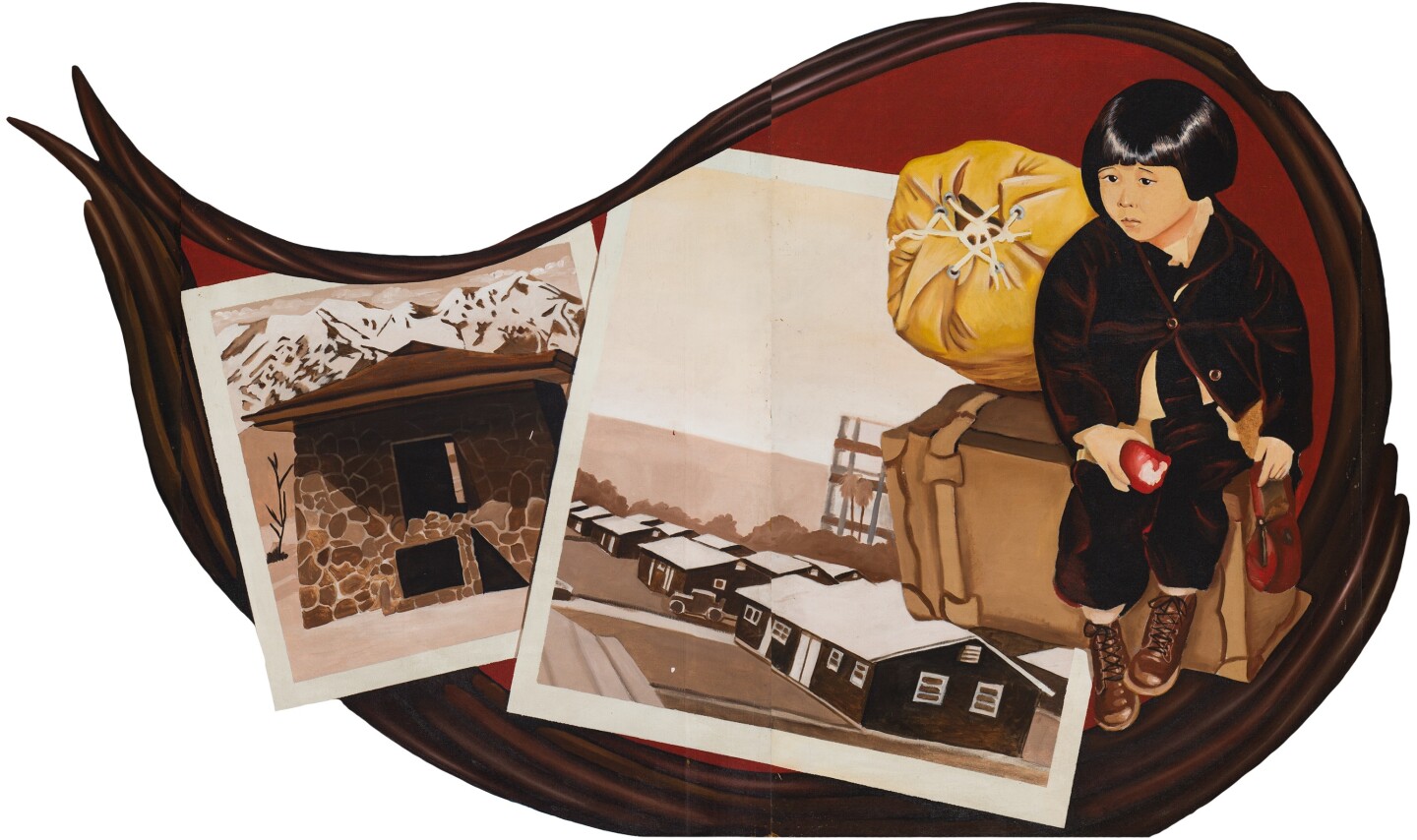 Carrasco says she had the support of people like Dolores Huerta. Now, she tells young artists to make sure to copyright their murals and document every step of the mural process, including who artists interact with.
The virtual exhibition also includes a PDF that visitors to the page can download. Created in collaboration with Self Help Graphics & Art, the illustration is based on Carrasco's mural, with blank spaces for people to fill in their own version of what they see as L.A.'s important history and iconic spaces.
Carrasco says that many viewers, particularly older generations, often pointed out what she didn't include in the mural. Even at its large size, it's impossible to include everything, she explains. The illustration is one way to open up the dialogue.
"I just posed [the question] to the young people: What would you do? What would you put in a mural about Los Angeles history?" said Carrasco. "What kind of images would come to mind?"
After decades of the mural existing without a permanent, public home, Carrasco insists that visual narratives are an important way to capture culture — from its historical roots to the neighborhoods that make up a city.
"I still can't get over the fact that the mural will be there permanently," Carrasco said. "I'm just so happy about it because it was a long struggle."