The Mojave Project is an experimental transmedia documentary by Kim Stringfellow exploring the physical, geological and cultural landscape of the Mojave Desert. The Mojave Project reconsiders and establishes multiple ways in which to interpret this unique and complex landscape, through association and connection of seemingly unrelated sites, themes, and subjects thus creating a speculative and immersive experience for its audience.
"A fortuitous flat tire" came after a fortune teller's prophecy that suggested the letter A loomed large on Marta Becket's personal horizon. This led the multi-talented doyenne to resurrect and transform Death Valley Junction's decaying community meeting hall into a gloriously muraled theater where for four decades she has performed her own choreographed ballet and vaudeville acts for an international audience.
Her legendary story is not only the subject of the Emmy-winning documentary "Amargosa" (2000), but one that fans from across the globe have sought out here in the desert for years now. Many have traveled to this remote corner at the eastern edge of Death Valley National Park to catch a fleeting glimpse of Becket's desert legacy in art, music and dance -- now continued through the efforts of a young but retired Bay-area ballerina who was originally inspired to take up dance when she first witnessed Becket on stage at six years of age.
Born on August 9, 1924 in New York City's Greenwich Village, creatively precocious Martha Beckett began studying ballet at age 14 -- considered a late start in the professional dance world -- through encouragement and support from her somewhat overbearing mother. Naturally talented, she began dancing professionally during her early 20s with the corps de ballet at Radio City Music Hall and later on Broadway in three popular musicals including "Showboat." Well before the dance lessons of her teenage years, the young Martha Beckett (she later changed her name to "Marta Becket") was instructed in a variety of other classic visual and performing arts including painting, drawing and piano. She excelled at them all. Her life infused with art, dance and music has continued for nearly 90 years now.
While touring the regional circuit in the early 1960s performing with her own repertoire, Becket also managed to secure an art gallery in NYC where she began to sell her figurative paintings of whimsical New York City street scenes -- city parks, costume shops, circuses populated with a variety of theatrical and stylized children, shop keepers, carnies and even "bored" fortune tellers. A critic of the day commented in Art News rather presciently: "In the midst of crowds and glitter, her figures seem isolated and withdrawn -- living in private existences in closed worlds while displaying their bodies publicly." Convinced that she would receive her "big break" when her one-woman show opened at NYC's Waverly Gallery on November 23, 1963, her hopes were dashed when the sad news of President Kennedy's assassination spread around the world the very same day. Still, Becket continued to paint and sell her canvasses between performance tours.
After marrying her manager Tom Williams in 1962, the two embarked on a series of one-person show tours of the Western United States. During these years, Becket began to see, experience and grow to appreciate the Western landscape, which differed vastly from what she had known growing up in New York City.
During one tour, the couple decided to camp between shows for a week at the Furnace Creek campground in Death Valley National Monument. The year was 1967 and the interest for performance programs of her ilk was dwindling fast due to the profound upheaval in 1960s popular culture. Colleges, universities and community halls where she performed regularly over the previous years were now more interested in booking burgeoning rock 'n' roll acts, spoken word and other hip happenings of the time.
But Becket and her husband were also exhausted from the traveling touring required and the flat tire on their travel trailer did not help the situation. Out of necessity, they motored 30 miles east to a tiny roadside enclave called Death Valley Junction that featured a run-down Mexican Colonial adobe building housing the former company offices, laborers quarters and a 23-room hotel with a full dining room of the Pacific Coast Borax Company. Of course, a filling station enabled them to attend to the damaged tire.
Designed by architect Alexander Hamilton McCulloch and built during 1923-25, the now shuttered building was likely originally constructed in response to author Zane Gray's published observation in "Tales of Lonely Trails" (1922) of the horrible living conditions provided (or not provided) by Pacific Coast Borax Company at the time:
"It was sunset when we arrived at Death Valley Junction -- a weird, strange sunset in drooping curtains of transparent cloud, lighting up dark mountain ranges, some peaks of which were clear-cut and black against the sky, and others veiled in trailing storms, and still others white with snow... Next morning, while Nielsen packed the outfit, I visited the borax mill. It was the property of an English firm, and the work of hauling, grinding, roasting borax ore went on day and night. Inside it was as dusty and full of a powdery atmosphere as an old-fashioned flour mill. The ore was hauled by train from some twenty miles over toward the valley, and was dumped from a high trestle into shutes that fed the grinders. For an hour I watched this constant stream of borax as it slid down into the hungry crushers, and I listened to the chalk-faced operator who yelled in my ear. Once he picked a piece of gypsum out of the borax. He said the mill was getting out twenty-five hundred sacks a day. The most significant thing he said was that men did not last long at such labor, and in the mines six months appeared to be the limit of human endurance."
Attached at the northeast end of the colonnaded, U-shaped structure stood Corkill Hall, a quaint recreational center with a built-in stage where dances, weddings, movies, church services and other community events had taken place years ago. While her husband was tending to the flat at the service station, Becket found herself drawn to the building that had been constructed the same year she was born. In the bright noon sun, the building sparkled, beckoning her in to investigate.
On closer examination and to her amazement the structure appeared to be an abandoned theater in drastic need of repair. She moved to the back of the building and peeked through a hole in the door revealing a dark interior featuring a small stage hung with faded calico curtains. The heavily warped floors from years of weather and rain entering through the failed leaky roof rose like ocean waves. Radiating sunbeams illuminated objects strewn across the floor: a discarded pair of roller skates, a doll's head with blue glass eyes staring blankly and directly at her. The vague skittering of kangaroo rats could be seen and heard in the shadows. Her connection to the structure was immediate. She ran over to share her discovery with her husband who equally relished in her excitement.
Years later Becket would share in her memoir: "As I peered through the tiny hole, I had the distinct feeling that I was looking at the other half of myself. The building seemed to be saying, 'Take me... Do something with me... I offer you life.'"
Having wearied to stay afloat financially and emotionally in metropolitan NYC, the couple decided to inquire whether or not they could rent the theater outright that same afternoon. After traveling to and from Las Vegas, the very next day they met with the town manager and secured the lease of the theater for $45 a month plus repairs. The two straightened out their affairs back East over the next few months, returning to Death Valley Junction on Becket's 43rd birthday, August 9, 1967. They promptly began the renovation of the Amargosa Opera House -- rechristened in honor of the original settlement whose name translates as "bitter" in Spanish for the area's surrounding alkali springs.
After taking over the theater, Becket and husband began the laborious chore of cleaning and repairing the space. Williams repurposed metal coffee cans into stage lights and extended the tiny stage a few feet. Becket sewed the stage's curtain out of red corduroy. By early February she was teaching local children ballet and also performing for the tiny community. But many times no one was present to witness her. By midsummer a destructive flash flood had swept through the compound leaving it deluged by a foot of mud.
While Becket was sweeping the muck out of the opera house, she conceived of her plan to paint a Renaissance courtly audience on its walls -- even if a live audience was not present, a fantasy assemblage could be forever regarding her as she performed. Shortly thereafter the couple acquired scaffolding from Las Vegas and she began to paint the opera house's interior by the end of 1968.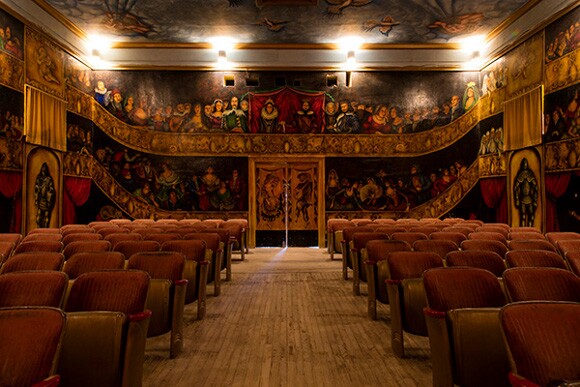 To gaze at these murals in person is really something else. To imagine this slight woman, so obviously multi-talented, painstakingly painting unassisted on rickety scaffolding within this tiny rustic theater in the middle of the desert is humbling. It is also apparent that viewers should take in the room's illustrated surfaces along with her performances as a whole. When activated, the space becomes an extraordinary multimedia installation and presentation celebrating Becket's milieu and her preference for the classic creative arts of the past harkening back to vaudevillian soirees of yesteryear.
Becket's choice to depict a 16th century Spanish court complete with king and queen plus a host of colorful patrons was inspired by the period Spanish Colonial style of the building. Jewel-like colors portray an array of distinctively stylized nobility, bullfighters, Catholic clergy, peasantry, gypsies and ladies of the night said to be modeled after some of the area's local brothel hostesses. A vignette suggests the flirtation of a young suitor caught in the act of dropping down a secret proposition tied to a string oven braided flowers to a would-be lover. In another, two rather exoticized native peoples of the New World wrestle for the make-believe audience perhaps as a side entertainment between an imaginary operatic performance. The entire trompe l'oeil covering three walls took Becket fours years to complete. Satisfied with the effect she spent another two years painting the ceiling with billowing white clouds across a blue sky that are framed with a collection of plump cherubs and a medallion of 16 seated ladies, each performing a different antique instrument at its center.
During the mid-1990s, I was fortunate enough to catch a live performance of Becket along with her colorful performing sidekick, Tom Willet, endearingly known as "Wilget." Willet, the compound's resident handyman, was "discovered" by Becket after her husband left both Marta and the Death Valley Junction in 1983. One day she spied Willet dancing with a broom among the colonnades. After reworking a few of her skits to include the stout, naturally gifted comedian, he joined her on stage for the first time on January 14, 1983. Wilget presided as Master of Ceremonies, collecting tickets before the show began, and after the curtain was up served as a jocular cross-dressing counterpart to Becket's, feminine theatrics conducted with his burly countenance framed by hilarious wigs, bodacious bonnets and a "four-tu," the nickname of his plus-sized crinoline tutu.
For two decades the duo performed together to the delight of audiences until his death from a stroke in 2005 at age 76. After his death, Becket -- who considers Willet to be her soul mate -- asked the audience to imagine Wilget clowning around on stage when she was herself silent or offstage.
Becket's choreographed stage productions aided by her rich costumery along with her expressive hand-painted backdrops and stage props connect the audience to the vaudeville era, when acts traveled the western circuit by wagon performing in the Wild West boom-and-bust mining towns of nearby Rhyolite, Bodie and Goldfield. Her ballet and pantomime bring Old World culture to a place where one would least expect it -- providing a conduit and glimpse into a live entertainment tradition that is largely forgotten. The entire appeal is strangely beautiful, somewhat odd but in the most surprisingly wonderful way.
Although Becket largely stopped performing by 2012 at the age of 88, she has appeared on stage live a few times since. In 2013, it was revealed publicly that an unscrupulous manager was allegedly not only bilking the nonprofit organization established in 1973 to help protect the property and Becket's legacy, but also mistreating Marta herself. Eventually concerned supporters came to her aid along with Inyo County Adult Protective Services due to the reports of elder abuse. Legal proceedings ensued, eventually forcing the "gun-toting" manager (who on one occasion brandished his firearm at a concerned, highly respected area resident dropping in to check on Becket's welfare) to cease all activities and vacate the property for good.
Today, a team of concerned caretakers and property managers are in place to help administrate the hotel, opera house and other property holdings, along with the small group of BLM-managed wild horses that frequent the back of the compound nearly every day.
During the past year, recently retired Oakland ballet dancer Jenna McClintock relocated to Death Valley Junction to perform a solo, one-woman show from Becket's own repertoire for ballet and pantomime. Pieces include the strangely whimsical "Kewpie Doll," along with one of McClintock's own choreographed creations, the classical "Dream Weavin'," inspired by the discovery of a lovely vintage yellow silk gown belonging to Becket that Jenna had found in a trunk. First debuted on February 6, 2015, this piece has a musical score by Edward Grieg.
McClintock's own personal connection to Becket and the Amargosa Opera House is truly remarkable. At age six, while traveling with her family in Death Valley, she was able to attend a performance of Becket's in 1982. Little McClintock left so utterly "mesmerized" by Becket's performance that she soon enrolled in a ballet academy, eventually performing professionally for 25 years, both regionally and nationally.
Several years ago McClintock returned to meet with Becket to express her gratitude for inspiring her own dance career. Encouraged by Becket, McClintock is now undertaking an extended creative residence and a series of performances that occur every weekend here until the end of May 2016. Please check the Amargosa Opera House website for changes in schedule and to book tickets in advance.
A special dance performance with puppeteer Scott Land is scheduled for Sunday, January 10, 2016 at 2 p.m. If you plan attending an evening performance, consider booking a room at the Amargosa Hotel -- (but beware as it may well be haunted!). Those interested in learning more about Becket should pick up her 2007 autobiography, "To Dance on Sands: The Life and Art of Death Valley's Marta Becket."
Top Image: The Interior of the Amargosa Opera House Painted by Marta Becket | Photo: Mike Carano
Dig this story? Sign up for our newsletter to get unique arts & culture stories and videos from across Southern California in your inbox. Also, follow Artbound on Facebook, Twitter, and Youtube.