This season, "Artbound" explores how communities have fought to survive, to stay resilient by creating the art forms, forums and spaces they need to band together as communities, combat erasure and unapologetically express themselves. In the process, they're redefining what it means to be an artist and their role in society. Join us as we discover the many ways that art is an essential part of the human experience on "Artbound." Tune in:
"Light & Space"– Wed., Sept. 30 at 9 p.m. PT
Light & Space (Preview)
Light & Space (Preview)
In a world filled with noise, distractions and chaos, a number of artists seek to push the boundaries of perception and experience. The Light and Space movement of the 1960s explored minimalism with a uniquely Californian spin — with a keen attention to the interaction of light and space. Crucially, the materials these artists relied on to create these perceptual experiences emerged from the postwar aerospace industry and its advances. Robert Irwin, Larry Bell, and Helen Pashgian continue to work today to create work that asks viewers to question how they experience and perceive their world and the phenomenal.
"The New West Coast Sound: An L.A. Jazz Legacy"– Wed., Oct. 7 at 9 p.m. PT
Growing up amongst jazz legends within Leimert Park's deeply rooted African American musical community, drummer Mekala Session has emerged as the newest leader of the Pan Afrikan Peoples Arkestra. As the band works towards a headlining appearance on Grand Park's epic New Years Eve concert, Mekala uncovers stories and music from the Ark's past through conversations with the band's elders. Collaborating closely with Jamael Dean, Jimetta Rose and other young artists, Session and his peers grapple with how to best carry forward Los Angeles' rich jazz legacy while honoring the tenets that guided the sonic activism of the Ark's founder Horace Tapscott.
"CURRENT:LA FOOD"– Wed., Oct. 14 at 9 p.m. PT
In October of 2019 the city of Los Angeles through the Department of Cultural Affairs and the Institute of Contemporary Art organized a city-wide exhibition of public art and events based around the theme of food. Each artist interpreted a different aspect or issue surrounding food or food systems in the city from climate change, to food access, civic engagement to waste and recycling. Activating public parks throughout the city, artists created works to spark conversation about what it means to live in Los Angeles and how to work together for a sustainable and hopeful future.
"The Watts Towers Arts Center"– Wed., Oct. 21 at 9 p.m. PT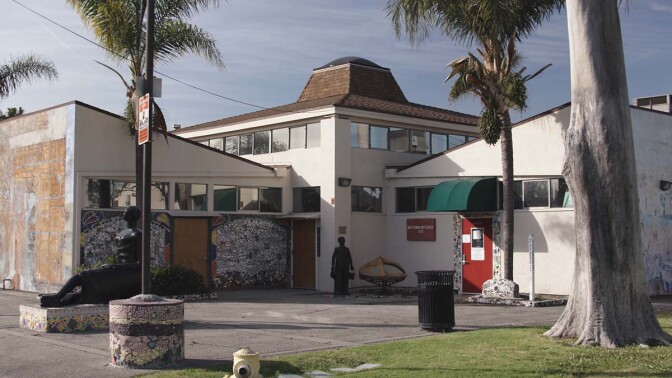 The Watts Towers Arts Center has been a beacon in the community for almost 60 years, born out of the resilience of 1960s Black Los Angeles. The neighborhood of Watts has always been the crossroads of Los Angeles with shifting populations and working class families. In the shadow of the Watts Towers, artists such as Noah Purifoy along with Judson Powell and others worked tirelessly to provide a space to promote creative pursuits and to highlight the work from within the community. After the Watts uprising of 1965 these same artists collected the debris and detritus from the neighborhood and assembled the materials into sculptural forms. John Outterbridge, Betye Saar, John Riddle and others continued the tradition of L.A. Assemblage in their work, but they also continued to give back to the community through arts education. The Watts Towers Arts Center carries on this mission today to serve the community and protect the legacy and history of Watts.
Top Image: Morning light from Robert Irwin's 'Dawn to Dusk,' 2016 at Chinati Foundation | Still from "Light & Space"