For a few years at the end of the 1960's, Eugenia Butler exhibited some of the most exciting and important artists of the period. Between 1969-1971 her eponymous gallery on N. La Cienega Boulevard in Los Angeles was a cradle of non-object oriented and conceptual art, showing pioneers like John Baldessari, Joseph Kosuth, Allen Ruppersberg, and Richard Jackson among others. Despite her brief but cutting-edge career, her name is seldom mentioned when discussing this period. If it is, it is often with a mythical reverence based more on her larger-than-life persona than on real knowledge of her actual contributions. Her influence and continuing legacy on the L.A. and international art scene is revealed through interviews with artists and others who knew her, as well as archival research.
Born in Bakersfield, CA in 1922, Eugenia Louise Jefferson grew up in Los Angeles. During WWII she became a nurse sergeant in the Marines, where she met her future husband James G. Butler who was a fighter pilot. After the war, James went to law school on the GI Bill and became a prominent lawyer, handling many high profile class action suits, including cases involving thalidomide and airline crashes. The two were committed to civil rights. "They were considered extremely left wing at the time," remembers their daughter Cecilia Dan, and Jim helped found an NAACP chapter in Compton where they lived when they were first married. As Jim became more successful, they moved into a stately house on South Rimpau street and had eight children. Although they appeared on the surface to be the picture of the post-war American Dream, the Butlers were interested in pushing boundaries -- social, cultural, and artistic -- and shared a passion for challenging art. Eugenia Butler's future business partner Riko Mizuno recalled the important role that art played for the couple when they were courting, before Jim became successful. "She told me they used to date, but didn't have much money, so they're going to museums, galleries," Mizuno said. "That's how she loved art, so that's kind of beautiful."
The L.A. art scene of the 1960's was much smaller and more intimate than it is today. Curator Hal Glicksman noted in 2011 that "there was so little audience, outside of the artists and a few collectors, and so little money and so little support, that the artists formed a self-supporting community. It wasn't all done with an eye on the market, or on the critics either for that matter...things here were just what artists and their friends wanted to do, support each other." New York City was the center of the art world then, which gave artists in L.A. a certain amount of freedom. "One of the nice things about that period was that L.A. was so intimate. The lines between dealers and collectors and artists were permeable because everyone was making it up as they went along and they didn't have a bunch of established predecessors...like in New York," notes writer Hunter Drohojowska-Philp. The community of serious collectors was just beginning to form, so sales were not expected. "It was fun in the sense that money was not an issue, and the joke used to be that if anybody sold anything you must be doing something wrong," remembered artist John Baldessari in 2011.
There were only a handful of galleries of L.A. at the time, but the one that is perhaps best known is the Ferus Gallery, which was active from 1957 - 1966 on N. La Cienega Blvd. Founded by Walter Hopps and artist Ed Kienholz (who would soon be replaced by the suave salesman Irving Blum), Ferus brought to L.A. the kind of serious art that was being shown in New York and Europe, including Andy Warhol, Frank Stella, and Jasper Johns, as well as kick-starting the careers of a number of L.A. artists. These ranged from assemblage artists like Kienholz and Wallace Berman, to So Cal light and space artists like Robert Irwin and Larry Bell. The Ferus scene was glamorous, cool, and macho. They expanded the boundaries of what was being shown in L.A. at the time. But in a lot of ways, they were still adhering to a conventional model of showing and selling painting and sculpture. By the mid-1960s, a few forward thinking artists and dealers were showing work that was not confined to physical objects. One of these was Eugenia Butler.
Beginnings: Galleria del Deposito, Riko Mizuno and Gallery 669
Although her gallery was only active for a brief period, Butler had been involved with contemporary art for a number of years. In the mid-1960s, she served on LACMA's Contemporary Art Council and New Talent Award Committee, through which she met many young artists, and began collecting art. Her interest in the cutting edge drove her to look beyond the confines of the small L.A. art scene at the time. "The special thing about Eugenia and her husband Jim is that they were avid collectors, but both extremely intelligent, extremely articulate, and they wanted more from art than what was being given to them here in L.A. at that time," recalls gallerist Rosamund Felsen. "So they went to Europe a lot and intellectually and conceptually the Europeans were further ahead that what was going on in L.A."
On her European trips, she was introduced to the Genoa-based artist collective Galleria del Deposito (1963-1968) whose members included Lucio Fontana, Victor Vasarely, and Eugenio Carmi among others. In their opening newsletter from 1963, they proclaimed their intentions: "These people have got together in a kind of co-operative society; by forming an association of this type they mean to stress the fact that the gallery is not to be run on a profit-making basis. The common purpose is to bring the public's attitude to the modern visual arts up to date." According to LAND director Shamim Momin, this sort of un-orthodox model proved attractive to Butler: "Deposito is interesting because it was kind of like an artists-run collaborative so to speak, making art more accessible to the public, and they were in an old ice factory or warehouse of some kind, and really predicated a lot of artist practices, and she of course with similar kind of prescience, just kind of understood that this was a great vein in which to move." In 1966, she became an L.A. representative of sorts for Deposito. Later that year, she briefly worked for trailblazing gallerist Virginia Dwan.
Butler then partnered with gallerist Riko Mizuno, who had been running Gallery 669, located at 669 N. La Cienega Blvd., for about a year. As Mizuno recalls, it was people associated with LACMA, specifically then-curator Maurice Tuchman, who suggested the two would make a good team. Both women were interested in work that wasn't then being shown in Los Angeles. Butler's boundless energy would prove to be a foil for Mizuno's reserved nature. "Riko Mizuno was an unusual dealer," recalled the late artist Jack Goldstein in the 2003 book "Jack Goldstein and the CalArts Mafia" by Richard Herz. "She never did anything; she sat in the back and drank coffee. She had an interesting persona, somewhat inscrutable with her broken English, and was very laid back."
Mizuno remembers Butler's enthusiasm: "She's very active, alive. I used to tease her, 'you look like vitamin'... I never met a person like that, so much energy. I'm sleeping behind the gallery, I have a kind of apartment, so she knocked on door from early in the morning 'Get up, get up!'" In 2011, John Baldessari summed up a sentiment repeated in a number of interviews: "Incredible energy, incredible enthusiasm, I can't remember her ever sitting still."
The pair presented a number of important exhibitions, showing L.A. mainstay Ed Kienholz, as well as then unknown painter Richard Jackson (who would later become Butler's first gallery assistant). The gallery was best known for Joseph Kosuth's groundbreaking 1968 exhibition "Nothing," the pioneering conceptual artist's first solo show in the U.S. Before the year was out however, tensions between the two women led to the dissolution of the gallery. "I think if you knew the two of them, you would know it would not work. They're just too independent," recalls Felsen. Mizuno even broke out with a bad case of hives that she attributes to their conflict. Mizuno kept the space, renamed the Riko Mizuno Gallery, and Butler opened her own gallery just up the street at 615 N. La Cienega. According to Mizuno, the two never entered each other's galleries after that.
The Eugenia Butler Gallery
Right from the start, Butler was dedicated to showing work that explored new directions, that was in opposition to trends of the time, work that she felt passionately about regardless of its financial viability. "She was brilliant, she had energy, she was fearless," said Felsen, "and this is what she thought should be done, and she went ahead and did it and it was challenging, and it was challenging for her, challenging for the viewer." Butler was not interested in the more established painters and sculptors of the Ferus scene. Instead, she was attracted to a number of artists whose work would come to be labeled conceptual art. Curator Anne Ayres offers an excellent description of conceptual art in an essay from "Arc of an Idea: Chasing the Invisible," a 2003 Otis College of Art and Design catalog to an exhibition of work of Butler's daughter, also named Eugenia Butler, who often worked in this vein: "In fact, pioneering conceptual art was the very definition of exhilaration -- passionately argued, greatly contested, and thus never monolithic, as the following partial list indicates: language propositions; detailed record keeping of personal activities; serial and other pedestrian formats; all sorts of documentation, graphs, and photographs; erasure of individual touch, the pretense of artist anonymity, and the elevation of the viewer as part of an expanding environment; social and political deconstructions; concern with space, time, duration, absence, removal, and invisibility; a search for new materials (words, electricity, gasses, steam, light, odors, mental operations, and so forth) - while erasing (dematerializing) the (visual) art object (perhaps better to say the devisualization of the art object) as a locus of aesthetic delectation." Butler was not limited to exclusively showing conceptual art, but her focus on dematerialized and non-object oriented work prefigured much of what was to come, both in L.A. and worldwide.
"When you look at work that comes out of L.A. in the early 70's...it's intellectually oriented, it's conceptually oriented, it's photographs, it's text, it's the antithesis of what happened in the 60's," remarks Drohojowska-Philp. "It's all about non-retinal art, art that's about ideas, art that's about experiences."
Absence, the void, performance, interaction, the invisible, the temporary -- often with a dash of irreverent humor: these were the hallmarks of the Eugenia Butler Gallery. She opened the gallery by giving Allen Rupperberg his first solo show for which he presented "Location Piece" (1969). "There was nothing in the gallery except the address of an old office building on Sunset Boulevard where I'd installed a big theatrical sculpture," the artist told the Los Angeles Times in 1993.
Later that year James Lee Byars -- an enigmatic artist who was a favorite of Butler's -- built a wall around her office, separating it from the rest of the gallery. The work was called "Shutting up Genie." According to the press release: "Her name comes down from the front of the building, and 'Shutting up Genie' is lettered in red on the wall directly behind the Gallery window, visible from the street. Eugenia Butler is forbidden by the artist to enter the Gallery exhibition space during this five-day period." For his piece "Wall Shadow," Eric Orr built a cinder block wall in front of the gallery, painted its shadow on the ground and removed the wall, leaving only a trace of the light it blocked. For a 1970 exhibition Robert Barry simply locked the gallery doors and put a sign up that read "From March 10 through 21, the Gallery will be Closed."
Butler was also one of the first gallerists to show the work of then-unknown conceptual art godfather John Baldessari. She held his second gallery exhibition ever in 1970 after he left his previous dealer Molly Barnes. Their relationship was also significant for the fact that Butler was the first person to sell one of Baldessari's photographs. It is typical of her vision that she ignored the traditional distinction between high art and photography, then considered a lesser artform.
"At that moment, photography and art were pretty much ghettoized. I mean photographs were shown in photography galleries but not shown in art galleries. They were literally two different worlds, and very distinct art histories for both," recalled Baldessari in 2011. "So I had some documentation of a work, called the "Ghetto Boundary Project." I remember her calling me, she said, 'You won't believe what I'm going to tell you, I sold the photographs.' You don't get it now, but you didn't sell photographs at art galleries. That was my first breaching of boundaries I guess."
One of the most notorious exhibitions at the gallery was Ed Kienholz' 1969 "Watercolors" show, commonly referred to as "The Barter Show." Each hand-printed work stated on the face what Kienholz wanted in exchange for it. These ranged from various monetary amounts, to a Rudi Gernreich dress, a Timex watch, an artwork by Baldessari, and so on. They were otherwise identical, the same size, each framed the same, and authorized with Keinholz' thumbprint. It was "an early acknowledgement on the cult of celebrity and the commodification of art" reads the exhibition text from the 2012 LAND exhibition, "Perpetual Conceptual: Echoes of Eugenia Butler." The work directly addressed the very notion of art as investment -- and confronted collectors with this idea -- in a way that meshed with Butler's love of controversy.
"She wanted art that would make people mad, and it was a perfect fit with the Kienholz watercolors. He knew that they would make everybody angry... yeah they should have, that's what they were for," recalled Glicksman in 2011. "They weren't for Dwan or for Ferus or for any other regular gallery, that he had to have someone who was really up for strange ideas...well because it's under this heading of institutional critique. People weren't used to that, of having their face rubbed in the idea that they were collecting art because it would become worth money." According to rumor, the city tried to shut the show down, arguing that the barter system evaded sales tax.
Even more groundbreaking than Kienholz' barter show was Swiss/Icelandic artist Dieter Roth's 1970 exhibition "Staple Cheese (A Race)." Although Roth had been exhibiting in Europe since the early 1950's, this was his first U.S. gallery exhibition. Roth filled the gallery with 37 suitcases full of cheese, leaving them to rot in the L.A. summer heat. As the show progressed, the smell filled the gallery, wafting out into the street. Maggots and flies filled the gallery.
"Everyone talked about it, it was probably one of the more talked about exhibitions in town. People were a combination of outraged and intrigued by it. My reaction to it was wow," recalled artist Ed Moses in 2011. "It was very powerful and as I said as you walked along this alley into the gallery, you could smell it from La Cienega and it was a good hundred yards back to the gallery."
The health department tried to shut the show down, but Butler's husband, the class action litigator, successfully argued to keep the gallery open on the grounds of the work's artistic merit. Although the L.A. art community was small at the time, it would prove to be an influential show to all who saw it.
"The Dieter Roth show was just important to see, period, and to see one of the European artists that you admired, to see a work here, and have it be such a memorable and important work," remembered Ruppersberg in 2011. "I think it's one of the main works that was ever shown here in L.A., period, and certainly is in all the memories of the artists who were there at the time."
In addition to exhibitions at the gallery, Butler organized important shows off-site, such as 18'6"³ x 6'9"³ x 11'2-1/2"³ x 47"³ x 11-3/16"³ x 19'8-1/2"³ x 31'9-3/16"³ held at the San Francisco Art Institute in 1969. The group exhibition included many of the seminal practitioners of conceptual and non-retinal art: Michael Asher, Robert Barry, James Lee Byars, Eugenia Butler, Douglas Huebler, Joseph Kosuth, and Lawrence Weiner among others. The work featured in the exhibition was consistent with Butler's gallery program in its radical break with previous forms of art-making. Often this involved gallery staff creating the works based on instructions from the artists, as described in a printed supplement to the exhibition. Byars played a tape loop on speakers outside the gallery on a certain day. Exhibition texts note that Stephen Kaltenbach "submitted a series of proposals. The one chosen by the gallery staff was carrying out of Mr. Kaltenbach's proposal to paint the south wall of the gallery gray...The wall was painted gray." Jim Rudnick blocked out the skylights and gave out flashlights for visitors to use. Barry Le Va drew a line from the gallery office door to the SE corner of the space. The area to the west of the line was sprinkled with flour. Eugenia Butler (the younger) simply "requested that the plate reading 'Congruent Reality' be placed at the entrance to the empty gallery on two alternative Wednesdays."
Eugenia Butler as Art Dealer and Count Giuseppe Panza
More than simply championing and exhibiting challenging, conceptual art, as a dealer Butler created a market for artwork that was often represented in the physical world by nothing more than a certificate. The idea that you could sell air, or an experience, or an energy field was radical. She counted among her clients the L.A. haberdasher and collector Monte Factor, and influential Italian collector Count Giuseppe Panza, one of the first Europeans to seriously collect postwar American art. Panza's impressive collection covered abstract expressionism, pop, minimalism, and conceptual art. He was an early supporter of art in L.A., visiting the city twice a year to find new artists and new work. He remarked to the Los Angeles Times in 1985 that "history will regard Los Angeles as a great center of the art of this century."
A letter dated January 22, 1970 reveals that Butler sent Panza information, prices and visuals of work by a number of artists she showed including Douglas Huebler, Baldessari, Stephen Kaltenbach, Kosuth, Robert Barry, Paul Cotton, Eugenia Butler, and James Lee Byars. From this selection, Panza ended up purchasing four works of Huebler's composed of photographic documentation of actions and signed descriptions of the works. The description of" Duration Piece #12" (1969) reads:
In March, 1969 a small quantity of sand was removed from the ocean beach at Venice, California and taken to the ocean beach at Plum Island, Massachusetts. There it was placed where it would be carried into the Atlantic Ocean by the outgoing tide. A similar quantity of sand was, at that time, removed from the Plum Island location and taken (May 1969) to Venice where it, in turn, was carried into the Pacific Ocean. Another exchange will mark the same sites in 1979 and so on: once every ten years until a total of eleven markings have been made at which time (2069) the piece will be complete. (It will be the responsibility of the owner to arrange for the next ten such exchanges). One photograph of each site and this statement constitute the form of this piece.
Huebler's original action, while certainly poetic, was distinct and finite. By holding the purchaser responsible for the fulfillment of the work, he stretches this singular act well beyond the lifetimes of artist and collector, and at the same time calls into question traditional roles of creator and consumer. This is typical of the kind of challenging work that Butler promoted. It is significant that she not only exhibited work like this, but was able to place some of it into one of the most important collections of the 20th century.
Art, Life and Performance
For Butler, art was not just something to be looked at and collected, but a force that permeated every aspect of life. To the intimate L.A. art community of the time, the Butler family house on South Rimpau provided a sense of community and support. It was as significant a gathering place for artists and art lovers as the gallery itself. It became one of a handful of important social spaces for artists, along with the homes of Elyse and Stanley Grinstein (who had founded legendary printmaking workshop Gemini G.E.L.) and noted collector and dealer Betty Asher. "Eugenia and James' house, that was a social hub, that and the Grinstein's house," remembered Baldessari in 2011. "I even think sometimes they competed with each other [to see] who could throw the biggest party."
The line between party and performance was often blurred. One such occasion was a fashion show Butler hosted featuring works by designer Rudi Gernreich, whose clothes she wore almost exclusively. Gernreich was perhaps most famous for the topless monokini he designed, often seen on his muse Peggy Moffitt. "I remember one party she had for a fashion designer, Rudi Gernreich, where these people came down the staircase nude and that was quite a radical thing in the fashion world," recalled Moses in 2011.
"She was wearing these Rudi Gernreich clothes that were outrageous," remembered the late Stanley Grinstein in 2011. "It's like good art, sometimes you say, 'what the hell is that?' and you gotta get used to it. She was that far ahead."
The dissolution of the barrier between art and life that Butler's gallery embodied was also celebrated in the work of Paul Cotton, who would often dress up in outlandish outfits for performances, including a bunny costume with the crotch cut out. He was arrested at the opening of the LACMA's Art & Technology show in May 1971, at which he arrived with Butler. He had planned to present museum visitors with marijuana joints on a platter as part of a performance, but was denied entry. "There were real joints on the tray and I intended to go into the show and just be there as a sculpture for people to take joints if they wanted to and experience it as a living sculpture," he recalled in 2011. Much of Cotton's work dealt with relationships between people, not simply the visual experience of looking at a static piece of art. "I think that the whole civilization is a dysfunctional family. Part of my impulses is to heal that dysfunction. One of the dysfunctions I see is seeing people as objects, and seeing art as objects to be bought and sold. The two things go hand in hand, is to only see things of value in terms of their commodity," he said in 2011. Cotton had one of the last exhibitions at the gallery.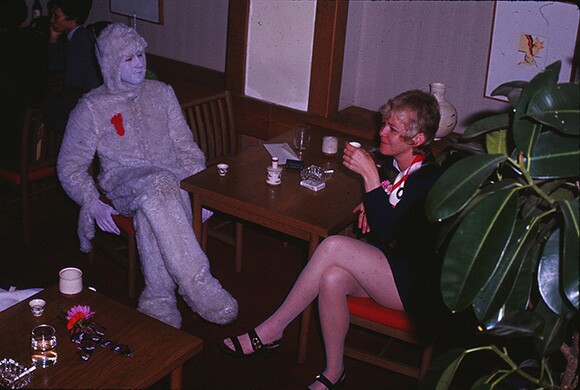 After the Gallery
The Eugenia Butler Gallery closed in mid-1971. As artist Barbara T. Smith recalled in 2011, the rent had been raised on the space. Compounding this, the Butlers' marriage was unraveling and James Butler had withdrawn his financial support of the gallery, according to their daughter, Cecilia Dan. Larger economic forces were also at play. Although the avant-garde conceptual art that Butler exhibited would continue to be a vibrant part of the L.A. art scene for years to come, there was a growing fiscal conservatism in the city that extended to the art world. In a 1971 Los Angeles Times article, critic William Wilson attributed this to national economic woes, and described a new attitude "not now attuned to the exhilaration of risk."
Butler continued to be involved with art, however. Instead of promoting the art of others she passionately believed in, she worked to turn her life into a kind of performance. It was around this time that she was diagnosed with breast cancer and had a mastectomy. She staged a "living wake" at her house, and invited all of her friends to participate in a performative funeral. "We lent her a limo here for her wake-up her funeral, when she got the cancer originally, so she did a whole thing at her house of a funeral, and she called it the wake-up," recalled Grinstein in 2011. "We lent her the limo, we had a black caddy limo with big fins."
She began an affair with Cotton and moved with him to the Bay Area, leaving her family behind. In 1972, she arrived at Documenta, the influential art exhibition held every five years in Kassel, Germany, riding a white horse, in the nude. It was there that she impersonated her daughter Eugenia, and tried to pass the younger Butler's work off as her own. Periods of mental instability and familial turmoil would characterize her life for the next thirty years. Although she never had another gallery, what she accomplished in a few short years would have an outsized impact on the L.A. art world and beyond. As Drohojowska-Philp notes, "L.A. really was a hotbed for the development of conceptual and non-object oriented, dematerialized art throughout the 70's, the validation for that in part could be said to be in part with Eugenia Butler who endorsed it."
Reframing Everything: The Legacy of the Eugenia Butler Gallery
Despite the seminal role Butler and he gallery played, her influence is under-recognized today. "Once you start to make the connection you realize 'all the shows I cared about, that I learned about, were at her gallery, but I don't know her name.' Isn't that so incredibly strange," says LAND's Momin. "Looking back, turns out that she was probably one of the most important galleries, certainly up there with Ferus who we keep talking about, but it turns out she should have had equal billing," noted Baldessari in 2011. The conventional narrative of 1960's art in LA is dominated by the Ferus Gallery and their roster of hyper-masculine painters and sculptors. One reason for this is that Irving Blum, the suave New York transplant who ran Ferus with Walter Hopps, was a consummate salesman and promoter. The glamorous "cool school" image he promoted for himself and his artists was a tidier, more digestible story than Butler's complicated and problematic narrative. "It's a very complex personality and that doesn't always parse so well for historical telling," notes Momin, "especially for women." In a 2012 LA Weekly article, writer Catherine Wagley cautions against letting the drama of Butler's life divert attention from her contributions to art: "Focusing on the Butler mythos threatens to pigeonhole her, to turn her legacy into the short-lived, haphazard achievements of an eccentric." Further complicating her history is the absence of her archives, which were destroyed by James Butler, and later by herself, after they divorced.
To correct this historical omission, Butler's granddaughter Corazon del Sol and LAND's Momin put together a 2012 exhibition, "Perceptual Conceptual," as part of the Getty's massive Pacific Standard Time initiative. The show began with one box of archival material that del Sol came across, ("It's just like a cardboard box and it says like 'archives' on it. It had two boxes of slides, a few super 8 films, a few small artworks," she notes), and grew as they conducted extensive interviews with artists of the period. They also utilized the archives at the Getty Research Institute to piece together the timeline and events surrounding the gallery. It was an important step in restoring Butler's legacy. "I felt so happy that I put my grandmother back in the world because she'd been written out of history...because she was crazy or she was a woman," said del Sol, "when in truth her story kind of reframed everything."
The work that Butler championed was about finding the exceptional in the everyday, finding meaning in space, in words, in actions. "It's all art of the possible. It changes you," says del Sol in Wagley's 2012 article. Counter to the notion of conceptual art as being heady and opaque, "these projects are really silly and sincere and about trying to figure out how to communicate things...this was conceptualism that was very human," says Wagley. Barbara T. Smith recalled in 2011 a scene from an Easter party at the Rimpau house after the Butlers had divorced. Eugenia had returned from Documenta and was planning a performance at the party. "A fat woman with pink teased-back combed hair wearing a tight baby blue double knit suit complained that her life was utterly empty. With great focused intensity, Eugenia turned and said, 'You have to look for it. It's there all the time.' Pink hair then said, 'I've been searching.' Then Genie said 'I don't mean search, I mean see. You put your own clouds over your eyes.'"
References:
Ayres, Anne. Eugenia Butler - Arc of an Idea: Chasing the Invisible. Los Angeles: Otis College of Art and Design, 2003. Exhibition catalog.
Baldessari, John (artist). Interview with Corazon de Sol, March 25, 2011.
Barry, Robert (artist). Interview with Corazon del Sol, July 27, 2011.
Cotton, Paul (artist). Interview with Corazon del Sol, April 13, 2011.
Dan, Cecilia (daughter of Eugenia Butler / art dealer). Interview with the author, Malibu, CA, May 29, 2014.
del Sol, Corazon (granddaughter of Eugenia Butler). Interview with the author, Los Angeles, CA, February 6, 2014.
Drohojowska-Philp, Hunter (writer / art critic). Interview with the author, Los Angeles, CA, February 22, 2014.
Edge, Doug (artist). Interview with Corazon del Sol, May 18, 2011.
Felsen, Rosamund (gallerist). Interview with the author, Santa Monica, CA, April 19, 2014.
Galleria del Deposito. Mostra N. 1 - Sedici Quadri Blu, November 23, 1963.
Glicksman, Hal (curator / preparator). Interview with Corazon del Sol, September 14, 2011.
Goldstein, Jack. "Chouinard and the Los Angeles Art Scene in the Late Sixties," in Jack Goldstein and the CalArts Mafia, by Richard Hertz, 18-28. Ojai, CA: Minneola Press, 2003.
Grinstein, Stanley (founder, Gemini G.E.L. Graphic Editions Limited). Interview with Corazon del Sol, April 5, 2011.
Kavanaugh, Gere (designer). Interview with the author, Los Angeles, CA, March 1, 2014.
Kienholz, Lyn (art organizer / ex-wife of Ed Kienholz). Interview with the author, Los Angeles, CA, February 17, 2014.
LAND. Perpetual Conceptual: Echoes of Eugenia Butler. Los Angeles: LAND, 2012. Exhibition text.
McKenna, Kristine. "ART : 'Stuff' Is His Middle Name : Conceptual artist Allen Ruppersberg surrounds himself with odd books, strange posters and other knickknacks. So how does all this 'stuff' help him make sense of the world around him and then become art? It just does," Los Angeles Times, November 21, 1993. http://articles.latimes.com/1993-11-21/entertainment/ca-59231_1_conceptual-art
Mizuno, Riko (gallerist / former partner). Interview with the author, West Hollywood, CA, April 21, 2014.
Momin, Shamim (curator / LAND director). Interview with the author, Los Angeles, CA, March 18, 2014.
Moses, Ed (artist). Interview with Corazon del Sol, August 16, 2011.
Newhouse, Kristina. She accepts the proposition: Women Gallerists and the redefinition of art in Los Angeles, 1967-1978. Los Angeles: Sam Francis Gallery, 2011. Exhibition text.
Ruppersberg, Allen (artist). Interview with Corazon del Sol, May 19, 2011.
Smith, Barbara T. (artist). Interview with Corazon del Sol, June 1, 2011.
Sommer, Danielle. "Eugenia is Coming: LAND shows off Eugenia Butler in 'Perpetual Conceptual,'" Daily Serving, January 31, 2012. http://dailyserving.com/2012/01/eugenia-is-coming-land-shows-off-eugenia-butler-in-perceptual-conceptual/
Tran, My-Thuan. "Giuseppe Panza di Biumo dies at 87; art collector legitimized MOCA." Los Angeles Times, April 25, 2010. http://articles.latimes.com/2010/apr/25/local/la-me-guiseppe-panza-20100425
Wagley, Catherine. "Eugenia Butler: How a Wacky Gallerist Inspires the L.A. Art World Today." LA Weekly, February 16, 2012. http://www.laweekly.com/2012-02-16/art-books/Eugenia-Butler-Perpetual-Conceptual-LAND/
Wagley, Catherine (writer / art critic). Interview with the author, Los Angeles, CA, February 12, 2014.
Wilson, William. "Is L.a. The Place For More Panza Works?" Los Angeles Times, February 6, 1985. http://articles.latimes.com/1985-02-06/entertainment/ca-4546_1_giuseppe-panza-di-biumo
Dig this story? Sign up for our newsletter to get unique arts & culture stories and videos from across Southern California in your inbox. Also, follow Artbound on Facebook, Twitter, and Youtube.