In partnership with The Annenberg Space for Photography to present five television specials that showcase the breadth of artistic works displayed in recent exhibitions at the Photography Space.
Artbound Presents Annenberg Space for Photography "L8S ANG3LES," an episode comprised of images from eight Los Angeles-based photographers in the genres of fine art, architecture, documentary, fashion, photojournalism and celebrity portraits. The artists contributing to the group show are among the most respected in their fields -- John Baldessari, Catherine Opie, Greg Gorman, Douglas Kirkland, Tim Street-Porter, Julius Shulman, Lauren Greenfield, and Carolyn Cole. The exhibit will also include work from three Los Angeles Times staff photographers depicting life in this city; Lawrence Ho, Genaro Molina, and Kirk McKoy.
"Annenberg Space for Photography: L8S ANG3LES" debuted Sunday, April 14 on KCET-TV.
For a long time, L.A. had a bad rap as a one-dimensional town full of plastic people -- a cultural void. But the people who lived here knew the city was being pigeonholed, and the evidence was often laid bare in the photographic practices developed here. In fact, L.A. has always been photographically rich, perhaps because of the light, or maybe it's just the proximity to the great image-making movie industry, but what's surprising is the variety of photographic talent.
In March of 2009, philanthropist Wallis Annenberg expanded the Annenberg Foundation's scope with the Annenberg Space for Photography, a 10,000 square foot location in Century City. "L8S ANG3LES: 11 L.A. Photographers" was organized as the inaugural exhibition, the "8" standing for the eight artists whose work was shown on the walls of the new gallery, and the "3" representing three Los Angeles Times staff photographers whose work was digitally projected in a separate screening room.
The conceit of the show was the show the diversity of L.A. as seen through the eyes of 11 very diverse photographers from an assortment of genres. There was the fine art photography of John Baldessari and Catherine Opie; the architectural photography of Julius Shulman and Tim Street-Porter; the portraiture of Greg Gorman and Douglas Kirkland; and the documentary photography and photojournalism of Lauren Greenfield and Carolyn Cole. In the projection gallery, the documentary work of Genaro Molina, Lawrence K. Ho, and Kirk McKoy, the three other L.A. Times staff photographers (Cole also worked at the Times), played as a slideshow on the walls.
The range of the photographers made for an intriguing exhibition -- Paper Magazine called the show "magnificent" -- and it was credited as a success for the newly opened space, and there were a series of successful lectures by each of the artists, as well as a workshop on digital photography taught by Greg Gorman.
To promote the exhibit, the Annenberg Foundation commissioned Steven Kochones of Arclight Productions to produce and direct a short film, which has been shared with KCET Artbound. "A great photograph does much more than explore its subject," says Wallis Annenberg in the documentary's introduction. "It explores each one of us, the humanity we share, and the differing perspectives we hold. Photography reminds us that we have a past, good or bad."
She praises the photographers' "richly diverse perspectives on one of the most complex, vibrant, and multi-faceted cities on the face of this earth," before the film launches into vignettes of the artists talking about their practice, illustrated by images of their work.
---
Julius Shulman
The film starts with Julius Shulman, who was 98 years old at the time of the exhibition. Shulman was already a legend in architectural photography by the 1960s, when he shot "Case House Study #22, Los Angeles, 1960. Pierre Koenig, Architect," which first appeared in Art & Architecture Magazine that year. This shot of the mid-century home, called the Stahl House, located in the hills high above the city showcased L.A.'s comfortable spaciousness, its architectural progressiveness, and its photogenic nature in one economic snap.
While that photograph might be his most enduring, Shulman photographed houses by a veritable hall of fame of modernist masters such as Rudolf Schindler, Frank Lloyd Wright, and John Lautner. Considered one of the greatest architectural photographers of all time, Shulman was the subject of an award-winning documentary in 2008. A month after "L8S ANG3LES" closed, Shulman passed away, but not before dropping knowledge in the documentary.
"The least important element in my life is the camera. Photography is dependent upon the eye, the mind, the heart, and soul of a photographer. The nature of an architect's design, and how people live in that house, are all depicted in my photography. The moment a person appears in the picture, it entices the audience: 'Gosh, wouldn't it be nice to live in a house like this.' Los Angeles is that kind of city where you can drink whisky outside on a patio suspended in mid-air practically. My exercise is to ensure that my composition spells out how you can enjoy architecture. I'm merchandising architecture."
---
Tim Street-Porter
The documentary then seamlessly transitions to a section featuring a descendant of Shulman's, Tim Street-Porter. Like Shulman, Street-Porter's photographs showcase the seductive nature of a single building, but as a whole, his career shows a Los Angeles that not even residents are able to fully comprehend -- the architecture is unbelievably distinct, and there are almost no rules. Because Street-Porter has maintained a 40 year career in L.A., he has captured a great many transitions, and one is able to see L.A. as it was and as it is through his pictures. Street-Porter has released several books, including "L.A. Modern," which was released by Rizzoli shortly before the exhibition at the Annenberg Space for Photography.
"When you start to explore L.A., you realize that it has an extraordinary treasure trove of architectural riches. Each place that I photograph has its unique qualities and responds in a different way to light. L.A. does have a very strong light, and you just have to capture that. I've always loved the quality of ambient light coming in through windows, and just falling onto surfaces inside the space. Architectural photography is a wonderful tool to show a building in the best possible light. I suppose we're flatterers in a way -- something equivalent to people who photograph actors and actresses."
---
Douglas Kirkland
Street-Porter likened his photography to a portraitist's, and the documentary glides straight into iconic photographer Douglas Kirkland, who is best known for the sensual and soft shots he took of Marilyn Monroe just eight months before she died. While the Monroe shots are indelible, Kirkland took amazing portraits of everyone. The names that have had their portraits taken by Kirkland is staggering, including Judy Garland Man Ray, Coco Chanel, Mick Jagger, Elizabeth Taylor, Orson Welles, Stephen Hawking, and Charlie Chaplin, the latter which was acquired by the National Portrait Gallery in London. Kirkland is also celebrated as an on-set photographer, and he's shot on over 100 films including "2001: A Space Odyssey," "The Sound of Music," and "Titanic."
"I never started with that idea that I'd photograph celebrities. When I was in my twenties, I was hired by Look Magazine, and that was a big deal, because these picture magazines like Look and Life were a central world of photography. I really like to show people how I see things, what my eye sees, and what my interpretation is. You don't make the picture yourself -- it's the photographer and their subject. If people feel this force that you're connecting with them on, they will usually send it back. Los Angeles is an incredible city. It's the center of this incredible film industry. People dream about this city, and the glamour that we have, and they relate it to great images."
---
Greg Gorman
A peer of Kirkland's, Greg Gorman has also photographed myriad artists, actors, and celebrities in his signature rich black-and-white style. Mostly working as an editorial photographer, Gorman's portraits for Vogue, Life, Newsweek, Rolling Stone, Vanity Fair, and Time often become the definitive image of a celebrity. Over the course of his career, Gorman also released nine books of his portraits, which include shots of Bette Davis, Jimi Hendrix, Leonardo DiCaprio, David Hockney, and John Waters. He continues to shoot celebrities, but has also become well known for his series of nudes.
"I've always been a people person, and photographing people has kind of been my passion. My very first professional job was in Los Angeles in my little studio apartment in Laurel Canyon. I got into portrait photography shooting people in the early days like David Bowie and Barbra Streisand. Most actors I think are much more comfortable playing a character other than themselves, and the majority of my work is actually trying to capture the essence of who these people are, get them to open up and see a little bit of their vulnerability. The most successful portraits that I take are portraits that are shot much tighter, much closer in. There's a confrontational quality in close-up portraiture. The eyes are really the telling part of a portrait. If the eyes don't emote, and don't relate, and don't tie into that image, then I don't think you're going to get a connected portrait. As a celebrity photographer, I feel like I'm as much to blame as anyone in terms of over-glamourizing the role of celebrity, but that's my job. People have really started to understand the commodity of a celebrity, and I think that it's changed the face of popular culture."
---
Lauren Greenfield
Where Gorman is the maker of these glamorous images, Lauren Greenfield is the examiner of what these images mean with her documentary dissections of how pop culture can be damaging to those deluded by it. By the time of the Annenberg exhibition, Greenfield was already famous for her photographic series, "Fast Forward: Growing Up in the Shadow of Hollywood," which followed L.A.-based teens affected by a childhood raised around the entertainment industry, and how they dealt with hit, and "Girl Culture," which similarly showed how media affected girls' self image of their bodies. Greenfield is also a celebrated documentary filmmaker, and was awarded the 2012 Sundance Film Festival Directing Award for her film "Queen of Versailles."
"Of course people associate L.A. with Hollywood and celebrity, but I like to look at the underbelly, and try to deconstruct those elements. Los Angeles is where you can see the most extreme manifestations of how popular culture and media affects kids all over. My first big project was "Fast Forward: Growing Up in the Shadow of Hollywood," and it was about how kids from very diverse backgrounds are similarly influenced by the cult of celebrity and the importance of image. One of the themes was about fame, and how kids were all trying to have some kind of notoriety in their own world. "Girl Culture" was a look at how the body has become the primary expression of identity for girls and women, and it was also a look at the exhibitionist nature of modern femininity. These girls are 13 years old, and in a lot of ways they were very innocent, but they're obviously mimicking images or people in the media or in their lives. You really see the values of the adult world through these kids' eyes. L.A. is really interesting, because L.A. teenagers have a very special relationship with Hollywood. They're influenced by it, but they're also influencing it. Each picture tells its own story, and then the next picture builds on that story, and a lot of times those stories really illuminate our popular culture. Photography mirrors our world, and it mirrors us, and there's a relief in seeing our world mirrored."
---
Carolyn Cole
Carolyn Cole is a long-time staff photographer for The L.A. Times, and her work covering the siege of Monrovia during the civil war in Liberia in 2004 won her a Pulitzer Prize for Feature Photography, and she's been nominated for several other Pulitzers, and won many other prestigious photojournalism awards including two Robert Capa Gold Medals for war photography. Her work in Haiti, Kenya, Afghanistan, Kosovo, Sudan, and Iraq has earned recognition as one of the most important contemporary photographers in conflict zones.
"My goal is to go out in the world and make images that move people, and help people understand the things that are going on that they don't have an opportunity to see. Being a photographer for the L.A. Times, I can make that bridge between Los Angeles and people living thousands of miles away. In 2003, I was asked to go to Liberia, and this battle was gaining momentum as the rebels were advancing on Monrovia. The gunman on the other side is actually a government militiaman who's protecting Monrovia. In the Iraq War, I was covering the war from the Iraqi side. Later on, I found myself embedded with the U.S. military. With the L.A. Times, we have enough photographers that we can have people photographing both sides of a conflict. I think I have a sense of purpose that allows me to go into situations that are chaotic, and remain calm, and condense that down to a handful of pictures. I want people to stop and look at the picture, and understand what's going on, and hopefully, if they do that, that's the first step. It's really the collective work of all photographers and journalists -- to make some kind of difference. That's the end goal: to bring people closer together, let them recognize that people everywhere are the same. They have the same concerns about their lives, so they do have a connection to L.A."
---
Kirk McKoy
While Cole was out in international hotspots, her colleague at The L.A. Times, Kirk McKoy was examining the violence in our backyard. Now the senior photographer and a photo editor at The Times with a focus on entertainment, food, and fashion, McKoy was an instrumental piece of The Times' coverage of the L.A. Riots that occurred after the police in the Rodney King beating were acquitted, several important wildfires, and the Northridge earthquake of 1994. As a whole, The Times staff won Pulitzers for the L.A. Riots and Northridge earthquake coverage.
"The thing about covering this is [that] this is home: 'This doesn't happen here, this was my backyard, and this is where I live, and my guard was down for that.' During the riots, a lot of buildings got burned. The city went into total mayhem. For a long time, it became difficult to go back and look at the pictures. The idea in [these photographs] was to show chaos. That was all that was going on. I totally understand the anger; I didn't understand the results of the anger. I think all of the images that were seen, it invoked the entire city to actually go out and clean itself up. And that's the power of photojournalism. The thing that gives me the most pleasure, here in Los Angeles, is the people. Every person that you run into has a story. There's so much diversity in this city, and to actually get out and get a chance to touch it is a thrill."
---
Lawrence Ho
Also a part of the Pulitzer-winning team that covered the L.A. Riots and the Northridge earthquake is Lawrence K. Ho. But for the most part, the documentary focuses in on Ho's work in photographing immigrant communities and culture in the L.A. area. Ho's work at The Times of late includes photographing music and dance for the culture section.
"That's part of the fascination of Los Angeles. We have so many different areas that people say that it's like a foreign country. You can drive down four blocks and you think that you're in El Salvador, [and] there's always this culture coming in from Asia. I find that the Buddhist temple is always interesting, because it's not something we see all the time. You have this influx of Korean immigrants, and then their children moving back in because there's so much happening in Koreatown. They see it as a hip thing to do. There's always this layer -- you peel off one layer and there's a new layer, and then you peel off another layer, and there's another layer. It's always different in Los Angeles. I wanted everyone to see Los Angeles as I see it, through my eyes."
---
Genaro Molina
The documentary then turns to the final L.A. Times photographer, Genaro Molina, whose images of culture, news, and sports have a style and flair uncommon in photojournalism. Over his now 34 year career, Molina has covered, among many other things, the aftermath of Hurricane Katrina in New Orleans, the Exxon Valdez oil spill in Alaska, and the homeless population of Skid Row in Downtown Los Angeles.
"We celebrate diversity here. Diversity keeps me really excited about working in Los Angeles. It's my belief that if you stand in one place long enough in Los Angeles, the world will come to you. I cover everything from events that happened in Boyle Heights or East L.A., South L.A. to Santa Monica. I try to bring the viewer with me to see things that are happening in the community that people really don't know about, like about 100 people in South L.A. who were being baptized in L.A. in front of this church by a fire hose. There's so many things that inspire me about this town. Mostly it's in the people that I meet, and learning the philosophies of somebody who's living homeless on the streets of L.A. and still trying to maintain hope. I'm always trying to find these little slices of life in Los Angeles. I hope that my images inspire people to embrace the city for everything it has to offer."
---
Catherine Opie
The film then shifts to a photographer of a different sort, Catherine Opie, who is well known in contemporary art spheres for her raw and honest portraits that explore identity and the notion of self-formed communities. Some of her series include photographs of the exteriors of houses in affluent neighborhoods in Los Angeles, and images of the LGBT community, surfers, and high school football players. Opie seems to be asking questions about how these communities are formed, and how the various members visually communicate with each other. Opie's work has been exhibited in museums and galleries all over the world, and published in several books and monographs. She is currently a professor of photography at UCLA and sits on the board of artist trustees at the Museum of Contemporary Art Los Angeles.
"'What is art?' That's the age-old question. It's creating a place in yourself that you can answer these questions that keep going through your own head. And then it's called art. What is L.A.? What is this place that we live in? The houses I photographed in Beverly Hills and Bel Air, I don't think of them as architectural photographs. I think of them as portraits. What's behind the closed door? When I was first making these portraits, it was so important for me to document my community. And that begins to be the importance of what we do as artists. What is home? Home encompasses more than just a door that I walk through, but the exploration of the possibility of feeling 'at home.' And I don't know if I feel 'at home' yet. How can I figure that out in a photographic way? Photography--it's given me a passion and a place to always go to. Maybe I've just answered what the place of home is: figuring out what I can do with a camera."
---
John Baldessari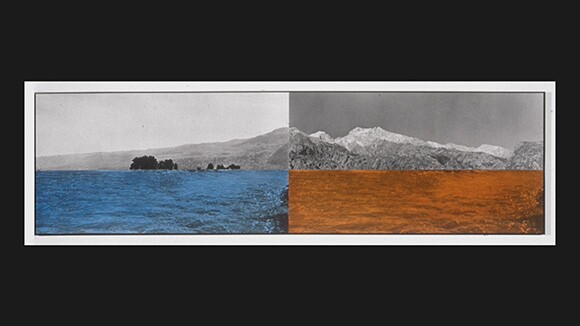 The film concludes with perhaps the best-known of the photographers, John Baldessari, who is really only tangentially a photographer. His images are often found photographs with either a dot placed over the photograph or section of the photograph removed so that some or very little of the original photograph remains. Through this work, Baldessari has become something of a legend, and he is credited as helping shape Californian Conceptual art in the 1960s and '70s. Baldessari has also shown at museums and galleries all over the world, and he won the prestigious Golden Lion Lifetime Achievement at the Venice Biennale in 2009. In 2013, the California Institute for the Arts, where Baldessari was an influential teacher for years, opened the John Baldessari Art Studio Building.
"I'm sure there's something about Los Angeles that does influence me, but somebody else would have to point that out. I always have to be slightly angry to work, and L.A. makes me angry. I don't think art can be taught. One learns about art by doing it. I'm very interested in why people look at things. I like the idea that one has to fill in information rather than having it supplied. What I simply did was cut out everything that I didn't like looking at. Then I began to try to color code: somebody that might look threatening, I could make them look safe by putting a green dot over their face. I'm just wondering whether god will strike me down if I do these things. The last few years, I've been working in my studio in Venice with parts of the body. I could never figure out the difference between a part and a whole. When is a whole a whole, and when is it a part? When is a part a whole? You see right now, I'm getting very confused, but this is something that I want to express. I'm trying to wake up people to what's around them.