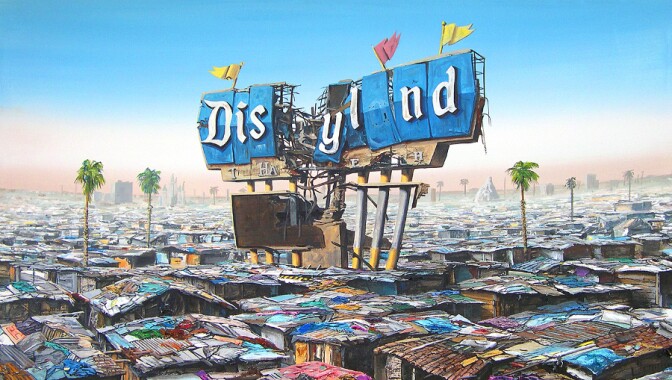 Jeff Gillette grew up in the suburbs of 1960s Detroit enamored with "The Wonderful World of Disney" TV show. Yet, this vision was shattered in his late teens in 1978, when he finally visited the Orange County amusement park and discovered that he actually detested the place for its utopian artificiality. "I went with a friend and we hated it and we stayed for only 30 minutes," he said. Subsequently, however, with a growing interest in Pop art, he began drawing Disney characters, particularly Mickey Mouse, which he liked for its simple circular features and graphic possibilities.
After high school, Gillette attended art school in the Detroit area, but adventure soon called, and he spent two years in the Peace Corps in Nepal, often visiting nearby Calcutta's sprawling shantytowns in his spare time. When queried about his attraction to these slums, which he says "have the most horrible living conditions on Earth," he explains that he is attracted to the fundamental architecture and survival mentality. He has subsequently visited impoverished communities in many parts of the world, and has painted numerous versions of their harsh realities.
With these perspectives, it seems ironic that Gillette (who eventually received his bachelor's degree and MFA) moved to idyllic Orange County in 1993, living in Costa Mesa, with its moniker, "City of the Arts." But his deeper desire was to make a living to support a home and studio to feed his art addiction. The job that enabled him to move here was a teaching position at Foothill High School in Tustin, where he still teaches art today. An interesting aspect to this eventuality is that he now lives and works in the shadow of nearby Disneyland in Anaheim, and his students frequent that fantasy realm.
Within a year of moving here, this county's obsession with Disney culture helped inspire Gillette to play around with the cartoon and movie images in his studio, sometimes besmirching them with tattered clothes and features; he later began adding these characters to his detailed paintings and assemblage pieces of slums. "I was trying to find the absolute opposite of the happiest place on Earth," he remarked. He has gradually segued from including frightened Mickeys and Minnies in his landscapes, to re-creating archetypal Disney buildings such as the iconic Castle, turning them into Gothic monstrosities that still resemble the original structures. Gillette first used his "Dismayland" title in 2010 to describe his expansive series of paintings and assemblages, which depict a post-apocalyptic third world wasteland and include the Disney structures and characters.
The artist has seen great interest and sales of these artworks, which are carried by Copro Gallery in L.A. and by Bert Green Fine Art in Chicago. Then in the spring of 2015, he received a message via Facebook from the manager for Banksy, the omnipresent yet invisible English street artist known for exploring war, political corruption, hope and revolution. Banksy, through his manager, asked Gillette to provide him with six large "Dismayland" paintings for an exhibition he was mounting in England, which also included works by British art provocateur Damien Hirst. Gillette worked laboriously on the requested pieces, sent them off to the UK in the early summer, and all of them sold very quickly.
Soon after, he received an invitation from the British artist's manager to visit and help install a large, secretive installation that Banksy was setting up in Weston-super-Mare, UK, three hours from London. Gillette's wife, Laurie Hassold, was invited to go along. The talented sculptor creates intricate pieces addressing, "the dichotomous themes of life/death; art/science; mind/body and order/chaos," as she explains.
Arriving in that small town in late August 2015 was an epiphany for the couple. After Gillette's two plus decades of laboring over his slum dwellings juxtaposed with Disney characters, they witnessed Banksy's life-size "Dismaland" bemusement park -- which featured rides and displays, evocative of Gillette's own "Dismayland." The "Dismaland" Castle, particularly, appeared derivative of Gillette's castles. But the OC artist quickly adds that he and Banksy share similar sensibilities. However, a commentator on the UK's Channel 4 International remarked on August 21, 2015 -- at the bemusement park's opening -- that "Dismaland was in part inspired by the work of Jeff Gillette, who's been subverting Disney for years."
The park also featured a scary carousel and Ferris wheel, a boat carrying immigrants with nowhere to go, and the installation, "Cinderella Crash," within the Castle. In this piece, a dead Cinderella hung, arms and face first, from a crashed pumpkin carriage while the paparazzi were madly taking photos. Hassold said that the artwork reminded her of Princess Diana's death scene. The couple was enchanted by the morose theme park. As part of CNN's reporting on the park, Gillette remarked, "You gotta go in there and experience and think, and wonder, and maybe get mad or laugh. That's a deeper entertainment than I think any other theme park would have."
Gillette returned home from Dismaland stoked and ready to paint a new series of Disney-infused paintings, but this time he turned the tables, using Banksy's park as inspiration. He soon painted "Dismaland Castle," a post-apocalyptic Banksy-style castle among rubble and decrepit constructions. He also created "Dismal Sign," with its dilapidated Disneyland sign rising above a huge pile of trash with colorful birds flying overhead. Banksy would likely be pleased with these paintings and with Gillette's use of his own visual material. Copro Gallery brought them to SCOPE, as part of Miami Art Week in early December, and both pieces sold quickly.
Where does Gillette go from here? He wants to live near the shantytowns of the developing world for a few weeks to paint en plein air, in the tradition of the California Impressionists. His desire is to immerse himself in the setting, remarking that he finds a universal human spirit and strange kind of beauty within the chaos and desperation. Will he still include Disney images in these paintings? He has not yet decided.
---
Dig this story? Sign up for our newsletter to get unique arts & culture stories and videos from across Southern California in your inbox. Also, follow Artbound on Facebook, Twitter, and Youtube.