Behind-the-Scenes of the Huntington Library Main Exhibition Hall's Renovation
The best of the fixers will tell you: It's one task to try to freshen-up, say, an outdated 1970s family-rumpus room, and entirely quite another to attempt to resurrect a beloved regional jewel from a similar -- albeit well-intentioned -- fate.
While Karina White didn't have anything like shag rugs or avocado green accent notes to rethink when she set about the task redesigning Huntington Library's historic Main Exhibition Hall, she did have, however, carpeting and dark wood and general overall "flow" to re-imagine.
White, the senior exhibition developer at The Huntington, was tasked with what might sound on first hearing as a bit of a contortion: The job was to bring the Hall into the 21st Century while also restoring it to its early-20th Century splendor. That said, one of the biggest challenges was integrating the antiquities with contemporary interactive elements in a cohesive fashion. "I really wanted to make it feel like a library because that's what we are," White explains, "I wanted to prove the point that libraries are relevant, exciting places. That they are anything but passe."
The Huntington's Main Exhibition Hall re-opened recently to the public after its 17-month, $2.5 million renovation. And its new permanent exhibition, "Remarkable Works, Remarkable Times: Highlights from the Huntington Library, " features roughly 150 objects -- photographs, folios, journals, letters -- covering a wide sprawl of time from the early 14th Century the up to the mid-20th. Choosing to organize the exhibition around a theme of 12 key objects, which anchor the installation, the curators were able to tell what they began to refer to as "meanwhile stories" -- connections that could be made between a piece and other historic events that were occurring simultaneously that both contextualized the item and fleshed-out storytelling possibilities.
Because the exhibition is permanent, White points out, that meant that when curators were making decisions about what should be represented as anchor objects, the team had to also consider the collection's depth, "In other words, that we had enough material to rotate-in new but related objects in order to tell these 'meanwhile stories,'" she explains, "and overtime keep the exhibit fresh."
Among those anchor items -- the pieces that the Huntington is best known for and often most associated with -- are the Ellesmere manuscript of Chaucer's "The Canterbury Tales," the Gutenberg Bible, Shakespeare's' "First Folios" and James Audubon's "Birds of America," and a glimpse at Henry David Thoreau's manuscript of "Walden." Included among these anchor pieces, however, are other items from the collection that are being shown for the very first time. For example, the charred remains of Jack London's original manuscript of "The Sea-Wolf," that had been destroyed in the 1906 San Francisco earthquake and fire is displayed along with other related materials. "It was a way to talk about London and his writing, but also to put him in San Francisco after that disaster and as well show some of his photographs we have in our collection from that period."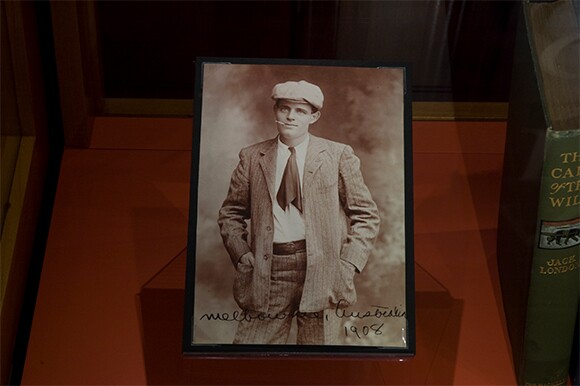 To say White and the curators had a lot to work with would be an understatement: Nine million objects and 3,456 square feet in just the Main Hall alone. To get a handle on the task set before them, White and Huntington curators -- Jennifer Watts (photographs), Sara "Sue" Hodson (literary manuscripts), Daniel Lewis (senior curator of history of science, medicine and technology) along with Avery Director of the Library, David S. Zeidberg -- held a series of weekly meetings to develop what ultimately would become a working narrative. "For me it started with how I wanted the exhibit to feel," recalls White, "Who are the target audiences? What do I want to tell them about it?" she recalls. "Then I'd write down these outlines. I made lists of how I wanted things to feel. I wanted people to come in and feel energized by the space. The old Hall was sort of the opposite. Some of the time you'd feel as if you had to bring your energy yourself."
The impetus, says White, was largely fueled by the Huntington's "Beautiful Science" exhibit that she and curator Lewis worked on back in 2008 -- which both re-imagined the Huntington's Science Wing and presented a different assortment of curatorial possibilities. "So I think after doing this wonderful exhibition it just made us really look at the institution. Now we had this History and Science Wing that is more compelling and we were telling better stories and taking the opportunity to try to tell stories through materials -- so it gave us an opportunity to also try to restore the architecture. And sort of deal with this '70s thing."
Designed by architect Myron Hunt for founder and railroad magnate Henry E. Huntington, the Main Exhibition Hall first opened in 1920 and served as a reading room for scholars until 1931, when another space opened to replace it. Since the 30s, the Hall had functioned exclusively as a gallery. In its 70s reimagining -- its last major rehaul -- White says, carpet was laid down and the original chandeliers, made of plaster, were removed. "They also had redone the cases [displaying] the books on the ground floor." It was a chance try recreate the feel of the former elegance and majesty, but at the the same time give it an updated, contemporary feel.
White worked closely with a Berkeley-based designer, Gordon Chun. "When we looked at this project, the challenge really was how do we honor its history but make it fresh." In her other job posts, among them the Getty and and Skirball, she says, she was mostly dealing with white walls, "I never had to worry about the building itself" -- utilizing the windows and walls as "pauses" in the exhibition; pulling up the carpet to expose the original cork-and-marble floors. When she tried to locate the old chandeliers to help restore the feeling of the original room, she learned that they had gone missing. "They had totally disappeared," she says. "There are photos of them from the 60s so I could take a good look at them. The fact that they were made of plaster was unusual, so we think that they probably got so hot that the plaster broke." Luckily there were images in the archive, says White, "that were hi-res enough that we could zoom-in and see all the details. Then we took them to Paul Ivazes Quality Lighting in Grass Valley, who specializes in chandeliers. He got someone to do drawings based on these photos. They were made from casts from computer drawings and used LED light modules, which will use a fraction of the energy and won't heat up the plaster."
Just off the brightened-up foyer, the Trustees Room, previously closed to the public, is now an updated interactive space, featuring books, materials and projects developed out of Huntington research materials. Visitors also get a peek at some of the manuscripts that are part of the Huntington's vast collection -- a Bukowski poem or pages of the typewritten manuscript of Christopher Isherwood's "A Single Man" slipped into a drawer, to be stumbled upon as if you are poking around someone's study.
The room also features a whimsical educational display, "The Library Today," which allows visitors a glimpse into the library's behind-the-scenes activities. Included is "Hand/Study," a transfixing 63-minute video piece created by Kate Lain, features different sets of moving hands performing library-related tasks -- working with photographs, fixing a tear in a document, cataloging -- that are projected onto the surface of an elegant conference table. Visitors are encouraged to pull up a chair, linger and read and work among the busy hands.
With its audio posts, interactive screens, newly-designed cases and moody fiber-optic lighting, "Remarkable Works, Remarkable Times" is an evocative re-imagining of time and space. Since the opening, White says, it's been a charge to be a fly on the wall and hear the assorted reactions, to see what people gravitate toward or what commandeers their full attention. Even with the multimedia bells-and-whistles, when it comes down to it White hopes, first and foremost, what should really should transfix are those bits and pieces of our deep collective past. White can't get enough of standing back and watching visitors linger over something like a journal or a letter and realize: "You mean, Abraham Lincoln really touched that?!"
Nothing could -- or should, White figures -- trump that.
Dig this story? Sign up for our newsletter to get unique arts & culture stories and videos from across Southern California in your inbox. Also, follow Artbound on Facebook and Twitter.