Bethany Yellowtail Belongs to a New Generation of Native Designers Blending Tradition with Couture
When London-based label Kokon to Zai (KTZ) debuted a dress at last year's New York Fashion Week that bore a startling resemblance to Los Angeles designer Bethany Yellowtail's Crow-inspired creations, it sparked a fresh conversation about cultural appropriation in an industry that regularly co-opts Native American culture.
Fashion fans pored over photos of KTZ designer Marjan Pejoski's self-described salute to "the primal woman," noting the similarities between his geometric look and Yellowtail's "Apsaalooke Nights" dress. Tribal activists protested on Twitter. And Yellowtail took to Instagram to defend her design.
"Honestly, I was devastated," said Yellowtail, who modeled her hourglass motif after her great-great grandmother's beadwork. "Here I am trying to break into the industry and do something I love, do something with passion and do something that has integrity, and it's just taken [by someone who says] 'Oh, I'll do it better. Let me just handle this.'"
The act, she added, "felt like a personal attack." "That may sound drastic to some people," Yellowtail acknowledged, but Native artists have been coping with outsiders misappropriating traditional designs and passing them off as their own "for centuries."
According to Jessica Metcalfe, who writes about Native American fashion on her blog, Beyond Buckskin, indigenous designers have been fighting for recognition since the mid-1940s, when Lloyd Kiva New, a member of the Cherokee nation, launched his internationally renowned clothing line in Scottsdale, Ariz.
But the debate over who can use tribal designs — and how — has raged even more fiercely in recent years. In 2012, Victoria's Secret courted controversy by sending model Karlie Kloss striding down the runway in a feathered headdress and turquoise jewelry. Chanel outfitted its models in war bonnets in 2013.
The Navajo Nation sued Urban Outfitters in 2012 for using the word "Najavo" to describe Southwestern-style apparel and other goods, accusing it of violating trademark infringement and the Indian Arts and Crafts Act. And Ralph Lauren drew fire in 2014 for using old photographs of tribal members to promote its RRL line.
"We have to take advantage of this moment where the spotlight is on Native fashion, whether it's Native-made or not to have these discussions," Metcalfe said, about "how we can share that information and knowledge with the world with respect and [without] crossing any boundaries."
Fortunately, she added, Native designers are using the popularity of the tribal trend to make their voices heard. "We're seeing these designers really busting ass and getting recognition," said Metcalfe, a Turtle Mountain Chippewa tribal member who holds master's and doctorate degrees in American Indian studies from the University of Arizona.
Yellowtail, who grew up in southern Montana, belongs to a new wave of Native designers who are blending time-honored traditions with 21st century haute couture. They range from Pauma Valley artist Jamie Okuma, whose dazzling beadwork reflects her Luiseño and Shoshone-Bannock heritage, to edgy New Mexico designer Virgil Ortiz, part of a long line of Pueblo potters, to "Project Runway" alumna and New Mexico native Patricia Michaels, a Taos Pueblo designer known for her luxe, eco-friendly looks.
"It's really cool to be part of a generation where... we're speaking loudly and not being afraid to let our voices be heard for the first time," said Yellowtail, who launched her fashion line, B.Yellowtail, in 2014. "We're telling [our stories] directly. They're not being translated for us."
Yellowtail, 27, credits home economics teacher Patricia Mischke with encouraging her to pursue fashion as a career. "She was really the one who inspired me, who saw I had a knack for making clothing and loved to do it. She helped me connect the dots," said the designer, who moved to Orange County to attend the acclaimed Fashion Institute of Design and Merchandising.
After graduating in 2009, Yellowtail worked for brands such as RaggStar, BCBG Max Azria and Baby Phat. "I had to get that industry experience to really learn the skills that I needed to launch my own brand," she explained, and discover "where I fit in."
Yellowtail draws on her Apsáalooke (Crow) and Northern Cheyenne roots to create effortlessly elegant clothing and accessories — a flowing dress in forest-green chiffon dotted with elk teeth, a suede slip dress embroidered with wild roses, a graceful cashmere cape with leather fringe. (Items by other artists, such as jewelry, silk scarves and beaded buckskin bags, are available via her B.Yellowtail Collective, created last year.)
The designer sees B.Yellowtail as "a celebration of ancestral tradition, beauty, and culture" that "embraces an authentic voice of contemporary Native America through design and wearable art."
Metcalfe praised Yellowtail's respectful approach to her roots. "She does have that really smart thinking behind her fashion," said Metcalfe, who sells jewelry, clothing and accessories created by Native artists via the online Beyond Buckskin Boutique, launched in 2012, and a retail storefront that opened in May on the Turtle Mountain Band of Chippewa Indians Reservation in North Dakota. "It's not just pretty colors. There's story and tradition behind it."
Yellowtail recently chatted with Artbound about the stories behind her stunning designs.
What's the philosophy behind B.Yellowtail?
In college, we took a class on brand identity and they said, "What sets you apart from everyone else?" I already knew the answer but I just didn't know how to connect the dots to what it would really look like, and how it would translate.
It took a number of years, even after college, for me to really find my voice.
I want a brand that is rooted in indigenous culture. ...I don't ever want to have a collection that's stereotypical, fringey or gaudy. It's really important to me the integrity of my clothing — that it's not only honorable to my community but to women and people of all walks of life.
How has B.Yellowtail helped you reconnect with your community?
As a young person, it's really hard to find value in yourself if you're [growing up] next to communities that are blatantly racist to you, your family, your relatives. You're beneath them. Your value is not appreciated. You're a little subhuman.
When I left here to go to Los Angeles, I really struggled with my sense of place, my sense of worth. I was afraid to go into fancy restaurants or nice stores because I felt like I didn't belong. Being the only Native person out there, [I felt] nobody really understood me.
When I started diving into my culture more and using that as my power, it changed my design aesthetic completely. It's really helped me see my direction more.
Talk about how your family heritage has influenced your designs.
My very first capsule I released [featured] geometric designs. They were the exact designs that came from my great-grandmother's beadwork... these beautiful bags and moccasins and leggings from the early 1900s. They've walked through time. They look like you could still wear them — but obviously, they should be locked in a safe...
The Crow have a very distinct geometric design. They call it the tipi design but it looks like an hourglass. It talks about our balance between our physical world and our spiritual world, and the center is where we live as Crow people...
[In my collections] I always reference family heirlooms, family photos. I love digging into our family history and really seeing the continuity of my life, seeing the paths my relatives have laid out for us and seeing how I connect the dots. That's really inspiring to me.
Today, so much of the conversation about Native American fashion deals with cultural appropriation. How does that affect you as a designer?
We're constantly having to defend ourselves, to justify our belonging. As a person and a designer, I have to justify why it hurts, why it was upsetting...
I don't want the conversation about me to be centered on cultural appropriation because I'm not here to defend myself. I'm here to do something I love and hold faith that [I'm] allowed to.
If we constantly as Native people, as artists, as creative [people] get roped into this appropriation conversation it becomes less about who we are and what we're about, and more about why. You constantly have to be defensive, and I don't like that...
There's a lot of people that raise their voices. We need people [to do that] but we more importantly need people who are creating solutions. We have to be more visible as a people.
We want to be in all those mainstream places and appropriately and authentically represent our people. ...This is what I do as a designer, as a creative person. I'm creating solutions. I'm creating conversations.
Talk about the inspiration behind the B.Yellowtail Collective, which features items handcrafted by Native American artists. You said the "lightbulb moment" came while you were staying with relatives on the Northern Cheyenne reservation last year.
There's one gas station in the Northern Cheyenne nation. ...I went to the gas station. This man came up to me and said, "I was wondering if you wanted to buy these earrings." [I said], "Oh wow! These are really beautiful! How much?" And he said, "Oh, $15. I just need gas money."
My first instinct was, "Holy cow! That's such a good deal!" Because they were beautiful beaded earrings. And then my next feeling was sadness. I felt sad. [I thought] 'These are so beautiful, they should be four times the price.'...
I have relatives who are in the same predicament. They sell crafts just to get by. Their only outlet is to sell them either locally, in the community — nobody here has much money, so your price is way low — or you sell [your product] to the non-Native trading post for a fraction of what it's worth and they flip it and make so much money off your work.
That was really the inspiration for the Collective, creating an immediate economy for a least a few people. And [that's just] a stepping stone. ...My biggest goal is to have a manufacturer back home on our reservation that can really employ our people to create our garments, and create an actual economy here.
I haven't even grazed the surface of what I want to do, or how much potential there is for my brand. ...The core of what I'm doing has to be, "What am I doing, and how are we lifting our people up together at the same time?"
Who belongs to the B. Yellowtail Collective?
Most of them come from the Crow nation or the Northern Cheyenne, mostly in the Plains region. One or two of them come from the Southwest.
They're incredible artists. These traditions have been passed down to them from their relatives, their ancestors. ...There's this beautiful link to our history and our past.
We wanted to create a place to share our stories. We don't want it to be just about me, B.Yellowtail; we want it to be our people's voices. And who better to share our stories than ourselves?
Who do you design for? Native people? Non-Native people?
I'm not creating something that's specifically for Crow people. I'm creating products that are telling stories that are for all people. ...
When people purchase our fashion, they're purchasing it knowing our stories. They know who we are as a company. They know what we are about and can clearly see what our values are. That's being shared directly from us. ...
By wearing [our creations], you're our ally. You're sharing our story, and wearing it with the dignity and respect that we put into it.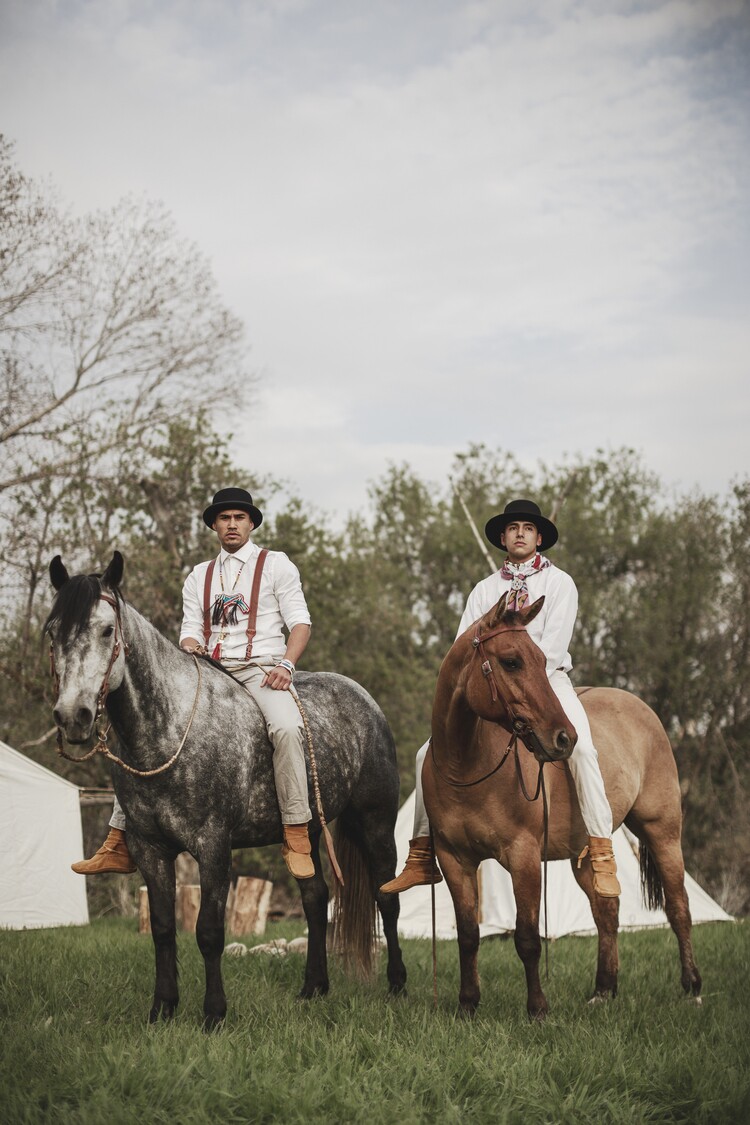 Dig this story? Sign up for our newsletter to get unique arts & culture stories and videos from across Southern California in your inbox. Also, follow Artbound on Facebook, Twitter, and Youtube.