Los Angeles-based artist Marc Horowitz isn't a comedian, but humor is an underlying theme in his wide ranging art. Through all of his hybrid performance art/comedy/social practice/long-form experimental projects, he works in a manner more akin to improv comedy than standup, and starts from a place of vulnerability that eventually spins out into something that takes on a life of its own. It is as if to say that Horowitz births the gremlin, but isn't responsible for its potential evil turn. The journey is the destination, and the end point is unknown -- if non-existent.
While his art is often entertaining, he eschews the labels that come with it. "I've never thought of myself as an entertainer or comedian," he says.
Horowitz has been conducting public experiments for more than 15 years, and has always been active on the Internet, chronicling his exploits on YouTube. His work is more hybrid than purebred, more Cory Arcangel than Mark Grotjahn.
Horowitz once worked on a project called "Coffee in the Park," in which he would serve free coffee to people at Alamo Square park with a coffeemaker powered by extension cords coming from his house. It took one hour to heat up a single cup of coffee, while Horowitz interacted with the somewhat irritated bystanders. It was a prank, but it also was a kind of social practice piece, where he interacted with the public.
Horowitz's accidental big break came when he was working as a photo assistant on a Crate & Barrel shoot. The team needed something written on a white board that was in a fake office environment that would be featured in the catalog. When his coworkers turned to him for a creative solution, Horowitz responded with his own plan, suggesting that they write "dinner with marc" and include his phone number. If anyone called him, Horowitz promised that he would take them out to dinner. "They said okay," Horowitz remembers. "So it was a bet, and whoever called me I said 'yes, I'll take them out to dinner.' I forgot about it, and then it got printed in the catalog."
Horowitz was in California when the catalog got printed and people started calling; during the first week, he got 70 calls, and figured that he could take a few weeks off of work and do this, start taking people out to dinner. The joke turned into an art piece he called "The National Dinner Tour," and he traveled around the country in an RV for about a year having dinner with people.
"This early blogger Jason Kottke blogged about it and then the New York Observer picked it up," he says. "Then from the Observer, it was the 'Today Show' and 'Good Morning America,' fighting over what I should be on. And I said, 'the Today Show, duh,' and then they said my number on TV and it just got out of control."
The National Dinner Tour News Reel
Though the project put Horowitz in the limelight, Crate & Barrel was not happy. "After 'The National Dinner Tour' project, I sold all my stuff, got gainfully fired from that photo assistant job, and then I got a call from the CEO of Crate & Barrel," Horowitz says. "He said that he would sue the shit out of me, and he asked if I could not talk about 'The National Dinner Tour' project on TV and could I just talk about my art, and I said 'this is my art.' I never heard from him again."
After "The National Dinner Tour" took off and received national press galore, Horowitz got a call from high profile talent company William Morris Agency. He was offered representation, and he accepted, though it certainly wasn't his intention with the project. "I was like 'why not?' Why not do entertainment stuff, this is hilarious." He says, "the work was a hybrid of entertainment, social practice, comedian."
Then Horowitz wandered to L.A. with no expectations. He says his only question for the agent was: "Is there a place where I can park my RV?"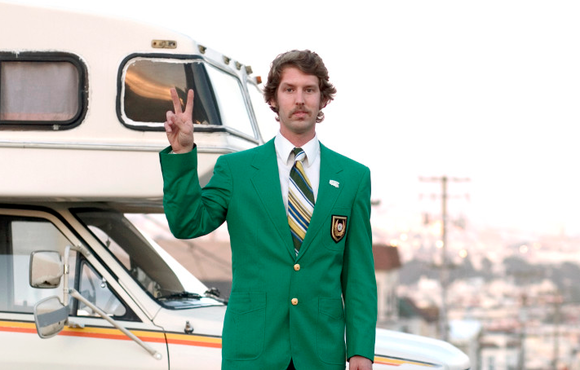 His projects than became bigger in scope, but also more commercial. Nissan paid him a a great deal of money to live in a 2007 Sentra for seven days for a $55 million ad campaign. In 2008, his project "The Signature Series" included driving across America according to the shape of his signature, making 19 stops along the way. His art career was taking an unconventional turn. "I had an agent basically being my gallerist, and people like Sony be my donors," he remembers. "For the Signature Series Sony gave me half a million dollars to do it."
For a similar emotionally taxing project, from November 1 to 30, 2010, Horowitz lived by the advice of strangers and popular vote. This project involved crowdsourcing his personal, daily, physical, familial and emotional decisions to an online anonymous community. In many ways, this sort of project predated the types of social media crowdsourced posts, in which people ask for answers about major life decisions via Facebook status updates. Like the impersonal way users make commands of computers, Horowitz became a human at the beckon call of the anonymous masses of the Internet.
Horowitz's career track differs from most visual artists, who earn a visual arts BFA from some art school or a BA from an accredited liberal arts college, and then swoop in to get a finely tuned MFA which properly spits them out as "Artists." Horowitz grew up in Indiana and Ohio, put himself through college, got a business marketing degree at Indiana University at Bloomington. While there, he also discovered art and started taking classes at neighboring Ball State. He went in as a transfer student at Ball, and visited art studios with all the other students.
"I was like: 'Hey I'm a business student and I hate what I am doing, please accept me for who I am,'" Horowitz says. "I was painting terrible things. Then my family saw my work and they were like 'don't quit your day job, and do get a job at a bank.'"
Rather than be discouraged by this familial criticism, Horowitz started working at a parking garage, where he learned to rewire the machine to read a different price than what printed outside, and then stole $7,000 from this employer. He took that money and went to Europe for six months, where he visited as many galleries and museums as possible, determined to teach himself everything there is to know about art history. (He also admits that it was wrong to steal this money, and that he will pay them back one day through an anonymous check for $7,000). It could be said that this is where his formal art career began, his first culture hack. At the same time, a lot of Horowitz's fascinating ideas for creating large-scale performative works have come from the odd jobs he's done to pay the bills; the weirdness that he experiences on social media; his travels, and net-art related phenomena.
Often times, Horowitz is called a net artist. Along with his Twitter account, Horowitz's blog "I Need to Stop Soon" served as an archive and documentation of his continued projects. The blog itself only goes to 2009; Horowitz took the site down, and only put it back up in the past month, or so, this year. He is self-conscious about its intensity. "I was my own island, and that's also how I got wrapped up in net art," says Horowitz. "It's like I am gonna do my own thing, I don't need the gallery."
This sort of entrepreneurial spirit has been with Horowitz since he was a kid; he founded a ghost-removal and cleaning service at age 8, and received his first press at age 9 when he organized "a break dancing competition as entertainment for senior citizens." His familiarity with the Internet also began at a young age; he was online in 1986, writing BASIC and chatting on basic SRCs with a friend who lived down the block, with whom he'd also play the early computer game, The Eternal Dagger, in which only a dagger can save the world from invading demons.
So it makes sense that Horowitz ended up in the Bay Area in the early 2000s during the "Dot Com" boom, where he worked briefly with Silicon Valley businesses before quitting to get into art. He started a fake company that helped with impossible projects like fog removal for the Golden Gate Bridge, and took community college art classes for a couple of years until being offered a full ride to San Francisco Art Institute (SFAI), where he got to know artist Harold Fletcher. After one year, he dropped out to chart his own course, which sprawled into his career of pranks, Youtube experiments, and social practice antics.
After years of projects like these, he started to reconsider his creative practice. In 2012 Horowitz dropped his agent at William Morris, and enrolled in an MFA at USC's Roski School of Art to work with artist and professor of fine art, Charlie White.
"I wanted to get away from the camera, social practice, entertainment-as-art, documentation-as-video, and I started hiding," says Horowitz.
Graduate school served as a "reset" button for him.
His latest show at Depart Foundation in West Hollywood is sort of an answer to what's happened since grad school, as his work and ideas have slowed down a bit, lessening their manic energy, and perhaps becoming more meditative. The exhibition is literally way more interior and private than exterior and public, like his previous works. Horowitz's show "Interior, Day (A Door Opens)" -- opening October 8 and running through December 19, 2015 -- delves deeper into the convergence of his art historical knowledge with his own personal history and this sort of personalized conflation of the two. This is all mixed in with his simultaneous love/hate relationship with the commercial advertising world, which he worked in when he was represented by William Morris, and where he learned the language of commercials that later informed his video work.
In the show, Horowitz arranges a series of Greek busts and body props that he found in the trash alongside kitschy items salvaged from his parents' house. They're mashed into hunks of dripping Sterling Ruby-esque sculptures and Internet text acronyms like BRB (Be Right Back). But somehow every piece, though possibly ironic in nature, is also a joke in-and-of-itself. For example, a fallen Greek male body is pierced through the heart with a silver rod with the text "BRB" engraved into it, and a magic 8 ball attached to the end of it.
This exhibition, Horowitz explains, is also like "a dick joke about dick jokes, and a dick joke about male artists." He is both making fun of the way male art sometimes has the very phallic attachment of "bigger is better."
Says Horowitz: "It's like the court jester and the fool, so you're allowed to make fun of the system in front of the system, but you're also a fool out of the system making fun of the system."
---
Related:
Petra Cortright: Post-Internet Art in the Social Media Age
Petra Cortright was raised in Santa Barbara, but she grew up on the Internet. The artist's work is often typified as "post-Internet art" -- art that uses the Web as its medium, source, context and place where it is performed, all at once.
Adolescence, Remixed: Charlie White and Boom Bip's "Music for Sleeping Children"
Artist Charlie White collaborates with avant electronic musician Boom Bip aka Brian Hollon, on a new endeavor, Music For Sleeping Children, which pairs interviews with adolescent girls with club-rocking beats.
---
Dig this story? Sign up for our newsletter to get unique arts & culture stories and videos from across Southern California in your inbox. Also, follow Artbound on Facebook, Twitter, and Youtube.