The lulling, ambient sounds radiating from the stage set up in Terminal 2 bounced from the walls and terrazzo floors of the San Diego International Airport. The multicolored pieces of stone and granite embedded into the floors, ubiquitous in the sterile halls of airports, created an unimposing beige blanket that absorbed the effects of its environment.
Much like those floors, the performance of Brian Eno's genre-defying, 1978 album "Ambient 1: Music for Airports" by New York musicians Bang on a Can All-Stars filled the hollow space of Terminal 2 with mesmerizing sounds created from various sonic fragments meant to unobtrusively engage with the built-landscape. But in case the crying babies, echoes of rolling suitcases and boarding passes serving as tickets to the concert failed to remind anyone that they were, indeed, at one of the busiest airports in the country. Even the telltale announcements were there: Airport security is everyone's responsibility. Do not leave bags unattended.
"Isn't it nice to hear that and know you don't have to go through airport security?" joked Bang on a Can All-Stars guitarist Mark Stewart. "It's a perfect intro; a prelude to what we're going to do."
The six musicians that make up Bang on a Can All-Stars built out Eno's ambient masterpiece on live instruments in the bustling location. After all, that's how this piece of music was intended to be heard, as a calming respite to the frenzied environment of a busy airport.
"To me, the piece becomes part of the architecture," says Robert Black, bassist with Bang on a Can All-Stars. "I find it architectural in that it gives volume to the space. We have the walls and floor and ceiling, but we don't think of it being filled up. It's air. But [Eno] fills it up with something. It makes it physical."
Conceived during a long layover at Cologne Bonn Airport, "Music for Airports" and Eno's idea for ambient music -- a term he coined -- as a whole were created with the purpose of being "as ignorable as it is interesting," as he wrote in the album's original liner notes.

Track "1/1" on "Music for Airports" was created from a snippet of a taped recording from a long improvisation session between Eno and other musicians, including Robert Wyatt of the prog-rock band Soft Machine. From that small section of tape holding a few seconds of melodically intertwining pianos, Eno looped it and played it at half speed to create a more ethereal sound. He used a similar looping technique for the three other tracks on the album, adding vocals, synthesizers and other elements as he played with the pattern and structure. For the live performance, Bang on a Can All-Stars used cello, bass, piano, keyboard, percussion, electric guitar and clarinets to re-create the album's every soft turn and droney hum.
This performance of "Music for Airports" was the first-ever held in the United States. Presented by UC San Diego's ArtPower, the university's main output for dance, music, film and food-related programming, the concert was a rare opportunity to experience Eno's iconic work live.
While ArtPower has long aimed to bring innovative and diverse work to UC San Diego's various stages and, on occasion, in other theaters in the city, for Jordan Peimer, executive director of ArtPower since October of 2014, bringing "Music for Airports" to San Diego was an opportunity to hone in on his personal mission to focus on community engagement through site-specific programming.
"I feel that some of the most interesting work that's happening these days is site-specific," he says. "I want to do more music in unexpected places. I want to put dance into the community as well as into the eucalyptus groves here on campus. San Diego does have a long tradition with site-specific dance, particularly with the Trolley Dances [An annual series of new dance pieces performed at stops along the MTS Trolley Line, presented by Jean Isaacs Dance Theater]. I want to grow and enhance that tradition. It's great that it's happening here and I want to participate in it."
Since he took the helm at ArtPower, Peimer intended to make his inaugural season of programming unlike anything the organization has done before. The performance of "Music for Airports" was not only an opportunity for ArtPower to bring a rare, large-scale concert to the airport, which already boasts a large public art and performing arts program, but also stage it in the setting it was intended for and, thus, reach beyond campus.
The concert was also a chance for Peimer to share a piece of music that he feels personally connected to.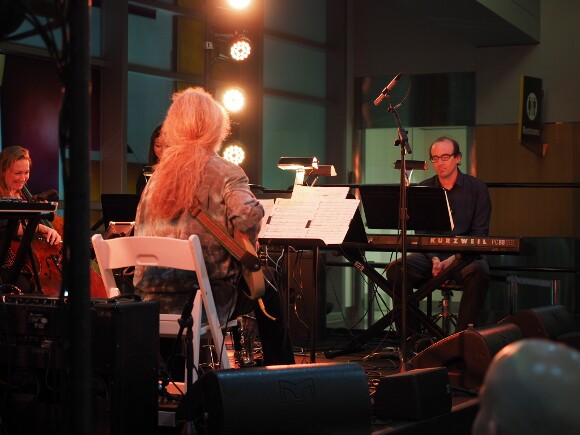 "I was first introduced to it in 1980 and it's been one of those things that I always listen to; first on a record, and then I put it on cassette and listened on a Walkman on my first trip to California," Peiman says. "It went from the Walkman to the Discman to my iPhone. It's one of those rituals. I travel a lot and it's always with me."
Arts programming in airports is not a new phenomenon, though it has gained popularity in the last decade. Many believe they flourished in response to the higher stress levels associated with flying post-9/11. With travelers having to arrive early for flights in order to go through intense TSA security lines, they had more time to kill. This provided an opportunity for airports to provide weary travelers spaces to commune, see world-class artwork and relax as they waited for their flight. Airport art programs furthered their offerings by bringing performing arts and music to their line up as well.
Airports all over the world have incorporated public art into their overall mission. Charles De Gaulle Airport in Paris boasts the Espace Musées, a 2,600-square-foot art museum filled with impressive rotating exhibitions from different Parisian galleries and museums. Bang on a Can All-Stars, specifically, has performed "Music for Airports" in airports in Brussels, Holland and Liverpool since 1998 as part of those airports' arts programming.

The San Diego International Airport's art program was inaugurated in 2006, focusing on temporary and rotating exhibits from local, national and international artists, performing arts in the form of live music, dance and theater and public art installations. In the last two years, the airport has undergone major renovations and additions to its artistic offerings, including classical and jazz concerts and a huge exhibition celebrating the 100th birthday of the city's most iconic attraction, Balboa Park.
Through airport arts programming, and specifically Bang on a Can All-Star's "Music for Airports" concert, Peimer believes people can rekindle their love for travel.
"By staging the concert in that venue; to really sit there and listen and appreciate the space we're in and the spiritual nature of the music itself, it really reinvests us in the miracle of flying," he says. "It's not just a banal form of transportation. It's kind of a miracle. That terminal is an amazingly good performance space. The sound in there is amazing. I can imagine future collaborations. I think a large-scale dance installation would be a really amazing opportunity."
---
Related:
Travelers at the Los Angeles International Airport may be surprised to experience an expansive array of art installations.
---
Dig this story? Sign up for our newsletter to get unique arts & culture stories and videos from across Southern California in your inbox. Also, follow Artbound on Facebook, Twitter, and Youtube.