On March 13, downtown Los Angeles gets a new arts institution. Hauser Wirth & Schimmel opens in the heart of the arts district in an expansive 116,000 square foot art complex inhabiting an old flour mill from the late 19th century. The space will host large gallery spaces, a bookstore, and a restaurant that will open in the summer of 2016. The inaugural show "Revolution in the Making, Abstract Sculpture by Women, 1947-2016," features almost a hundred works ranging from pioneering female artists, including Louise Bourgeois, Lee Bontecou, and Louise Nevelson, to contemporary creatives whose works were commissioned for the new space like Phyllida Barlow, Lara Schnitger, and Kaari Upson.
Artbound recently met with Hauser & Wirth partner and vice president Paul Schimmel, former chief curator of the Museum of Contemporary Art, who discussed the vision for the art space, the early days of Los Angeles' warehouse art scene, and the lessons he learned from his long tenure in local institutions.
What's the history of the structure?
This piece of property was very important in the early development of Los Angeles. The flour mill was the largest mill in Los Angeles from the 1890s until the post-War era. Trains would bring wheat from the central valley to this mill -- which art now occupies -- and would be turned into flour and put on trains and sent down to San Pedro and all over the globe. In fact, it's a wonderful metaphor for Los Angeles and its artists who make wonderful work that not only stays here, but it's who we are known as, a creative community all over the world and increasingly more so.
Can you tell us about the specific pieces you chose to display for your debut exhibition?
It's a broad survey that really explores the revolution in the hands of women artists, in terms of new materials, new processes, new forms, breaking down of hierarchies not just having to do with identity politics, but the hierarchies of what is appropriate for artists to work with and express. So the earliest section -- in many ways -- the artists who came before the feminist revolution were both embracing aspects of modernism and doing so in ways that were unprecedented -- the use of wire, stretched canvas, new materials that relate to primitive sculpture, basket weaving. Really, the profound change that took place in some ways, some artists got bigger, more monumental, more steel, heavier, and working with more fabricators or more things where they had to direct. This generation of artists really embraced the most intimate of expressions -- realized as grandly as anything else -- but done so with the sense of their own touch and feel. And what began with artists such as Louise Bourgeois, Ruth Asawa from San Francisco, and Claire Falkenstein, one of the great L.A. artists who has been overlooked, continue through a dialogue of artists like Jackie Winsor and [Magdalena] Abakanowicz. Their kind of monumental use of rope, fiber, and the primary forms and structures of circles and cubes. The loss of weight and gravity as seen in [Eva] Hesse, Gego, and Mira Schendel. The weaving of corners with Lygia Pape or the definition of a frame with Marisa Merz. The appetite to take over architecture with Cristina Iglesias and the beautiful concrete sculptures by Isa Genzken. And in the last section, the fourth gallery, you really have a new generation. Many merging here today: Lara [Schnitger], Kaari [Upson], others who live and work around here, Rachel Khedoori. They too have brought the legacy of all of these artists forward into an increasingly riotous use of color, a deeper sense of the relationship between the viewer and the object that is both installation and environmental, performative, and culminating in works like Phyllida Barlow. She will be representing Great Britain in Venice this coming summer with her immersive [installation], taking pom poms sort of "girl's language" and turning it into a cathedral of pick up sticks and which you can wander in and through and among.
Why is Los Angeles a good place to open a gallery?
Los Angeles has always been a really artist-driven, rather than a traditional-commercial driven market. When we think of great centers of commerce in the art world, like New York. It's a very different environment. It's an environment really nurtured by the centrality and I should say the sense of 'controlling their own destiny' by artists. Artists have had opportunities here in terms of the space available for studios, new materials, new processes, as we see all around us in the galleries. And most importantly, the great emphasis and equalization that occurred because of the art schools. The art schools themselves created a dialog between and among artists that was outside of the collectors or the commercial arena. And institutions like MOCA, LACMA, and others have really followed the way and acknowledged both the centrality and primacy of what artists do and try to represent it as closely and intimately. And that was our thinking behind this space, something that is uniquely accessible to the community. You don't have to buy a ticket to come see a museum-quality exhibition. You don't have to wait in line in terms of timed entrance, you can come see a show, have a meal, sit out in the garden, meet a friend, and then go back in week after week after week. Coming from the museum world, there have always been two things I've been interested in in terms of the public, first time visitors and repeat visitors. They really are the whole grip, and if you get a first time visitor who has an experience where they connect personally with the art, they are your repeat visitors. They bring their friends and their families. And the sense of the studio and the home, and the intimacy of art, I hope can be captured in a museum-like campus setting.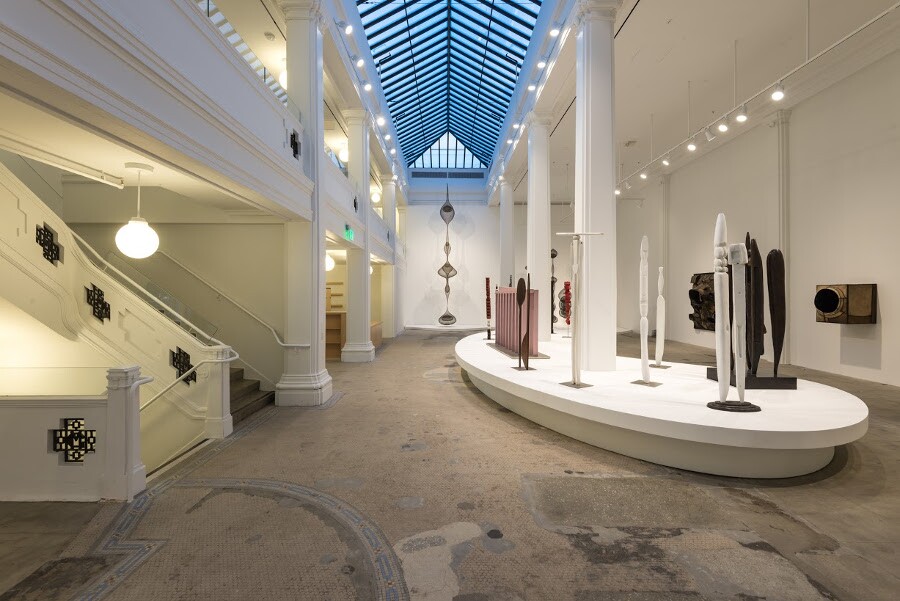 What are your personal memories of the Downtown Los Angeles Arts District and how have you seen it change?
I moved to Los Angeles in 1981 and within months I was at a loft party -- just a few blocks from here -- and I remember meeting Mike Kelley for the first time. He had come from Detroit and I thought, "oh this is a different L.A. than I had thought it was. It's not just about Venice Beach and surfing." I sensed this urban possibility. Little did I know that in fact this very special place… maybe we should be grateful for the slow changes that occurred and have provided a kind of potential for an urban community that really hasn't been realized. Artists recognized it and there were small studios, an outpost bar, and punk clubs, but the real changes took place with the younger generations. Generations in their 20s and 30s who ride bikes and walk around and want to live, work, and play all in the same neighborhood. And this building, as it has been opened up right all along the railroad tracks, with its North and South access, its courtyard with its inviting restaurant, tables, and garden is a place that I hope will help reinvent the experience for the community that I hope will come to love and appreciate great art.
Could you tell us about the early days of punk and how that influenced you?
The punk scene was very big here in the 80s. This is where they all were. About six or seven years ago, I was part of the Pacific Standard Time -- what the Getty did -- and I did an exhibition called "Under The Big Black Sun." It was really about that rather sort of dark, political kind of void that was created in the political changes of the late 70s. And the punk scene in a sense represented that in music, in a way that one saw also in art, like Mike Kelley or Bruce Conner. That intertwining of popular culture, political change, and creative people is something that is still part of the community of artists who live and work here today -- whether is Mark Bradford and the changes he's made through Art + Practice, Paul McCarthy in the strong, powerful political statements that his work has always embraced. So in this unstructured neighborhood, great things have happened and will certainly continue to happen.
What lessons have you learned from your previous work at MOCA and how will will you apply them here?
I was very fortunate when I came to Los Angeles to recognize that great art is both regional and global in the same word. And that sense of discovering the best and the brightest in an area and bringing artists from around the world to them is what is really needed to create the kind of spark and creativity, both here and the impact of what we're doing here has on a global level. We live in a wonderful changed world, it's not about a sort of hub with spikes going out of it as we saw Paris and New York. But we live in a truly kind of global society, much like the internet, where artists from Asia, Latin America, all over the United States and now Europe, come to Los Angeles to really communicate with each other.
Like this story? Sign up for our newsletter to get unique arts & culture stories and videos from across Southern California in your inbox. Also, follow Artbound on Facebook, Twitter, and Youtube.