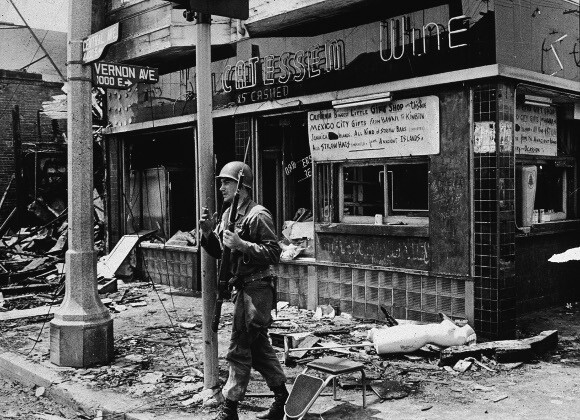 On the first night of the Watts uprising, 13-year-old Leon Chancler, then a student at Locke High School's jazz workshop, was walking home along Avalon Boulevard when he heard the first sirens. "I lived on 99th and Avalon. We were coming back from a field trip in San Diego," remembers the prolific drummer and studio musician, who famously played on Michael Jackson's "Billie Jean," and now goes by the name Ndugu. "I had just left the school and I was around 108th when three police cars sped by... I thought, Oh man, something's definitely going on down there." Today, the 63-year-old Chancler teaches music at USC but the memory remains vivid. "Once the incident hit the news, everything went haywire. All we could do the next day is sit home and watch it on TV."1
Nine blocks south at the corner of 116th and Avalon, 15-year-old Ernest Roberts, a clarinet student at Jordan High School, stood wide-eyed at a blooming scene of street theater. The accelerating drift of locals off their front porches, drawn towards the '55 Chevy and CHP officers directing the 21-year-old driver unsteadily walking a sobriety line. Someone spit at the cops; in the confusion, they waded into the crowd after a woman who was a friend of Robert's family. "She was hairdresser and had a smock on but the smock looked like she was pregnant. Turned out she wasn't." Roberts, now a jazz multi-instrumentalist living and working in Berlin, recalled to historian Steven Isoardi in 2001. "The policeman grabbed her by the hair and threw her down on the ground, and everybody goes, 'Whoooaa.'"2
Eight miles to the west at the glassed-in penthouse lounge in the International Hotel, drummer Carl Burnett, who had played with the likes of Sarah Vaughn and Horace Silver, was taking intermission with his own Latin-jazz quintet when someone pointed east: "Hey man, there's a fire down in Watts." There were few other high-rise buildings around the brand new hotel and the view afforded an untrammeled vantage point from South L.A. to Pasadena. Fifteen minutes later, as the band took the stage for their last set, someone noted, "Hey Carl, the fire looks like it's all the way down to Slauson."3 As they played, heads in the audience and among the wait staff kept turning toward the eerie glow as it spread north. By the time they finished their set at 1:30 a.m., nearly 1,500 people were rampaging through the streets of Watts. Most of the quintet, including Burnett, lived there.
Around daybreak, Hampton Hawes was speeding south along the Harbor Freeway, on his way from an after-hours jam session after headlining a gig at Mitchell's Studio Club in Hollywood. When he saw the smoke, Hawes assumed it was a late-summer fog bank. When he saw the fire, he assumed two jet planes had collided and crashed in his neighborhood. "Whole blocks were crackling with flames," the post-bop pianist remembered in his 1972 autobiography "Raise Up Off Me." "Old people, little people fat people, kids -- looked like they'd just come swarming out of the ground, cars crashing up to corners, picking up cats and shooting off again [and] the police with their guns standings around at a kind if lazy, bewildered parade rest." After a "nervous fireman" mistakenly directed him the wrong way down a one-way street, Hawes made it safely home, telling his wife Jackie: "Watts just declared war on the city of Los Angeles, and as many motherfuckers as I saw out there tonight, they may win.'"4
Particularly for jazz musicians, it must have been a brutal severing of historical memory for them to witness. The decayed and burning neighborhood and blurred young faces of pent-up fury revealed to the rest of the world on live TV screens bore no resemblance to the cultural and racial landscape their parents and grandparents had built. They had experienced Watts' slow, decades-long progression from multi-ethnic cowpatch called "Mudtown" to a thriving business and entertainment hub that one of its own sons, bassist Charles Mingus, dubbed "The Big Town."5 Besides Mingus, Watts had produced four generations of jazz talent: Don Cherry, Buddy Collette, Cecil "Big Jay" McNeely, The Woodman Brothers, William "Boogie" Daniels, Dexter Gordon, Eric Dolphy, Billy Higgins among them. By the 1960s, however, even a successful studio musician like Collette, who grew up in an area called Central Gardens, had moved to the suburban environs of Compton. "It seemed that the Watts area was going downhill and people were frustrated in many ways," Collette wrote in 2001. "No work, and nothing was happening. There was no future."6
Even the younger players who came of age in the time of Watts' long, excruciating decline benefited the city's ingrained sense of community arts. "We had a great musical neighborhood [and] a really wide range of young musicians," recalled Ernie Roberts, who would adopt the name Fuasi Abdul-Khaliq. "Everybody it seemed to me on every block was playing an instrument."7 To the growing legions of local gangs, musicians were a protected and precious cargo. "It wasn't like the Crips and the Bloods," remembers Chancler. "You had gangs like the Slausons and the Executives but they weren't hell-raisers. If you were in a band you were exempt, because you were cool."8 Even the rioters of 1965 respected their musical elders. Johnny Otis, an R&B bandleader and radio personality who had owned the Barrelhouse club in Watts in the late 1940s, was driving his MGA near Will Rogers State Park when three men converged on his car. One of them recognized its driver: "Johnny Otis, are you out of your goddamn mind? Get the hell out of here before you get killed!" The men cleared a path for Otis to pass, shouting into the night, "Blood brother! Blood brother! Let him through!"9
At dusk on Friday the 13th, the California National Guard arrived at the perimeters of Watts and were ordered to begin digging trenches at intersections. Unfortunately, this meant that the majority of residents of Watts who weren't participating in the chaos -- and they were in the majority -- were shut in with it. After a checkpoint was rammed by a car, soldiers were ordered to load their weapons and fix bayonets. That night the mysterious shooting deaths began. A man named Frank Posey was the first, cut down after stepping out of a barbershop at 89th and Broadway.10 Doo-wop singer Charles Fizer, whose group the Olympics had recorded the original version of "Good Lovin'", was killed on his way to band rehearsal.11 Comedian and civil rights activist Dick Gregory, venturing out into his neighborhood to try to quell the looters, came across a small boy crying over a headless body.12
The young jazz artists of Watts saw things no one their age should see. "There wasn't no police around, but you knew the things you were seeing were wrong," says Michael Session, who was being introduced to jazz via a his older brother. "We went to the liquor store down the street... there's glass, liquor from the bottles on the floor and everyone's walking over the glass and slipping around... almost everything in the store was gone."13 At night, families turned their homes into fortresses. "We were sleeping on the floor at night because we were afraid of bullets flying through the house," recalls Rufus Olivier, who was 10 years old at the time. "If you went to the supermarket the whole store was lined with National Guard armed, every 10 feet was a soldier, and you just walked between them to go into the store."14 Just as often, there were off-kilter scenes of revelry. "I remember in the daytime one guy came into the gardens with an old truck with a big back end full of piles of shoes, and the people came pouring out to grab them," chuckles Session. "I remember pulling out one shoe thinking, 'Now how the hell am I going to find the other one?'"15
The older jazz musicians of Watts had varying reactions to the newly imposed 8 p.m. curfew, ranging from cavalier to cautious. Saxophonist Curtis Amy and his bandmate, pianist Onzy Matthews, decided to take in a baseball game every night the city burned instead of playing gigs or staying home, slipping out past the curfew and cruising together to Dodger Stadium under a blanket of acrid smoke.16 By the third night, however, a 31-year-old sideman who worked with both Amy and Matthews did not have as carefree an experience.
Trombonist/pianist Horace Tapscott had a wife and family to support. Even without the current urban turmoil, he knew that making one's way around Los Angeles as a black jazz musician was always a dodgy effort. "It was dangerous for me to try to come home, coming out of the white neighborhood into mine alone," he said in a 1993 interview. "But as far as economically, making a little money during those times, it was pretty fruitful."17 Unfortunately, his devoted wife Cecelia, whom he had collected from her job at the county hospital, was in the passenger seat. Both were anxious to get home to their five children but had the misfortune of living at 56th Street and Avalon Boulevard. They were stopped at a checkpoint right around the corner from their house and were confronted by a Guardsman -- essentially, a frightened child in uniform with an M-16. Tapscott, haunted by memories of racial violence from his youth in segregated Houston, saw the gun and saw red. Then the gun barrel turned towards Cecelia.
What if the stories L.A. tol about itself relegated you to the margins? This episode explores two underground guidebooks -- The Negro Travelers' Green Book and The Address Book -- that reveal the hidden geographies many Angelenos had to navigate, esposing Los Angeles as a place of coded segregation and resistance.
S2 E5: Coded Geographies
"He pointed his gun straight into the window," she recalls nearly 50 years later. "That was the first time I ever saw Horace really upset: 'Get that gun out of this car, we live here, we're on our way home, you got your gun in my wife's face.'"18 Cecelia started to panic, and Tapscott, fighting to control his temper, turned to soothe her while keeping his voice loud enough for the figures with guns now surrounding the car: "You don't have to say a word to this motherfucker. You don't have to say nothing." After a few tense seconds, a senior L.A.P.D. officer intervened. "Where do you live sir?" he said by way of an apology before waving them through. Tapscott later found himself reflecting on the irony of the situation, "If it wasn't for the older policeman, we'd have been shot, because they had the orders to shoot to kill."19
Even when the ruins of 103rd Street (now dubbed "Charcoal Alley") were still smoking embers, Tapscott would gather many of the young musicians of Watts -- Session, Roberts, Chancler and Olivier among them -- under the protective umbrella of his guerrilla jazz orchestra The Pan Afrikan People's Arkestra. The rigorous experience saved many of them. For one, Oliver, who would grow up to become the principal bassoonist for the San Francisco Symphony, lost several of his high school friends before they were the age of 25.20
After the rebellion, the National Guard cordon and significant damage hobbled the local jazz clubs, and the working musicians of Watts were increasingly deprived of venues not just in South L.A. but the city as a whole. With haunts like the It Club closing and the Parisian Room limping along, jazz would have to return to the underground, in post-riot oases like the Watts Happening Coffee House and Studio Watts. The unofficial dividing line between black and white Angelenos -- the Santa Monica Freeway -- became a literal one. "Watts affected every person because that just severed relations," bassist Henry Franklin told an oral historian in 2001. "And white people stopped supporting the music in black areas. You go to any club in the area and it's going to be half white people and half black people. But [the riots] took out that half."21 Bassist Patrick "Putter" Smith, an Irish-American from the suburb of Bell who had played Watts clubs since the 1950s, remembers a gig at a South L.A. venue called Godfathers in the early 1970s with the titanic hard-bop drummer Art Blakey. "There was almost no white people there. Art would get up and preach about the riots. He was telling the audience they had ruined it because white people were afraid to come down there: 'You really messed up, you scared them off,' he says, 'We need the white people in here too... you know jazz is not black; its black and white. It's always been like that and that's what it is.' Thing was, the place was half-empty."22
---
1 Ndugu Chancler, author interview (4/18/15)
2 Fuasi Abdul-Khaliq, transcript of unpublished interview with Steven Isoardi (12/21/01)
3 Carl Burnett, "Beyond Central Oral History" (UCLA: 2007)
4 Hampton Hawes with Don Asher, "Raise Up Off Me: A Portrait of Hampton Hawes," p. 140-1
5 Charles Mingus, "Beneath the Underdog: His World As Composed by Mingus," p. 220
6 Buddy Collette, "Jazz Generations: A Life in American Music and Society," p. 173
7 Fuasi Abdul-Khaliq, transcript of unpublished interview with Steven Isoardi (12/21/01)
8 Ndugu Chancler, author interview (4/18/15)
9 George Lipsitz, "Midnight in the Barrelhouse: The Johnny Otis Story," p. xviii
10 Gerald Horne, "The Fire This Time: The Watts Uprising and the 1960s," p. 70
11 Andrew Grant Jackson, "1965: The Most Revolutionary Year in Music," p. 155
12 Dick Gregory with Sheila P. Moses, "Callus On My Soul: A Memoir," p. 110
13 Michael Session, author interview (3/17/15)
14 Rufus Olivier, author interview (4/15/15)
15 Michael Session, author interview (3/17/15)
16 Curtis Amy, "Beyond Central Oral History" (UCLA: 2002)
17 Horace Tapscott with Steve Isoardi, "Songs of the Unsung: The Musical and Social Journey of Horace Tapscott," p. 126
18 Cecelia Tapscott, author interview (2/27/14)
19 "Songs of the Unsung," p. 111
20 Rufus Olivier, author interview (4/15/15)
---
Dig this story? Sign up for our newsletter to get unique arts & culture stories and videos from across Southern California in your inbox. Also, follow Artbound on Facebook, Twitter, and Youtube.