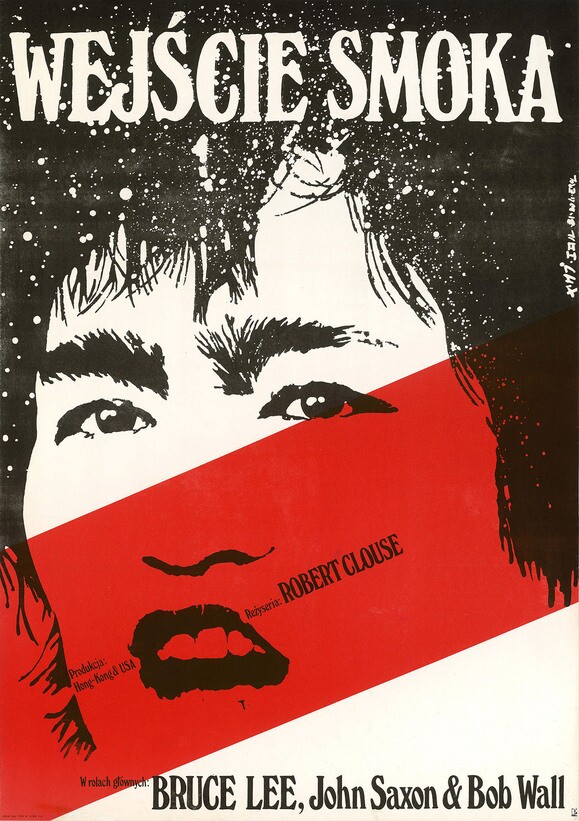 Growing up in 1980s Los Angeles, Saturday television always meant "Kung Fu Theater." Broadcast on KTLA, the weekly series aired 1970s martial arts films imported from Hong Kong. Most of them featured hilariously bad English dubbing by what sounded like the same three voice actors, uttering lines such as, "can you handle my tiger style?", "master, we must defend the temple!", and infinite permutations of, "you offend me, you offend my family. Prepare to die!"
For me, especially as a Chinese-American adolescent, these films were one of the only ways I ever saw Asian faces on television, let alone Asians leaping through the air, swinging swords or, most inventively, tossing flying guillotines at unsuspecting heads.

I spent many a post-"Kung Fu Theater" afternoon in a horse stance, trying to figure out how to make my punches do that cool "whoomp whoomp" sound. Even without the ethnic identification angle though, kung fu films have long been mesmerizing for audiences, especially given their displays of extraordinary physical feats long before the days of green screen digital effects or invisible wire work.
A new exhibit at the Samuel Goldwyn Theater -- "KICK ASS! Kung Fu Posters from the Stephen Chin Collection" -- pays homage to this era of martial arts cinema. Chin, a screenwriter and producer who's worked with Larry Clark and Harmony Korine, amassed over 800 items -- most of them posters -- and donated them to the Margaret Herrick Library last year. (Both the Library and Goldwyn Theater are run by the Academy of Motion Arts Pictures and Sciences. Full disclosure: my wife, Sharon Mizota, is also an Artbound contributor and was one of the Library staff who helped catalog the collection as well as prepare it for the exhibit). The exhibit highlights vintage posters mostly from the golden era of 1970s martial arts films; as Chin explains, "the kung fu genre exploded into world cinema in the 1970s, changing forever the way action films are shot and edited, and forever changing American popular culture."

It's telling, for example, how many contemporary action films feature a martial arts, mano-a-mano duel at its climax, regardless of how many bullets or bombs have already exploded on screen. "The Matrix" arguably the touchstone sci-fi/action film of the last 20 years, takes place in a future so advanced it boasts robot cities, armed hovercraft, and a virtual world indistinguishable from "reality" yet in the end, the hero has to defeat his arch-nemesis...by using kung fu. If the Western "high noon" duel was the showdown of choice in an earlier generation of films, that's all but taken over by the martial arts throwdown; the fist is now mightier than the firearm.
"KICK ASS!" spins the reel back to the formative era of martial arts cinema as it was first exploding out of the prolific Hong Kong and Japanese film markets. Saddled with limited promotion budgets and often shown only in cheap, grindhouse movie houses, these films had to attract audiences with little more than colorful posters and equally colorful titles: "Chinese Hercules," "Tigress of Shaolin," and my personal favorite: "Pork Chopper: The Kung Fu Butcher"..."he'll make bacon out of you!"
Obviously, "KICK ASS!" can't put all these on display (alas, no "Pork Chopper") but even hardcore martial arts film fanboys/girls may be astounded at the sheer depth and diversity of the parts of Chin's collection in the exhibit. That includes, for example, the Italian poster from the cult classic "Five Fingers of Death" as well as the Egyptian-issued poster for "Snake Fist Fighter," which featured a teenage Jackie Chan in the title role. Even more obscure - perhaps for good reason - are posters for films such as the mid-'60s, horror/noir-ish "Karate: The Hand of Death" and the surely-never-to-be-remade "Spider-Man: The Dragon's Challenge" from the early '80s.
There's surely great eye candy but kung fu cinema offered more than just displays of spectacular musculature. One of the exhibit sub-sections focuses on martial arts films centering on female protagonists, including "Sister Street Fighter" and "Queen Boxer." Asian cinema of the 1970s certainly wasn't the only industry in which the impact of the feminist movement was making its presence felt but the spectacle of women punching and kicking scores of men in these posters can't be understated, even when films were saddled with such terrible names as "Deadly China Doll."

As an aside: "KICK ASS!" does briefly mention the intersections between blaxploitation and kung fu films, including the Jim Kelly vehicle, "Black Samurai," but an alternate exhibit could easily be devoted to just this sub-genre. Kung fu and blaxploitation films often ended up in the same low-budget theaters but moreover, both genres prominently featured non-white protagonists fighting against corrupt authority figures and dangerous mobs. Those kind of cultural/political similarities didn't escape the imaginations of filmmakers and the 1970s saw any number of explicit "black and yellow" martial arts buddy films that predate the "Rush Hour" franchise by decades. The Library's poster holdings include such forgotten hybrids as "Cleopatra Jones and the Casino of Gold" and the black/Asian/Latino multi-racial mayhem of "The Black Dragon."

However, if there's an individual with a (literally) outsized presence in "KICK ASS!," it's kung fu cinema's greatest crossover figure, the American-born, Hong Kong-raised Bruce Lee. The exhibit's crown jewel is a massive, 6-sheet poster for Lee's 1973 "Enter the Dragon," the international box office hit released just six days after Lee's untimely death at the age of 32.
Though "KICK ASS!" also featured a screening of "Enter the Dragon" at their opening night event on April 17, Lee's presence at the exhibit extends far beyond any single film. An entire sub-section is devoted to kung fu cinema in the immediate wake of Lee's death, where the concept of cinematic "exploitation" was never more literal. Film industries, like nature, abhor a vacuum and with Lee's death so close to "Enter the Dragon's" success, there was a rush to capitalize via a parade of Bruce Lee clones that included Bruce Li, Bruce Le, Dragon Lee, Bruce Leung, etc. "KICK ASS!" includes posters featuring many of these clones (though ironically, one poster missing from the exhibit is for the actual film, "The Clones of Bruce Lee.") None of these Lee-ploitation films is as shameless as the Bruce Li movie, "Exit the Dragon, Enter the Tiger." The movie's sheer moxie is astounding as it not only claims to show Lee choosing "his successor" and tasking him with investigating his death, but the poster -- on display at the exhibit -- includes an image of Lee laying dead in his own coffin.
With the massive Lee-ploitation industry dominating much of the martial arts industry of the 1970s through '80s, it's easy to lose sight of Lee as a human figure. While "Enter the Dragon" was far and away his most successful film, Lee wasn't an overnight success story. The new book, "Treasures of Bruce Lee: The Official Story of the Legendary Martial Artist" is also timed to the 40th anniversary of "Enter the Dragon" and author Paul Bowman was given remarkable access to written materials from Lee's family and estate. The book is chronologically organized like a Lee encyclopedia but while the biographical details strive for a balance between comprehensiveness and concision, it's the "bonus" materials that make the book more than just another Lee biography.
Included are reproductions for five of Lee's films (most of which are also on display in "Kick Ass!") but more stunning are copies of other paper ephemera from Lee's life. That includes reproduced notes and diagrams from Lee's notebook on Chinese boxing to a hand-written letter Lee wrote to "Black Belt Magazine" to a receipt from Nozawa Trading on Pico by New Hampshire, tallying up an assortment of police batons and nunchaku to be sent to Lee's L.A. training institute on College St. in Chinatown.
This all may seem like minutiae but combined with the book's discussion of the myriad aspects to Lee's life, career and philosophies, these ephemera create a multi-dimensional portrait of Lee that goes far beyond his cinematic exploits. For example, in 1965, Lee wrote boxer Jack Dempsey, seeking to dialogue with him over the similarities between "the Chinese art of combat" and "modern-day boxing." "The Treasures of Bruce Lee" reproduces Dempsey's typewritten reply where the boxer apologizes for not having any books on hand to send Lee but includes instead, an illustrated postcard of Dempsey knocking out Jess Willard in 1919.
It's a small thing, really, far less flashy than the full-sized movie posters also included in the box or on display at "KICK ASS!" However, the modesty of Lee and Dempsey's correspondence is anything but insignificant. It shows Lee not only as a fan of other athletic greats but as a seeker of dialogue and cultural exchange. Lee was an actor but also a teacher and his films were, in a sense, a way to promulgate his philosophies and conversations around nature, the body, spirituality, etc. And though his films were the most spectacular form that conversations took place, "The Treasures of Bruce Lee" lovingly reveals the many ordinary - but no less profound - ways in which Lee sought to teach the world and in turn, learn from it. As he might have put it, those lessons are the ultimate essence of martial arts.
"KICK ASS! Kung Fu Posters from the Stephen Chin Collection" will be open to the public through August 25 in the Academy's Grand Lobby Gallery in Beverly Hills. Regular viewing hours are Tuesday through Friday, 10 a.m. to 5 p.m., and weekends, noon to 6 p.m. Admission to the gallery is free. For more information, call (310) 247-3600 or visit www.oscars.org.
"The Treasures of Bruce Lee," by Paul Bowman, is available through Hal Leonard Books.
---
Dig this story? Sign up for our newsletter to get unique arts & culture stories and videos from across Southern California in your inbox. Also, follow Artbound on Facebook and Twitter.
Top image: "Polish poster for "Enter the Dragon" (1973) | Courtesy of the Academy of Motion Picture Arts and Sciences, Stephen Chin collection.