Architect Frederick Fisher sits in an understated mid-century office in Santa Monica just west of the 405 freeway. The modest but airy space, featuring an open interior courtyard and pebbled flooring, was designed by A. Quincy Jones and his partner Frederick Emmons to house their own architectural practice in 1955. It's a fitting space for Fisher, whose own work shows a sensitivity to context and form his predecessors would likely approve.
Fisher's work spans the institutional -- including the restored Annenberg Community Beach House and Sunnylands new visitor center, where President Obama met with China's President Xi Jinping -- to the educational with a recent addition to Caltech's campus, to homes in the Hollywood Hills. Yet the broad aesthetic range of his work demonstrates a restraint that belies his early years in Frank Gehry's office. Working in Gehry's six-person office in the 1970s, Fisher had a front row seat to Gehry's expanding architectural vocabulary and flourishing fame.
Gehry's fearlessness left a lasting impression on Fisher. "At a time when the economy was terrible, instead of becoming more conservative and palatable, he went the other way. He became more artistic," explains Fisher.
Fisher was also impressed by Gehry's involvement in L.A.'s burgeoning art scene. Known for spending much of his time in the company of artists like Ed Ruscha, Ed Moses, and Ed Keinholz (though it must have been confusing when all of the Eds got together), Gehry's work was informed by his personal vision. "I was taken with his involvement with artists," says Fisher. "That was his world."
Fisher has upheld that tradition, working with multiple art organizations. On the East Coast, he created the soon-to-open addition to Maine's Colby College Museum of Art, which pairs sleek steel and glass alongside brick and mortar. His firm has designed gallery space for the Huntington Library in Pasadena, the Broad Art Foundation in Santa Monica, and Venice's minimalist LA Louver gallery, among others. "I like to collaborate with artists when I can," says Fisher.
In addition to gallery spaces, Fisher's firm has done exhibition design for LACMA. Taking on the cavernous Resnick Pavilion (designed by Renzo Piano), Fisher helped create temporary exhibition space for the recent show "Bodies and Shadows: Caravaggio and His Legacy" and the current show "Hans Richter: Encounters."
For both exhibits, Fisher has struck a balance by breaking up the space into a series of "rooms" that slide along a continuous central spine. The effect is an intimate and personal space in a building that many consider if not exactly hostile to exhibiting art, then certainly unfriendly at times.
Fisher came to Los Angeles in 1972 to attend architecture school at UCLA after graduating from Oberlin College in Ohio with a degree in Art and Art History. Raised in Ohio and the son of an architect, Fisher has a defiantly practical outlook. "As a Midwesterner, we have a pragmatic streak," shrugs Fisher. In addition to Fisher's practical approach to architecture, he also carefully considers context. He doesn't hew to a singular aesthetic. "I'll use brick in Pittsburgh, and concrete somewhere else, and glass in another place," says Fisher.
Nonetheless the L.A. he encountered upon arrival was one that had room -- room to build, room to experiment, and room to grow. "There were and are a lot of people in creative industries willing to take risks and make statements," says Fisher. L.A.'s maverick architecture scene in the late 1970s and early 1980s, dubbed the "L.A. School," was also gaining global attention. Fisher's first solo residential commission, Venice's Caplin House, attracted the notice of the international press, establishing Fisher's place within his generation's iconoclastic circle.
Yet Fisher diverges from many of his flashier counterparts. While he shares his contemporaries' appreciation for clean lines, open volumes, and glass boxes, his work remains relatively humble in contrast to his peers like Thom Mayne and Eric Owen Moss.
His work eschews the flashy skins, twisting facades, and looping folds evident in the work of some of his peers (and he likely has given up some of the fame that type of design has wrought for his contemporaries). Fisher shuns the grandiose for the genteel.
That is not to say his work isn't rigorous or revelatory. On the contrary, Fisher has undertaken controversial projects like the Annenberg Beach House, which fought an uphill battle against wary neighbors dismayed to see what had been a private sanctuary become a public amenity.
The result is a colonnaded building the same size and height as the original Marion Davies estate on that site; a building the L.A. Times' architecture critic Christopher Hawthorne praised as "mnemonic device." Yet the building is a relatively light intervention onto the sacred beaches of Santa Monica, with strong indoor and outdoor flow. It's an extremely personal project for Fisher, who recalls his father designing a beach club in Ohio: "The most meaningful projects are the ones that will be around a long time."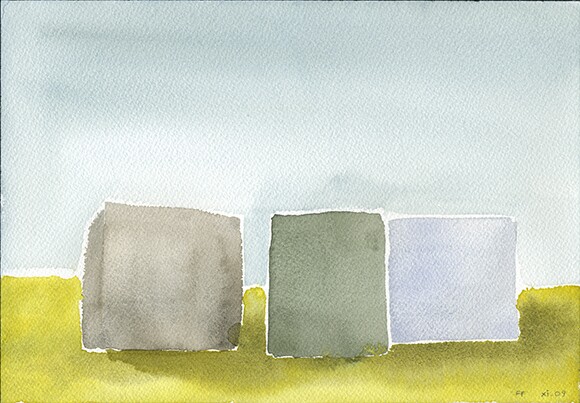 Dig this story? Sign up for our newsletter to get unique arts & culture stories and videos from across Southern California in your inbox. Also, follow Artbound on Facebook and Twitter.