Gary Baseman and Me: Critique, Correspondence, and Collaboration in the Art World
Artbound's editorial team has reviewed and rated the most compelling weekly articles. After putting two articles up for a vote, the audience chose this article to be made into a short-format documentary.
Gary Baseman's big show opens at the Skirball on April 25, and speaking as his friend this is really exciting. Speaking as an art critic who has written about him frequently over the years, the occasion of his well-deserved first major career survey exhibition is no less exciting -- but there's been a hitch. One would think that now would be the time to secure coverage, and be the ideal writer for the job. The trouble with that plan manifested, when, in reviewing all the many times I'd covered his exceptional art -- even going back to before we became friends -- I realized that I'd already said most of what I have to say, the best I could already, and including quite recently. More than that, I've written book essays for him and we've plans to do another later this year; and in taking on such positions of proponency (one doesn't read a catalog essay to see if the critic likes the work, one reads it for context and insight) I realized that I probably could never write another exhibition review on the work one of my favorite artists; even on this most special of occasions.
But out of this disappointment comes a larger issue worth considering. That is, an examination of what happens when critics and artists become friends over time and how if at all that affects the critic's understanding of and writing about the work. Does a relationship of critique fundamentally transform into a collaboration at some point? I think so, at least, this one has.
I often ask myself whether it's nobler in the mind to be following and growing older alongside artists I would continue to write about, or to suffer the slings and arrows of eternally awaiting the ever-new as it comes down the line. How often can you write about one person before you tread into unpleasant Greenberg/Pollack territory? How does personal access affect and deepen your understanding of the work over a career? When if ever is appropriate or acknowledge that inside a review? Once you do a commissioned essay for an artist, can you then subsequently be objective in a review? Even if you can be objective as a critic, can you realistically expect your readers to see it that way? At a certain point, objectivity may cease to even be the goal -- replaced by evocative exposition.
I'd been writing about Baseman for a while, starting with some small things way back in my Juxtapoz days of the late 1990s through the late 2000s with event previews and features in the Flavorpill publication family from L.A. exhibitions, events, and parties to NYC where he both showed and curated exhibitions, and nationally -- for example his work on the "1000 Journals Project," which stopped at the Skirball during its travels in 2010. It's worth noting here that a.) I was initially only really interested in the project because of Gary's involvement and it turned out to be really inspirational; and b.) this is when I first deeply understood the importance of journals and sketchbooks to Gary's creative process -- an importance expressed in the large-scale installation of his sketchbooks he's designed for the current Skirball show. In January 2011, writing a profile feature for the second-ever print issues of L.A. CANVAS (Volume 1, Issue 2, page 16) I couldn't believe I was the first writer to ask for a photo-shoot in Canter's! Additionally, I believe he spoke to me more personally for this piece than he might have to another journalist. In fact, he might not even have taken a chance on such a young publication were it not for our relationship, and it was huge for them. And finally, regarding my asking for Canter's, I knew how much his mom had meant to him and I wanted to help honor her memory.
One of the most well-known artists in the world, Gary Baseman creates a parallel universe of stylized landscapes populated by gently feral creatures and doe-eyed maidens who go about their business with a flair for costume and an infectious urgency. His paintings and illustrations are equally familiar to readers of Juxtapoz and the New York Times Book Review, and have flourished into a merchandising empire that includes limited edition toys, high-end fashions, and seasonal cards. Baseman was already established as an illustrator when he became one of the earliest mainstream-to-Lowbrow crossover artists, except he did it sort of backwards. "I started at the L.A. Times and made my way down to the L.A. Weekly and then Juxtapoz. From the New York Times and the cover of Time, I worked my way into the gutter." His mom famously worked at the bakery in Canter's for 35 years, making her as much of a celebrity, at least locally, as Baseman himself. Even so, in the late 80s, he decamped for New York to pursue his career, and in a particularly fruitful side-effect, became enamored of the flea market scene there. This was circa 1988, way before eBay, when you had to go and look for yourself. He was drawn to strange, quasi-spiritual figurines, pop culture throw-aways that he invested with new meaning. They were invited into his studio, where they became sources of inspiration, made appearances in paintings, developed into original characters, and reemerged off the canvas, taking shape as the stars of his signature sculpture-toy lines -- which in turn go on to fulfill the totemic desires of a new generation of obsessive collectors. "I definitely feel I'm growing as a painter. No, not as a painter -- as an artist. Painting is too limiting; I want to make art you don't just walk by or through, but actually interact with. --From Gary Baseman: Open 24 Hours Photograph by Gary Baseman from "Looking Glass" In April 2012, I curated him into a group exhibition called "Looking Glass" -- an all-photography show. This came about because he happened to show me some then-recent photographs one day when I was just over to say hello. At that time he'd never exhibited them before. Until I saw them, I had no plans to ask him to be in the show -- why would I? It was a photography show. But I fell in love with the work and invited him on the spot. Everyone that saw them was amazed that he was working in this medium and how great the work was. He's since gone on to show it more often and to great acclaim. In the end, he wound up as a major inspiration for the way the show's direction was articulated in my statements about the whole group. "...For "Looking Glass" I've assembled a dozen photographers whose work is in various ways made in a collaboration between the imagination and the world -- to explore ways that the camera is an expressive, fantastical, imaginative and pliable medium as well as form of document that contains evidence of external reality."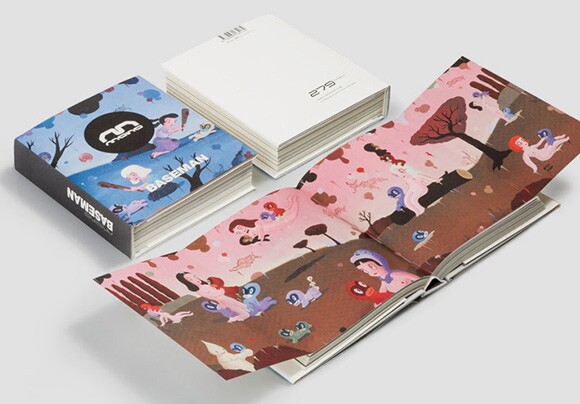 In January 2013, the book "Mono Baseman" was released by an Italian publishing company. Not a catalog of the scope of the new Rizzoli book, instead they've produced a small but hefty, lusciously designed and printed book both presenting and interpreting elements from the paintings. The publisher asked Gary to select a writer for the foreword, and he picked me. At the time of that writing, we'd been speaking frequently about his Fulbright trip to his parents' hometowns, exploring the legacy of Jewish history in Eastern Europe and his personal family history specifically -- and about the new stories, characters (such as the Buckingham Warrior) and artwork he had developed in the course of that research. So for the book, which was not really about fairy-tales, I ended up writing this whole thing about fairy-tales, because Jewish folklore played such a central role in how Gary has conceived of these new stories -- which are in fact based closely on his father's own experience evading military oppression and surviving the Holocaust as a brave young man. Here's my intro.
Carl Jung said, "Man's task is to become conscious of the contents that press upward from the unconscious. There is no coming to consciousness without pain. Understanding does not cure evil, but it is a definite help, inasmuch as one can cope with a comprehensible darkness. Who has fully realized that history is not contained in thick books but lives in our very blood?" Throughout the years, Gary Baseman's work has encompassed a litany of looks that spans two, three, and four-dimensionality. It has been clean, crisp, rough, painterly, black, bright, funny, frightening, and tee-shirt ready. But there is something important about the specific choices that he has been making lately; the conscious decisions he has taken, such as new inkiness in the blackness of the eyes, new danger in the redness of the blood, and new passion in the distressing of the painted surface. Like Henry Darger golems, or real-life Grimm tales, his stories about the Deadly Sins, Talmudic wizards, and a blood-thirsty pet cat named Vicious, are Post-Modern and pre-modernity at the same time; their voice is part young adult, part village elder. In looking at these years of paintings and drawings taken together, the feeling is not unlike the furtive contemplation of ages-old secret books, accompanied by the tremulous nostalgia of picking up books half-remembered from one's own childhood.
--From Gary Baseman: "Ancient Folklore and Contemporary Fairy-tales"
In addition to all that goodness, Gary and I are already in the early planning stages of an original book project we will be bringing out on Zero+ Publishing (in whose popular Heroes & Villains artist-portraits book he had appeared). So, back to the imminent Skirball show, "The Door is Always Open." In the end I did write a preview of the show for the L.A. Weekly Go LA section, called "Mi Vida es Su Casa" which focused more on the artist's personality and the personal motivations behind the show's inimitable design. "...Unique among artists of his global popularity, Baseman spends as much time as he can with his fans -- in person, online, even onstage -- happy get to know them better if that's what they want. That's where this exhibition gets really special. The show's title, "The Door Is Always Open," is taken from Baseman's late father's reminder that he is always welcome in the family home -- and Baseman pays it forward by welcoming you into his, literally." When I went to his studio to check in on the progress of the final new painting for the show, he was most excited to show me the merchandise like Toby mezuzahs, and the home-decor-inspired installation elements like pillows and wallpaper based on designs from his parents' house but featuring his characters.
In the final analysis, trading critical authoritativeness for collaboration and friendship is an easy trade to make. My colleague, the art critic Peter Frank, posted this quote from Raphael Rubinstein on his Facebook page, and when I saw it was when I knew I'd benefit from a survey of my work with Gary as much as we will all benefit from the survey exhibition. "One of the really important things that distinguish art criticism from other criticism and cultural criticism is that connection between the critic and the artist, and the dialogue. I don't think that film critics or theater critics have this kind of practice of conversation and intimacy between critics and artists. What I learned about art and about art criticism mostly happened in artists' studios. That is a strength and source of criticism and critical possibilities that I think is important not to lose. Maybe we need to rethink and find new ways of thinking about criticism, going back to that dialogue between shared values of artists and critics." Mazel tov.
Find more information on "Gary Baseman: The Door Is Always Open,"
---
Want to read more? Check out more of Artbound's most recent articles:
Sea No Evil: Gary Baseman, Shepard Fairey, and More at Sea Shepherd Benefit
Now in its sixth year,"Sea No Evil", showcasing internationally renowned artists including Gary Baseman and Shepard Fairey, returns to Riverside to benefit the Sea Shepherd Conservation Society.
Dig this story? Sign up for our newsletter to get unique arts & culture stories and videos from across Southern California in your inbox. Also, follow Artbound on Facebook and Twitter.