Hauser Wirth & Schimmel: The City's Fanciest Community Center, or the Chillest Museum Ever?
OP-Art: Opinions and editorials about art, institutions, and the relationship between them.
The palatial, museological gallery Hauser Wirth & Schimmel finally opened its doors in Downtown L.A.'s Arts District this month. It's gorgeous and important and, while not exactly controversial, it is emblematic of this rather interesting moment in the city's intertwined cultural and economic milieux. It's interesting in ways that include both fanfare and skepticism, attracting droves of both devotees and detractors, notables and newcomers, scholars and scenesters.
The history of how the arts district became the Arts District has been a case study in the shifting L.A. culture tides since the late 1970s, along the lines of New York's SoHo, which was also once a hotbed of dirt-cheap, amenity-free industrial spaces occupied by intrepid artists and the vaguely dangerous criminal elements that kept rents on floor-through lofts affordable. Remember "After Hours?" Not even Griffin Dunne could get a taxi after midnight there to save his life. Like SoHo, the presence of artists in L.A.'s once slighty-seedy warehouse district gave rise to a community of galleries and cafes, then boutiques and developers. Soon enough, the artists and early venues were priced out of the area they inadvertently helped brand. It's an old story, but that doesn't stop opinions and sometimes tempers from flying every time it happens. To HWS's credit they have gone out of their way to use inclusive, good-neighbor language about public space, new audiences, easy access, and historical respect. Time will tell. But the truth is, none of that would matter to people here nearly as much, fabulosity quotient notwithstanding, if it weren't for that one name above the transom -- Schimmel.
Paul Schimmel moved here from his native New York in 1981 to become at 27 the youngest-ever chief curator at the Newport Harbor Art Museum, now Orange County Museum of Art. At the time, Los Angeles -- and the downtown Arts District in particular -- were very different places than they are today. For one thing, L.A.'s hippest and most thoroughly branded neighborhood wasn't even officially named the Arts District yet. Colloquially, folks knew it as such since the late 1970s when the artists started populating the abandoned industrial properties in earnest. But it was still in full-on "Bladerunner" mode in 1981, largely a dystopia filled with who suffered most in the crack epidemic at the time. In fact, it wouldn't be until almost 15 years later, after a few recession-subverted false starts on the machinery of gentrification, that the city designated the Arts District as such. They put up signs, eased some zoning restrictions, and let the dream of the 1990s unfold with the gritty urban romance, intrepid punks and leather-clad culturati we came to know and love. But first, back in 1981, Schimmel met his soon-to-be lifelong friend, the late Mike Kelley, at one of the area's now iconic loft parties, and that was history in the making. Fates aligned and soon enough, stars were born.
In 1990, Schimmel was appointed chief curator of the Museum of Contemporary Art, Los Angeles (MOCA), a position he held until June 2012, when amid highly publicized Jeffrey Deitch-instigated turmoil at the museum, Schimmel resigned. Two of MOCA's three campuses are located within walking distance of the new HWS, with the Little Tokyo location, featuring a gallery inside named for Schimmel, seemingly in a gesture of apparent solidarity by board members upon his unceremonious departure, pretty much down the street. So although Schimmel himself has said and done nothing publicly to stoke the flames, it's hard for the arts community to not to see his return to power as a kind of Count of Monte Cristo revenge fantasy; prodigal doesn't even cover the magnitude of this homecoming. And by all indications, his plans for the HWS exhibition program picked up right where his MOCA to-do list left off, too. Except more so. Because as hard as it might be to believe, his Hauser & Wirth resources are as if not even more deep-pocketed, internationally-scoped, and historically-minded than the museum that made him famous.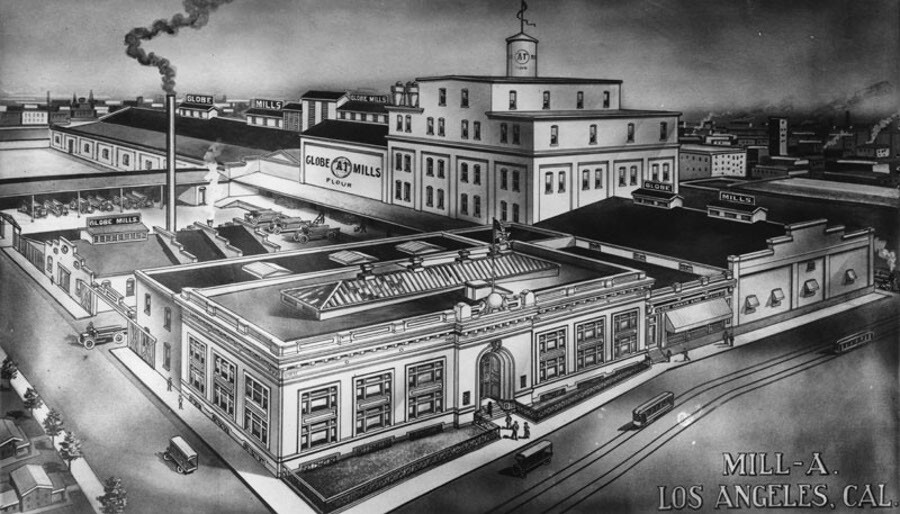 Highlights of his tenure at MOCA included the explosively dark-hearted, brow-furrowing, violently anti-archetype 1992 exhibition "Helter Skelter: Los Angeles Art in the 1990s," which freaked art folks out pretty good when it opened to huge crowds and a few skeptical reviews from establishment critics. It included works by Chris Burden -- whose 20-year survey Schimmel had mounted during his time at OCMA -- Meg Cranston, Llyn Foulkes, Mike Kelley, Liz Larner -- who is in the inaugural HWS sculpture by women show today, Paul McCarthy -- whose daughter Mara operates an avant-garde, historically-minded gallery called The Box mere steps from HWS, Ray Pettibon, Charles Ray, Jim Shaw, Nancy Rubins, and Robert Williams.
In 2007, he caught everyone off guard again with his Vuitton-bedecked Takashi Murakami survey, whose inclusion of a logo boutique was first denounced as cynical, soon hailed as brilliantly prescient, and is now frequently emulated. He helmed the museum's Pacific Standard Time contribution with a sort of follow-up prequel to "Helter Skelter" in the form of "Under the Big Black Sun: California Art 1974-1981," which basically took a closer look at the Nixon-Reagan continuum of political unrest that inspired the punk and punk-adjacent movements in music and art which came later. It cheekily culminated in 1981, notably the year of Schimmel's own arrival in town. Maybe that was just a coincidence. Like the location of the new gallery is a coincidence.
These days, besides the aforementioned The Box, the expanding SCI-Arc campus, the newly relocated Architecture + Design Museum, and its neighbor, the very recently arrived from Palm Desert Royale Projects, and the tenacious nonprofit gallery and residency program at Art Share L.A., the Arts District itself is not really a place artists or even commercial galleries can afford to occupy. SoHo House, One Santa Fe and Bestia have seen to that. Although some 30 galleries do populate the broadly nomenclatured general area, the majority are a mile or two outside of the mural-festooned core demarcated by fancy city signage. Either they are further south on the still-gritty Santa Fe Avenue corridor beyond 6th Street, or across the river in East L.A. and Boyle Heights, or tucked away in quirky Chinatown enclaves.
That said, as much as HWS can be seen as both the result and proximate cause of these ironic developments, Schimmel especially is committed to ameliorating some of that pressure with a kind of populist noblesse oblige that has the operation positing itself as something of an antidote. With a bookstore, cafe, breezy central courtyard, weekend and evening hours, and a roster of free, public, educational programming in the works, the truth is that HWS is in a position to give the new Arts District the one thing it doesn't really have -- an architecturally engaging, central meeting place for gatherings, happenings, hang-outs, organized around museum-level programs with free admission and even an announced program of commissioned murals. In case the agenda of Schimmel's museological continuum is in doubt, witness the inaugural exhibition -- a survey of monumental sculpture made by women since 1947, co-curated with Jenni Sorkin, a respected scholar and art historian who had previously worked with Schimmel on his 2007 MOCA show "WACK! Art and the Feminist Revolution."
One key difference is of course, the commercial aspect of HWS versus MOCA. The intertwined financial interests of institutional board members, curators, and public trusts can be more fully litigated elsewhere -- but the fact does remain that, technically, HWS is a commercial outfit, not a nonprofit. The vast wealth of the HWS empire, fueled by the personal manufacturing fortune of its founders, does give them some breathing room to produce loss-leader juggernaut exhibitions in which, as with "Revolution in the Making," a mere 20 percent of exhibited works are actually being offered for sale. They can hire the best curators and writers, borrow the best works of art from outside their gallery program to bolster the contextualizing scholarship for what is for sale, and have the patience of saints when it comes to keeping the doors open. What remains to be seen is how much of this wealth will get spread around to the new generations of artists who might be impressed but hostile to this level of gentility in the discourse. That's where Schimmel's own personal status as an old-school punk rock loyalist -- who remembers very well the days when this version of the Arts District didn't even seem possible, and who clearly revels in the art history of paradigm subversion -- comes in. Somewhere in his home there's a Dorian Gray closet full of tattered 'zines and button-covered leather jackets -- and the contents of that closet just might save the day.
Top image by Joshua Targownik.
Like this story? Sign up for our newsletter to get unique arts & culture stories and videos from across Southern California in your inbox. Also, follow Artbound on Facebook, Twitter, and Youtube.