Isaac Brynjegard-Bialik creates artwork with a message and an unexpected way of communicating it. He combines his background in graphic design and traditional paper-cutting techniques with his mindful practice of Reform Judaism and a lifelong passion for the comic books and graphic novels of the Marvel Universe and beyond. He creates finely-made works of art with humor and faith. Bridging youth and popular culture with a thoughtful conversation on the lessons of the sacred Jewish texts may seem like a daunting task. In fact, it is a job for Superman.
"My work explores the role of narrative in the development and expression of identity," says Brynjegard-Bialik. "Comic superheroes exist outside of the 'natural' world. Be they visitors from other planets, or people whose powers stem from strange scientific accidents; they have weaknesses and flaws, and their struggles are often a metaphor for the human experience." Brynjegard-Bialik brings these different types of stories together in the complex but clean layers of his papercuts, creating new meanings for the world's oldest stories as he engineers these combinations with the architectural presence of stained glass, the whimsy of gilded-age fairy tales, and the meditative aura of illuminated manuscripts.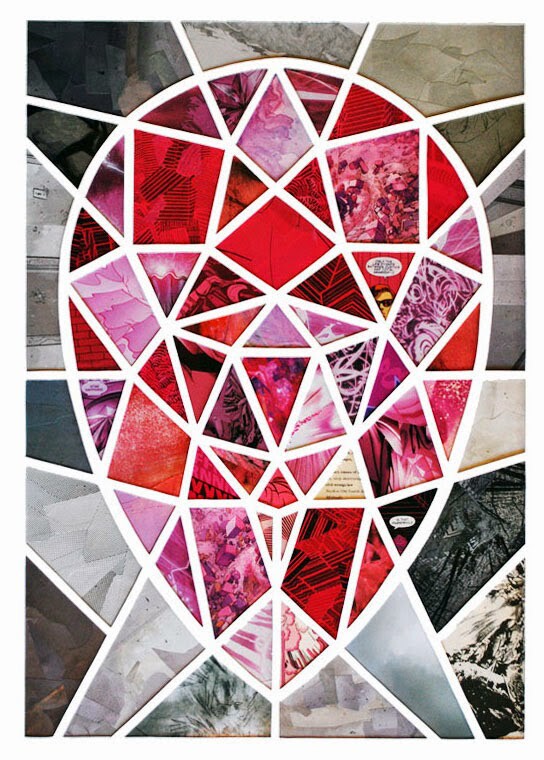 Brynjegard-Bialik is married to his high school sweetheart, who is a rabbi in the Reform movement. They have three daughters, who often join him in his studio and inspire his contemplation of the state of the world. His most recent exhibition, "Women of Valor and Other Superheroes" has been at the National Council of Jewish Women in Los Angeles and is up through November 30, with a full downloadable catalog available at the artist's website. The work at NCJW also includes a 2014 series based on the books of the Mishnah -- the first major work of rabbinic literature -- and another based on a family trip to Israel in 2013. But the new work from 2015 is a wide-ranging body of work based on the prevalence of strong female characters in Jewish scripture and real-life society.
There are a few comic book characters whose identity has been passed from mother to daughter, such as Black Canary and Silk Spectre. Brynjegard-Bialik's work "Tree of Mothers and Daughters" explores the Jewish tradition of matrilineal descent, contrasted with a lack of details about most mother/daughter relationships. "Jerusalem of Gold" explores the role of women in prayer and the continuing evolution and pursuit of gender equality at the Western Wall. The women in this piece are relegated to the margins, away from the Wall -- and the speech bubble above Wonder Woman and her companion in blank, representing the silencing of women's voices at this holy site. Yael, biblical warrior heroine, is mashed up with comic book heroine Gamora, "the deadliest woman in the whole galaxy" -- within the geometric reimagining of the silhouette of a Nubian ibex, a strong and graceful desert creature found throughout the country of Israel, and whose name in Hebrew is also "Yael." In "Hamsa Thwip," the hamsa is a sign of protection; it represents blessing, power and strength, and is potent in deflecting the evil eye. This one is built in the gesture that Spider-Man uses to shoot his webs, fulfilling his responsibility to use his power to protect others. In "Mishnah: Women," the third order -- Nashim -- concerns marriage and divorce. This piece is focused on the former, structuring the papercut as an Old Country shtetl wedding ring; it's really a love letter to the artist's wife. He used the Silver Surfer to create the ring's texture -- a hero who volunteered to become a herald for Galactus in order to save his planet and the woman he loved.
"This show was planned for the National Council of Jewish Women, and so the exploration of female biblical characters and comic book heroes was a natural place to start," says the artist. "We've got three daughters, and it's always been very important to me that they learn how to be strong and confident women -- which is why a lot of my work has had feminist undertones in it. I'm married to a rabbi, and she's my muse and my inspiration, but she's also a leader of the community, and the most intelligent person I know. Also pretty hot. The thing about superheroes is that they are a way for us regular folks to imagine being better -- to imagine being strong enough to help others and fix the world, as well as being dedicated enough to understand how important it is to use our powers for good. If you can fly, how can you use that to help other people? What are your super powers, and how do you use them to make things better? We want our girls to be empowered -- to know their strength and to recognize their responsibility to use their power to engage with the world and make it a better place."
In November, Brynjegard-Bialik presented pop and fantasy culture icon William Shatner with a papercut made of Star Trek comics titled "To Boldly Go." Meeting the man himself was a personal and professional highlight a long time coming. "I started cutting paper about 20 years ago when my wife and I were living in Jerusalem. I was doing some fairly traditional paper-cutting work, it was good and I enjoyed it, but I think the work really started to flow when I began to incorporate comic books, about 10 years ago. It became very personal, as though it wrapped up all of my life in one pursuit -- my connection to Judaism, my love of comic books and all things nerdy, my conversations with my wife... then it all came together."
And he does mean "all." In his home studio, he's got a few thousand comics, "easily. Plus, drawers with scraps organized by character and color. I'm constantly adding to them as I buy new ones, and tossing out the ones that have been cut up beyond further use. I always use the original comics -- no copies or printouts, just the actual source material. Most of what he uses is from his childhood collection. "I saved them for years 'for something,' and it took me a while but I finally realized this is what I was saving them for."
He is presently a teaching fellow at American Jewish University's Dream Lab -- a think-tank of artists and educators developing a programmatic vision for infusing the field of Jewish education with creativity through the arts. That kind of intergenerational storytelling and a more progressive mechanism for studying history puts one in the mind of Art Spiegelman and his Pulitzer Prize-winning graphic novels "Maus" and "In the Shadow of No Towers," relating the story of the author's grandfather's experience in the Holocaust and of life in New York following the 9/11 attacks. In fact, the relationship of Jewish artists, writers, and publishers to the rise of the American comics industry throughout the last century is both well documented and somewhat under appreciated -- but foundational and forward-leaning at every level.
"Stan Lee and Jack Kirby, Joe Shuster and Jerry Siegel, Will Eisner, Bob Kane and Gil Kane -- these guys were all Jews, and they created most of the capes-and-tights comic books that I grew up reading," recounts Brynjegard-Bialik. "And Harvey Kurtzman, Al Feldstein, and Will Elder were at MAD Magazine, which was my other childhood staple, alongside all the sci-fi and fantasy I could read. And as I grew older I was exposed to the work of Robert Crumb and Art Spiegelman, among so many others..." Brynjegard-Bialik has noticed and wondered about this part of Jewish history, and postulates that, "Jews have an affinity for telling stories, and the words-and-pictures, one-two punch of comic books has been heavily influenced by us as a 'people of the book.' As practicing Jews, we read the same cycle of stories every year, with the same characters and situations -- but each time we find new things in those stories. It's the same with comics. We read so many different stories about Superman or Spider-Man, and there are many variations on their stories... but there are underlying truths about those characters, and each time we encounter them we recognize them [and] learn something new about them -- and ourselves."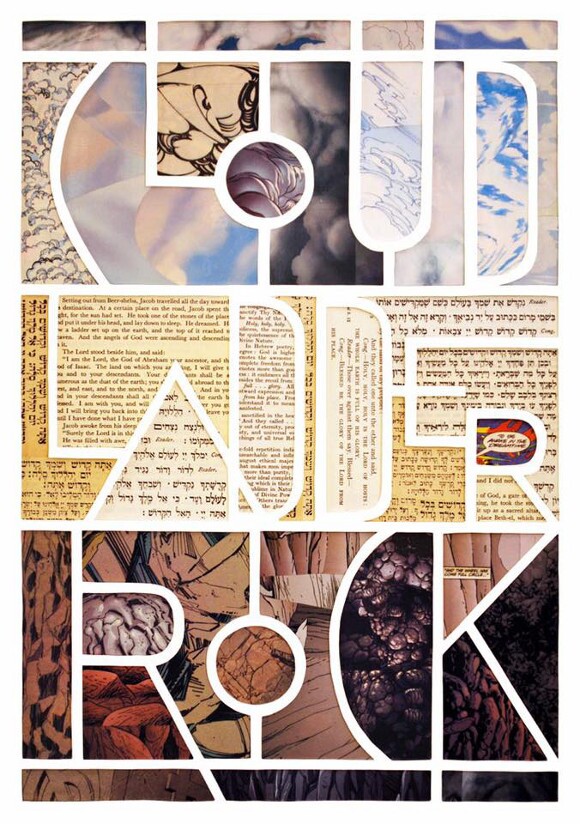 Dig this story? Sign up for our newsletter to get unique arts & culture stories and videos from across Southern California in your inbox. Also, follow Artbound on Facebook, Twitter, and Youtube.