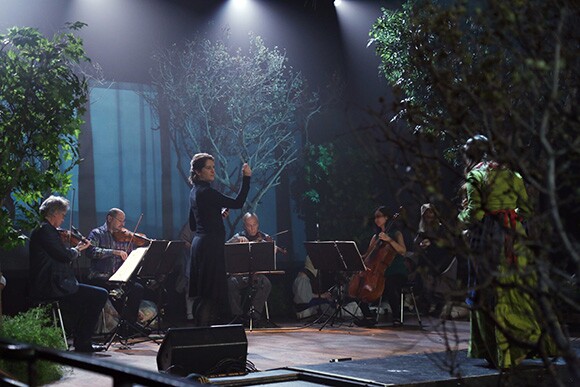 Witches. Wisdom. Wonder. Vireo, the groundbreaking made-for-TV opera, is now available for streaming. Watch the 12 full episodes and dive into the world of Vireo through librettos, essays and production notes. Find more bonus content on KCET.org and LinkTV.org. The multi-episode production was composed by Lisa Bielawa on a libretto by Erik Ehn and directed by Charles Otte. "Vireo" is the winner of the 2015 ASCAP Foundation Deems Taylor/Virgil Thomson Multimedia Award.
Violinist David Harrington and the string quartet he helped found, the Kronos Quartet, have been making curiously experimental music for over 40 years. But he had never even heard of anything quite like "Vireo: The Spiritual Biography of a Witch's Accuser," the new episodic opera by composer Lisa Bielawa and poet Erik Ehn.
"When I was describing it to my family, I was saying, 'It's like making a movie,'" he says, laughing into the phone from his home in San Francisco. "In a certain way, we were also characters within that movie. There were moments when you are seeing each one of us, or the focus zooms onto one of us, so at least it's like making a 20-minute music video. But we've never done anything quite like this, so it is in between being a movie, a video, a live performance, a recording -- a lot of the things that we've done in our work so far was brought together into this one place."
The place was Santa Ana's Yost Theater, where a live audience was privy to the filming of the opera, which will be broadcast on KCET on March 31 at 8 p.m. Harrington and Kronos are central to the production, creating the music that interplayed with soloists Rowen Sabala, a 16-year-old soprano from Orange County School of Arts, and mezzo-soprano Laurie Rubin, as well as the San Francisco Girls Chorus and the middle school choir from OCSA.
"We were making the musical bed on which the singers sang over," says Harrington. "There is a lot of intricate rhythmic interplay between the voices and the quartet. It's not something that can be just thrown together."
Harrington says that he was extremely impressed by the gusto and professionalism that Bielawa put into the production that helped make those interplays work. Even though it was an experimental format of opera -- and something that Harrington hadn't fully grasped when Bielawa approached him a few years ago with the idea -- Harrington says it was Bielawa's attitude that attracted the Quartet to the project.
"We've known each other for years," says Harrington. "In this case, she told me about this idea, and I have to say that I didn't really understand it. But what she communicated was her enthusiasm and total dedication and involvement, and we just jumped in like we always jump into things."
KCET is Southern California Television
"Vireo: The Spiritual Biography of a Witch's Accuser" is a new opera that considers the nature and uses of female hysteria through time.
Promo: Vireo
First, Harrington said that Kronos had to become used to the style. Mostly known for classical, pop, and movie soundtracks, Kronos' experience in the field of opera was limited.
"Kronos' involvement with operas of any kind has been rather tangential," says Harrington. "Recently, we've performed our version of the prelude to "Tristan and Isolde," we've done an aria from a traditional Vietnamese opera with a wonderful musician named Vân-Áhn Võ, and Tan Dun wrote "Ghost Opera" for Kronos and Wu Man. But Lisa's Vireo opera is the first time that we've actually been on stage, worked with all the elements of what's known as an opera. It's a way of exploring a form that has seemed a long ways away from us, but then all of a sudden it's right there with us."
Once they were in the headspace of opera, Harrington says the next step was getting used to have a conductor. Because Kronos often plays alone or with a pop music band, it's not often a conductor is needed.
"I'm not sure that she's ever conducted a string quartet before either," says Harrington. "And we don't usually have a conductor, and so there were a lot of aspects that we had to work out together. Sometimes a conductor can actually make things more difficult. So we needed to figure out when she would not be conducting, and when she would. The things about Lisa's conducting is that there's no ego involved at all. It's purely to help make the music work. And so, for example: frequently, we could not hear the singers from where we were on the stage and in the set and all that. Lisa would be 10 or 15 feet closer to them, and she'd give us a cue. So there were aspects like that. Very utilitarian: 'Well, we need to do this together. How are we going to do it together?'"
Kronos Quartet, for now, are only collaborating on the first episode of "Vireo," but Harrington implied that if Bielawa invited them back, they would be happy to return. The form of opera, Harrington says, needs experimental fare like "Vireo."
"I think all art forms need lots of shaking up all the time, and I'm happy to be the shaker, and be involved in as much shaking as we can do," he says. "I think that finding new solutions, and experimenting, and trial-and-error, and going in the direction that you never thought you would go in before: I think these are all good things. And I'm happy to celebrate that approach to the world of music."
This article was originally published on March 24, 2015.
Read all of our "Vireo: The Spiritual Biography of a Witch's Accuser" installations:
Episodic Opera: Composer Lisa Bielawa on Vireo
"Vireo: The Spiritual Biography of a Witch's Accuser," is a new opera that considers the nature and uses of female hysteria through time. Composer Lisa Bielawa discusses the inspiration behind the innovative work.
Librettist Erik Ehn on Writing 'Vireo'
"Vireo: The Spiritual Biography of a Witch's Accuser" is based on research done by composer Lisa Bielawa did on the history of female hysteria for her college thesis.
A History of Hysteria in Art, Film, and Literature
A look at the history of hysteria in the Western psyche, in relation to "Vireo: The Spiritual Biography of a Witch's Accuser"
Dig this story? Sign up for our newsletter to get unique arts & culture stories and videos from across Southern California in your inbox. Also, follow Artbound on Facebook, Twitter, and Youtube.