Long Live L.A.: Bringing Video Art and Public Health Awareness to Mass Transit
The public transportation system in Los Angeles gets a bad rap. But, L.A.'s public transportation system has been under intense scrutiny and redevelopment for the past few years, and is making great strides. With the help of organizations like Freewaves, our new mass transit systems will also help you to live longer, healthier and happier lives. Executive Director of Freewaves, Anne Bray has spearheaded a new effort that will give hundreds of thousands of people across L.A. the access to important health information through innovative media art collaborations and projects, entitled "Long Live LA"
"Long Live LA" is a multimedia program that has commissioned a group of six contemporary media artists to create 35 collaborative video works that address the major public health issues in Los Angeles County. These videos will be broadcast hourly on more than 2,000 L.A. Metro buses, our leading form of public transportation, throughout Los Angeles County, reaching an estimated one million Metro riders daily. Following their run on the public transit TV, the videos will be on view in waiting rooms and websites of community health clinics and health organizations throughout L.A. County, and are all also available on Freewaves' Out the Window video library site.
Freewaves is an L.A.-based media arts organization who has been helping coordinate and curate contemporary media art projects for More than 20 years. Freewaves has pioneered new developments in the field of media art, establishing itself as one of the most respected and adventuresome advocates for raising media arts to a truly democratic vector for ideas and images. The organization has produced 11 festivals revolving around social and aesthetic developments with new technologies and creative techniques. Freewaves has also dedicated much of their efforts to placing experimental media arts in public spaces, reaching audiences who may never have seen art in this genre before. They were one of the first L.A. organizations to work with experimental media arts on cable, PBS and public access television, and work with video display of experimental media arts on "Jumbotrons" previously dedicated to paid advertising media only.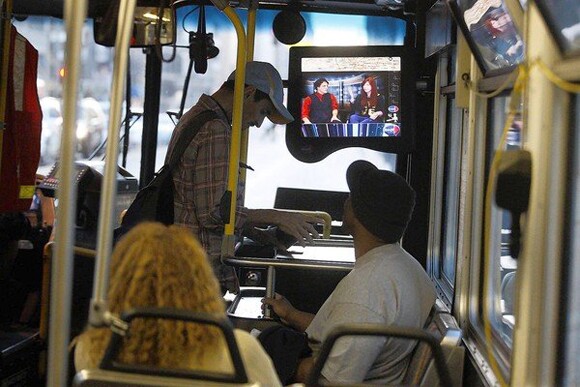 Since 2011, Freewaves has been exploring the public transportation system as a means to reach the masses, and in a previous project entitled "OUT THE WINDOW," Freewaves presented hundreds of artists' videos on L.A. Metro buses to 1 million daily commuters, creating a wired tapestry among the many social, cultural, economic and creative constituencies of Los Angeles. In this project, videos utilize open-ended and provocative strategies to approach viewers with vital images. Videos were followed by an evocative question, with a phone number to text responses. Out-the-window.org streams both the responses and videos, extended by Facebook and Twitter. "Long Live LA" is a re-invented version of this same concept. Bray hopes that this will spawn further version of this concept for years to come, inspiring artists to branch out, and engaging the public in their health and in art. "As a larger aim, I feel like I'm still trying to still stay within the functions art has, of opening your mind and creating questions and seeing the world differently afterward, and taking a moment of self reflection," Bray explains. "Kind of appreciating the difference of this aesthetics, and all of them look like they were made by a person, not a corporation--it shines a light on the rest of the media."
This year, the artists involved in "Live Long LA" include Mel Chin, Yoshua Okón, Poli Marichal, Ann Kaneko, John Jota Leaños, and The Here and Now (Paolo Davanzo and Lisa Marr). "I think each of the artists really present a new view of what public media could be, so I hope that the information turn on some new light bulbs, and I imagine that it will," Bray said.
Part of the requirements for this project include that the videos be collaboration between artists, on some level.
Mel Chin is a well known American artist who works in the gray, overlapping areas of art and natural and social ecology. He is known for projects and installations that engage communities and explore many aspects of how art can evoke awareness and responsibility, whether it be social, economic or health-related. Chin chose to collaborate with animator Careen Ingle and sound designer Zig Gron to create a video that explores--in multiple parts--the hazards of lingering lead in our environments, and the connections it has to the violent and angered youths of today.
"It is the connection between lead poisoning in low income communities and a lot of social problems in the same neighborhoods. They're finding that lead causes problems with concentration and making kids irritable and angry, so they're violent and they hate school; it is lead, and it is the problems that the neighborhoods have--and bullets are made of lead," Bray says. "The connections between the three is really what Chin's been working with."

NOW YOU SEE IT (PART 1) by Mel Chin from Freewaves on Vimeo.
Yoshua Okon approaches the concept of fast food as a major factor in obesity and diabetes. The video silently circles a nameless fast food restaurant from a unique vantage point--the waist. Using evocative and jarring real life footage, Okon's video follows a morbidly obese man and presents mundane and saddening conclusions about fast food and the lifestyles and diseases that come with it.

FORM OF ABUSE by Yoshua Okón from Freewaves on Vimeo.
Here and Now is a collaborative artistic entity for Lisa Marr and Paolo Davanzo. Lisa and Paolo are directors of the Echo Park Film Center, a storefront media center that offers classes, screenings, equipment rentals, editing help and a general gathering spot for film lovers in the Echo Park area. In their contribution to the Freewaves "Long Live LA" project, Here and Now explores the medicinal benefits of traditional plants and herbs in different cultures, through multiple short videos. They go into great depth about the history of the herbs and plants, and the benefits, as well as how to grow, keep and utilize the plants' best properties in feasible dishes or preparations. "They really knew the community of riders; they rode the bus a lot. They created eight different animations, in film, and developed the film using the herbs that are mentioned in each video," Bray said. "But each one is from a different community group: Ethiopian, Thai, Chinese, Native American..."

GROWING HEALTHY: WHITE SAGE (Salvia Apiana) by Here and Now (Lisa Marr & Paolo Davanzo) from Freewaves on Vimeo.
John Jota Leaños is another artist who explores food as powerful agent for change in his collaborative video with animation by Tony Coleman. Leaños focuses his energy on the over-processed, over-bleached evil "white foods" we all have become accustomed to in our contemporary city-lives--white flour, white rice, white salt, etc. "They look like very beautiful, funny animations, but it is really a very serious story to tell," Bray explained. "He's also dealing with the parallels of racism and food processing industry in the country."

Qigong Series: STIFF by Ann Kaneko from Freewaves on Vimeo.
Ann Kaneko and Poli Marichal each approach the "Long Live LA" project with a more mental and emotional state of health at hand. Ann Kaneko explores energy systems and the ancient art of Qigong, with the visual effect help of Peter Bill. Kaneko uses light-hearted whimsy in her style of communicating helpful information about Qigong practice, and encourages bus riders to follow her examples and try Qigong in their normal routine. With playful music and simple text, in Spanish, English, and Chinese, posing questions like "Feeling Stiff?" Kaneko then demonstrates a carefree solution, with one person beginning to do simple exercises and the others following suit, transforming the boring anonymity of the bus into a playful scene of camaraderie through movement.

BLUE IS A STATE OF MIND by Poli Marichal from Freewaves on Vimeo.
Poli Marichal approaches issues related to stress and mental well being, using quirky and fun animation, with music by Fernando Castromán. "She started with the anti-fast foods, but then riding the bus, she started thinking more about the psychological problems of low income people, so she did one on anger, one on depression, and there's one more coming--about low income women's health," says Bray. "I think some people will love them, and some people will think 'Woah, this is dark.' I actually like them a lot. We find that art has very different subjective responses in people."
Poli's animated shorts reflect the handmade aesthetic, giving more childlike sensibility and emotional weight to the informational animations.
"For years, I've been looking for a system that we could regularly show on, that had a wide viewership, and most recently, that's been the L.A. Metro bus system," said Bray. "All of these artists had made things previously that I thought made them good candidates for this program, and I talked with all of them in advance, 'Would you be willing to deal with an issue that LA County Public Health thinks is a major problem?', and all 6 of them were the original people I approached, and all of them agreed."
On Thursday, February 20, Freewaves is hosting a reception at ForYourArt, a gallery store front space on Wilshire, across from LACMA. "We will have a bus out front, and the videos will be playing on the monitors in the bus so you can see it in the gallery and on the bus. The artists will be there for questions, and we're going have a brief discussion with health officials on what the L.A. County needs are, and then how art can help," says Bray.
Dig this story? Sign up for our newsletter to get unique arts & culture stories and videos from across Southern California in your inbox. Also, follow Artbound on Facebook and Twitter.