Sometime around 1990, Louise Sandhaus headed out to California from Boston. It wasn't intended to be a permanent stay. With 10 years of professional graphic design experience under her belt, Sandhaus was just checking out the scene before heading back east to go to graduate school at Yale. She wanted to meet some of the luminaries in the field, like April Greiman and Lorraine Wild. The latter eventually became a mentor to Sandhaus.
"I came out to California and thought I landed in post-modernism," says Sandhaus. She recalls one of the first exhibitions she caught while exploring the west, a showcase of graphics used to tabs of LSD. "I was completely blown away," Sandhaus recalls. "This was so different from anything that I had encountered before."
Meanwhile, Sandhaus saw that the graphic designers in California were doing interesting things and she wanted to be a part of it. "There was a kind of bravado that had taken such a different turn from what I understood graphic design to be, which was modern graphic design," she says. "I recognized this characteristic of being a renegade and I knew that going to Yale at that point would have been the wrong choice for me." Sandhaus stayed in Los Angeles and studied at California Institute of the Arts. After a brief stint studying in Europe, she returned and has been teaching at CalArts since 1996.
Sandhaus has spent years researching, compiling and contextualizing some of the highlights of Golden State graphic design. The fruits of those efforts are now on bookshelves in "Earthquakes, Mudslides, Fires & Riots: California and Graphic Design 1936-1986." Sandhaus notes that this isn't a history of graphic design. "It's really looking at these particular lenses and trying to point out and identify some examples of what might be really flavorful California graphic design," she says.
The book, which also features essays from Wild, Denise Gonzales Crisp and Michael Worthington, is divided into four sections. There is "Sunbaked Modernism," an exploration of modernism's impact on California designers. "Industry and the Indies" looks at the intersection between graphic design and entertainment, particularly in the evolution of motion graphics. "Sixties alt Sixties" shows off countercultural influences, while "California Girls" spotlights the contribution of female designers. California graphic design innovation touched everything from books to ads to cartoons to college promotional material.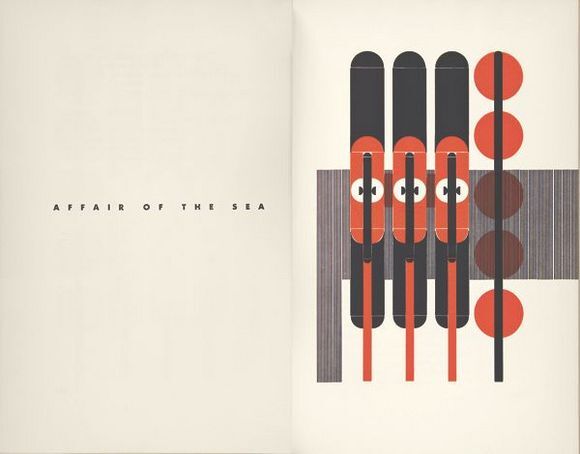 Shortly before the turn of the century, Sandhaus worked with LACMA for the "Made in California" exhibition. Around the same time, the Hammer Museum had their Los Angeles-centric exhibition "Sunshine & Noir." Recalling the conservations about art at that time. "There was a psychological break from letting others define [art]," she says. That energy helped spark Sandhaus' explorations into the region's design history. She poured through vintage magazines, dug into the various facets of California design.
In that mountain of early research, Sandhaus came across the work of Merle Armitage, a champion of the arts in Los Angeles whose personal collection is at LACMA. Specifically, she found a book about Igor Stravinsky designed by Armitage. With text flowing from the cover and several portraits of the composer inside, the book goes against convention. "It was just so odd," she says. "It almost becomes celebrity portrait, hyperbole self-consciousness.
The Armitage-designed book about Stravinsky appears early in "Earthquakes, Mudslides, Fires & Riots," setting the pace for what will follow. It is, overall, a collection of stories told through design. It's about creatives from the East Coast and Europe who came to California and experimented. It's about locals who infused their own California experiences into visually arresting work. Styles change with the times and technological advances are explored here too. Innovative commercials from the 1970s and work for early video games and computer programs are part of the collection.
There are certain themes, like the "rainbow roll"; one example goes back to a 1908 dinner party invitation. Today, those multi-colored posters are the sort bright notices that turn up on street corners across Los Angeles. That rainbow effect is also reflected on the book's cover in shades of yellow, orange, red and pink.
"I knew I had to design the book," says Sandhaus, whose own studio is called LSD (Louise Sandhaus Design). She also knew that she would need multiple people to write the accompanying text. "It couldn't have a single voice," says Sandhaus. "Those voices needed to be different perceptions of California. How California was seen. How it represented itself."
The difficulty came in finding a publisher. "What was tricky was getting a publisher to understand what was a really unconventional approach," says Sandhaus. Her pitch swelled to 112 pages when she met with someone from Metropolis Books who understood the nature of the project.
With years of research involved and lots of material that didn't make the final cut, "Earthquakes, Mudslides, Fires & Riots" is the sort of book that is set up for a second volume. For Sandhaus, though, that will be taking another form. She's currently working with current and former students to build a "wiki web" style hub called Making History. The project will include tutorials on how to conduct interviews and research graphic design. Ultimately, it's the sort of tool that will help others contribute to telling the story of the discipline and the artists who have pushed design forward.
Dig this story? Sign up for our newsletter to get unique arts & culture stories and videos from across Southern California in your inbox. Also, follow Artbound on Facebook, Twitter, and Youtube.