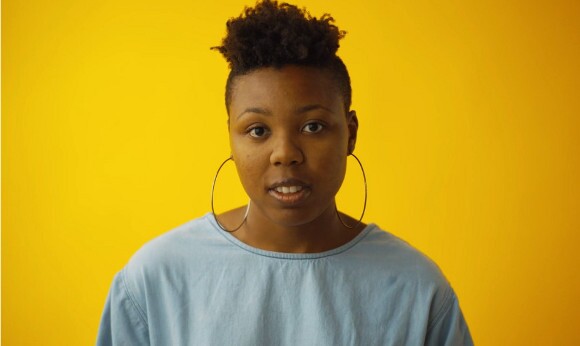 Artbound's season seven debut episode explores Afrofuturism and contemporary Black art. Catch the premiere Tuesday, November 17 on KCET and nationwide on Monday, November 23 via Link TV.
Artist and filmmaker Martine Syms dropped a bomb on the art world in 2013 when The New Museum's digital art arm Rhizome published her piece, "The Mundane Afrofuturist Manifesto." Its prose was a funny, direct, and irreverent take on the Afrofuturist imaginary that inspired a litany of cultural touchstones, from Parliament Funkadelic's spaced-out 1970s jams to the recent project by Cristina De Middel, The Afronauts. Syms' missive also combined elements set forth in the sci-fi genre-busting "The Mundane Manifesto," a call to downplay the whimsical elements of space novels, which was conceived in the esteemed science fiction hub, the Clarion West Writer's Workshop. She also infused ideas she had been playing around with while writing the character Chanel Washington, a young Black woman in 2050 Los Angeles, for a sound piece called "Most Days."
In the Manifesto, she writes:
"We did not originate in the cosmos. The connection between Middle Passage and space travel is tenuous at best. Out of five hundred thirty-four space travelers, fourteen have been black. An all-black crew is unlikely. Magic interstellar travel and/or the wondrous communication grid can lead to an illusion of outer space and cyberspace as egalitarian. This dream of utopia can encourage us to forget that outer space will not save us from injustice and that cyberspace was prefigured upon a 'master/slave' relationship. While we are often Othered, we are not aliens."
Syms continues:
"The Mundane Afrofuturists rejoice in gazing upon the bonfire of the Stupidities, which includes, but is not limited to, Jive-talking aliens; jive-talking mutants; magical negroes; reference to Sun Ra..."
"The Mundane Afrofuturist Manifesto" took off, and Syms revisits the ideas in a new film on Artbound. The resulting documentary features techno producer Delroy Edwards, video artist Nicole Miller, curator Erin Christovale, and writer Tisa Bryant -- all L.A.-based creative individuals who came into contact with Syms as a result of her Manifesto, and all of whom embody many of her philosophies about the subject.
Below she speaks with Artbound about how the film came about, her publishing company Dominica, and how it all relates to the world today.
You grew up in L.A., but then moved to Chicago. When did you come back here?
I grew up in Altadena. I went to Pasadena City College, and while I was there I worked at Ooga Booga. I transferred to Chicago, and then I moved back here in 2012 at the beginning of the year. I like L.A. It's easy to live here. I like to work inter-disciplinarily, and it's a place where there are different things going on; it's not really an art city. I like pulling from different industries and fields.
Tell me about Dominica Publishing?
When I graduated from college -- I went to SAIC [School of the Art Institute of Chicago] -- I wanted to open a space like Ooga Booga. I had planned to do this when I was still in school, but that was crazy obviously. So, right when I graduated, me and artist Marco Braunschweiler, we opened this space called Golden Age, and towards the last two years, we started publishing stuff. It became a big part of what I did there. I'd work with the artists; edit the books; design the books; and I'd distribute them. We decided to close [Golden Age], because both of us were burnt out.
And then you moved to L.A., why didn't you reboot Golden Age here?
Even though I was from here, a lot had changed in the eight years that I had been gone. We thought about opening something else, but once we got here, we said, 'Let's just live here and figure out what we want to do.' There was a book that I was supposed to do with Golden Age that hadn't been released. So that was the first thing I published under Dominica. So, I kept going, but just with the publishing side. It's all works with visual artists primarily, and it's totally new commissions. Even though I say they're about blackness, they're not. That's an inside joke; there's nothing that brings them all together aside from the relationship between me and that artist. I really just do two books a year. Sometimes one is mine and one is another person. This year was "Black Radical Imagination" by Erin Christovale and Amir George [who run a series of screenings and events under that name]. And the other book was an artist book for myself called "Show Bible." I'm working on the next two right now. One is a collection of performance scripts by a British artist based in Berlin named Hannah Black, and the other is by Sara Knox Hunter, a writer based in New York. She does these sci-fi poems.
A lot of your work is very graphic, much like what Paul Chan is doing with his publishing company. Can you talk about how graphic design plays into your work?
I really like Paul Chan, and I like what he's been doing with Badlands. Ed Ruscha was also a graphic designer, and Warhol -- there are a lot of artists who were graphic designers. When I was younger, I made zines in a punk independent community. Before I knew what graphic design was, I was making books and flyers, and then later I realized, 'Oh, that's graphic design.' And I always made websites. So graphic design has always been something I've been interested in since before I knew this formal language about it. And it's something I still do for money, but it's more fun to do it for myself."
How did the Artbound episode come about?
KCET Artbound did these shows with MOCAtv, and [artist] Khalil Joseph and I had done a video with MOCAtv's producer Emma Reeves. It was called "Memory Palace." It corresponded with [Joseph's] show that was up at MOCA. They originally asked me if I would make a film about him, but he doesn't like to be on camera, and I wasn't interested in doing that either, so we talked about using that film as an opportunity to work on something together. It was a fun, small project. ["Selma" and "A Most Violent Year" cinematographer] Bradford Young shot it, [singer] Alice Smith performed in it, and I created the narrative out of ideas Khalil and I had been talking about. So, that was part of this MOCAtv episode with Artbound, and as part of that, they interviewed me, asking me questions about my work. That's when I brought up this idea of Afrofuturism, which is something that I'd been thinking about, because I had just put out "Black Radical Imagination," and I had made this record ["Most Days"] that was for Afrofuturists. So, I was already in that mindset. Maybe a month later, they were like, 'Hey, would you want to develop it into an episode of Artbound?' I'd never worked in that way. It was so much more traditional than anything I'd ever done.
KCET is Southern California Television
Tell me about the inception of "The Mundane Afrofuturist Manifesto." Was it something that you had been thinking about for awhile?
No, not at all. So, mundane science fiction is an offshoot of sci-fi, and I had heard about that several years before through this now-defunct newsletter these graphic designers [were publishing]: Emmet Byrne, who is the design director at the Walker Center [in Minneapolis], and Alex DeArmond and Jon Sueda. They had this journal called "Task Newsletter," which is still one of my favorite magazines. They had a whole issue about mundane science fiction. So that was how I heard about that -- that was about 2010.
Then I was working on this sound piece -- "Most Days," the record. But I never had considered myself in this vein of Afrofuturism. Being in Chicago, it's hard not to become a fan of Sun Ra. I had seen "Space is the Place" when I was in college, and there had been a show at Hyde Park Art Center. I was aware of it, but I didn't consider it my thing.
But that year, I kept getting embroiled in it through Black Rad and through another talk that I did in L.A. that was all about sci-fi. And then a friend of mine, Claire Evans, became an editor of "OMNI Reboot," which was an old sci-fi magazine from the '70s, and I had written two things for them. Then Rhizome approached me about writing something about "Most Days" for this series that they do called "First Person," where they ask a writer to elaborate on a project. At first, I was writing something artist statement-y -- it was really bad, academic writing. I was like, 'Oh, this is so stupid.' And then I was riding a train -- I still have the sticky note from when I had the idea -- I had the idea to mash the two: 'Write mundane science fiction manifesto about Afrofuturism.' And then I went home and did it. It took like five minutes. The funny thing about it was, there was also a show at the Studio Museum that winter that was all about Afrofuturism. So I think it was really about timing that it ended up being a real conversation starter. It really involved me in a lot of the discussion about Afrofuturism. I had read [science fiction authors] Samuel Delany and Octavia Butler, and I had read the "Black to the Future" essay by Mark Dery, and I had been aware of all those things, so it wasn't like I was a total novice. But I didn't identify with it.
What have been some of the reactions to the essay?
A lot of people my own age -- and a lot of writers -- have taken the term on to talk about music, fashion, and other artworks. Alondra Nelson and Mark Dery were both interested in it as it being something that pushed the conversation. It definitely made a lot of people upset, and continues to do that. The word 'mundane' can have a negative connotation to a lot of people, so it can seem like I'm saying to be unimaginative, or to confine yourself, or silence yourself -- none of which are things that I'm saying.
Have you continued to work with it?
After the record came out, that was a big thing. "Most Days" has been performed live a few times -- at the L.A. Art Book Fair, in New York at Cooper Union, in Chicago at the Arts Incubator. The coolest performance was at Moogfest, this electronic music festival, last year. It was with five actors, and [her collaborator on the record] Neal Reinalda did the sound, and it was me reading. That was fun, because it was a regular rock festival and Kraftwerk and M.I.A. were there, so it was nice to have in that context. What was cool was some guy from North Carolina could be like, 'I relate to this!' And then I did a project for Kenzo that was more or less another version -- another character set in the future. Originally, she was a motion projection that they had had as part of their runway show. But then they were interested in creating a live-action story about this character named Knola. The L.A. band Inc. did the sound for that one. The Artbound film is the most recent iteration of it. It's funny, because it wasn't something that I was thinking would continue. Other people took it on. It's even included in a group show that's up right now at Todd Madigan Art Gallery at Bakersfield CSU where it's operating as a text on the wall. It's been republished a few times. It's something that keeps circulating.
Do you follow the rules of "The Mundane Afrofuturist Manifesto?"
The Clarion West one ["The Mundane Manifesto"] -- are they actually going to follow all those rules? I don't think any manifesto operates that way, whether it's the "Futurist Manifesto," Dadaist. They're just there to crystallize ideas. You don't have to follow any of them. I don't know if I've followed any of my rules, or ever was intending to.
How did you land on including Delroy Edwards, Nicole Miller, Erin Christovale, and Tisa Bryant in the film?
It's people that I came into conversation with through the text. I had given a talk at South by Southwest that was called "Black Vernacular: Reading New Media" that was a similar idea, and it was looking at a Black aesthetic through the Internet, and specifically web-based media. And that's how I met Nicole. I had been familiar with her work, and I talk about her work in "Black Vernacular: Reading New Media." I feel like that was a precursor to the Manifesto. Tisa had come to a show that I did, because she read the Manifesto. Erin and Amir George had approached me, because they had read the Manifesto. I met Delroy through his manager, Henoch Moore -- he had read the Manifesto. That was how I chose people -- it was an opportunity to get into a conversation with people. And I'm really excited about everything that they're doing. I was interested in using it as a framework to talk about the work, and less about the severity of how [the Manifesto] can appear. But there is a theatrical element to making claims that I'm interested in. People don't do that enough. Talk some shit. Names some names.
How do you grapple with the ideas presented in mundane sci-fi now?
I don't see how you could not be grappling with it. Towards the end of the film, Erin talks about Black cultural production being at its height, and how we are producing all these things that are being circulated online, and yet the economic value of that is really missing. Greg Pass, who is one of the board members of Rhizome, who I work with a lot, and who was "Twitter employee number four' or something," I had lunch with him earlier this year, and he was talking about how in the beginning of Twitter, it was just the San Francisco tech community and Black teenagers. And no one at Twitter knew if they should be talking to this community or if they should be adding features. I think that's a real failure of the company, but it's an example of a lot of what's going on.
We've been talking about how you're not using science fiction in such a literal sense, but do you ever speculate on where the world is going in terms of social media and how it's being used? Specifically with the "Mundane Afrofuturism" of Twitter -- if I may marry the two -- and how it's being used in instances such as the University of Missouri protests. How does communication change and where could that go?
I think about speculation more than I think about science fiction. Speculation is tied to value, and that is my primary interest within Afrofuturism or science fiction. It's a way of asserting new values and thinking of how things could be different. Speculation, even in the financial sense of the word, has completely changed culture, and changed the way that culture operates. That, to me, is the real meat of it. Even when you go to Mizzou, while I do think that Twitter and social media helped spread what was going on, the real thing was that it was a display of economic power. It was the football players. When you display that value and economic power, that's really how things get changed, especially in American culture. I feel like what happened was, the football team said that they weren't going to play. That's what kicked things off. Maybe the visibility and the circulation of all those other ideas was part of what politicized them. Blackout for Human Rights is filmmakers and artists and activists who are operating through a listserv and spreading information, but one key thing that they focus on is displaying economic power. I think they're related, but speculation is always going to be connected to value, and that's what's interesting to me about it. I think about how things are going to change all the time.
Related reading:
Erin Christovale: Creating Narratives With Black Experimental Film
Archivist and curator Erin Christovale addresses the artistic traditions of Black California, her "Black Radical Imagination" film project and the importance of claiming blackness today.
The Hybridized Writings of Tisa Bryant
Author Tisa Bryant's work and pedagogy center around the fluidity of time, space and the meaning of race. Noted for her book, "Unexplained Presence," Bryant can be counted amongst the thriving community of Afrofuturists in Southern California.
Nicole Miller: Mirror Images and the Power to Create Reality
As a visual artist working primarily in video, Nicole Miller often explores self-representation. She's not a documentarian, but her films sometimes reflect the lives of ordinary people.
Delroy Edwards: Breathing New Life Into House Music
For Delroy Edwards, Los Angeles-based musician and producer, dance music isn't just a way to get down, it's a way to connect with the past, present, and future.
---
Dig this story? Sign up for our newsletter to get unique arts & culture stories and videos from across Southern California in your inbox. Also, follow Artbound on Facebook, Twitter, and Youtube.