Amid the current uptick in the care and study of L.A.'s historical treasure trove of public murals, painter Eloy Torrez -- one of the best known of the old-school muralizers -- headed back inside his studio, back to the canvas and easel, and also back in time. His new exhibition at Edgar Varela Fine Arts on Spring Street in Downtown L.A. is called "Flashback to Now" and that's exactly what it is. In a deft installation that alternates oil on canvas paintings by Torrez with urban landscape photography by his longtime collaborator, partner, and muse Juliane Backmann, audiences get a rare glimpse inside the personal creative evolution of one the most popular local artists whose work they love but whose name they might not recognize.
From Downtown's "Pope of Broadway" (1984) on the Victor Clothing Co. building, to the "Legends of Hollywood" mural (1983) destroyed in the Northridge quake and the extant Hollywood High mural "Portrait of Hollywood" that partly resurrected it, Angelenos enjoy dozens of examples of Torrez's public art just about every time they go outside. (And also sometimes when they venture inside the municipal world, as with the sweeping "Water, Essence of Life" completed in 1998 as an interior mural for the Metropolitan Water District Building.) In every case, his subjects' faces are expressively animated, his vision ambitious, and his storytelling grand. Torrez's many awards include the 2009 C.O.L.A. (City of LA individual artist grant); 2004 California Community Foundation; 1995 Brody Fellowship for the Humanities; and the Hollywood Arts Council "Charlie" Award for Public Art. But he's also an accomplished studio painter, hard at work since graduating from Otis in the late 1970's.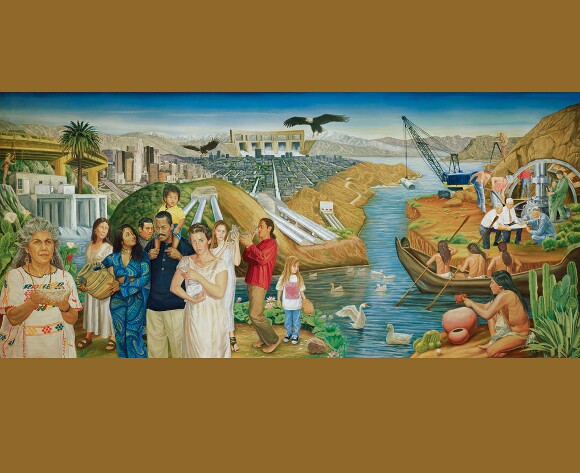 "I was more of an outsider regarding the mural movement and at the time not too aware of the history of L.A murals, I came to Los Angeles from Barstow in 1979 to go to art school at Otis Art Institute. After school I got a job restoring murals on Degnan and 43rd in South LA through the CETA (Comprehensive Employment Training Act) program. I was able to move on to my first mural "Legends of Hollywood" through the contacts I made at that job. It was one of those organic things that happen when you are young, murals just came to me. I didn't think of them as murals, more like very large paintings."
In his large-scale wall work, and to an even greater degree in his moderately-scaled canvases, Torrez demonstrates a special gift for crisp, clean, precise lines and complex detail. He obsesses and ponders, he layers, erases, and layers again. And while this yields hyper-real visual poetry, it takes a really, really long time. "When Edgar asked us to do the show, I was thrilled, but I only had about four or five months to get ready. I realized, the way I paint, I could never create a whole new show in that amount of time. But I looked around my studio and I realized I had all of these paintings from ten, fifteen years ago." Some were finished but small, some were larger but not completed, and some became cornerstones in assembled multi-canvas works like the show's centerpiece "Somewhere Between Los Angeles and Albuquerque." Every one of the half-dozen paintings in the show was started over a decade ago, set aside, and finally finished in 2012.
"Murals are an important part of my artistic career, however with this exhibit I want to bring focus back to my personal paintings. Thus the title 'Flashback to Now' which symbolizes detours and getting back on track. The majority of the work deals with and is a metaphor for those unfinished parts by the side of the road of our journeys. Juliane and I want to tell a story with both our works about the interior and exterior events that take place in our life stories. It was important to us to weave the works together like the scenes in a carefully edited movie." Using a large-format camera and color film, in her urban landscapes Backmann depicts familiar public spaces like banks, churches, parking lots, but devoid of people, and filled instead with haunting sense of absence and unreality. Although Eloy's work appears on the surface to be quite different -- being so rich with surreal, detailed elements of the imagination and always focused on monolithic single protagonists or ritualized groups of figures -- certain key elements are common to them, and the combination brings out the best in each. Both love the power of architecture, evocative weather, and emotionally charged symbols of power, desire, and humor. Both speak of a sense of "finding," or "coming across" their images -- she in the streets, and he in the shadows of his own mind. And both have courted the inspirations offered by the city of Los Angeles itself in their work.
The symbolism and poetic impact of these "found images" is not at all diminished by the alleged randomness of their appearance in the compositions. For example, the painting most closely resembling the towering figures of his murals -- an arresting surrealist composition entitled simply "Meat" -- was begun 12 years ago as a portrait of a shapely woman balancing a chair on her head, it's backing acting like a veil across her face. To her left, a dinosaur that didn't have legs until last month. Behind her, a horizon line over which an office clock rises like a harvest moon behind the dry, cracked earth of a lakebed or other desert. To her right, a luscious pile of lovely raw steak creates humor, threat, balance, an elusive yet suggestive story. Eloy is fine with whatever meaning the viewer ascribes to the scene. The entire composition is mirrored in the adjacent photograph "Circus," and its brown-dirt foreground, red-tipped tents, blustery blue sky, and overall creepiness factor.
"In Somewhere Between LA and Albuquerque," the message gets way more specific but no less surreal. Eloy explains, "It's just what it looks like. The woman on the left holding the skull is a painting of Juliane I started ten years ago. The character on the right is a kind of slippery figure, a wealthy man and acolyte of the banker on the throne of power in the center of the image, but with his own rebellious agenda. I see him like a James Dean kind of figure. The man in the middle is a power-hungry One-Percenter who is landing his banking ship of corruption in the New Mexico desert to start a new colony of business slaves -- like the ones starting to gather in front of him there. It's not going to end well." A photograph of the building he commands taken by Backmann hangs nearby. The woman in the painting is Backmann, the man, Torrez; New Mexico his home state, the economic analysis accurate.
In other works and pairings such as these throughout the gallery, one is left with the feeling that perhaps this personal work is richer in layered meanings and more subversive narratives than his commissioned outdoor work might allow him to express -- which is really the beauty of this show and this time in his career as a whole. Besides the chance to see how his techniques have evolved in the last decade and a half (which is always a treat for art-lovers of all stripes, even when it's not as fascinating as an evolution of the very same works of art) audiences get a good up close and personal look at the inner workings of a public art figure. And Eloy has the chance to stand back and take it all in for himself as well. "At the beginning I was hoping the murals would bring attention to my paintings, but I got more mural projects and the type of murals I was doing were of monumental size and required all of my focus mentally and physically. That left little time for my personal painting and to exhibit consistently. But I want the same thing for all of my work, whether a large mural or a small canvas -- I want it all to feel like a song. I am asking myself: does it flow, does it have soul and interesting content, engage the viewer? Does it have rhythm, a good beat, and is it pertinent to the times we live in? Attempting to create something timeless within the constraints of public art commissions, I apply the same creative parameters."
The exhibition is on view at EVFA through July 21, 2012.
Dig this story? Sign up for our newsletter to get unique arts & culture stories and videos from across Southern California in your inbox. Also, follow Artbound on Facebook, Twitter, and Youtube.