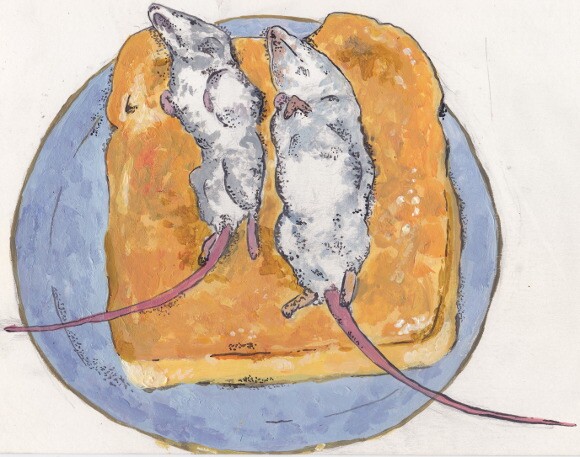 Like the bees from which this exhibition has drawn its name, we are individuals, yet we are, most surely, like the bees, a group, and as a group we have, over the millennia, built ourselves a hive, our home.
-- Museum of Jurassic Technology exhibit "Tell The Bees"
The Museum of Jurassic Technology is one of those quietly ominous places that waits for visitors to stumble through its doors. It's easy to miss. A cryptic banner sags above a doorway of the museum's unassuming exterior on a nondescript stretch of Venice Boulevard. Its marble fountain out front fails to flow with water, and the ornate doorbell near the entrance doesn't ring.
Open its unmarked door, and find yourself in a blindingly-dim gift shop, strong with the smell of incense and flowers. The museum's sounds are disarmingly disorienting. All at once, there are the howls of a fox, echoes of an opera singer's trills, and a low rumble of bells emanating somewhere from the halls within.
The museum is labyrinthine, like walking into a story by author Jorge Luis Borges, where after a long, winding journey, a lost protagonist stumbles into a dark room, dusted with the weight of an overwhelmingly living and throbbing infinity. The deceptively small museum feels alive and infinite. And it's very dark. Each step into the museum's nearly 20 rooms is a little bit uncertain, but just as one's eyes slowly adjust to the lack of light, your ears begin to accept the coalescing cacophony. Slowly, you too begin to acclimate to the museum itself. After a while, its most obscure exhibits seem plausible, as one knowingly nods along to a droll, authoritative, voice from a telephone receiver extolling the tale of the Deprong Mori -- a bat who uses X-ray echolocation to fly through solid objects.
It's best not to worry about what the museum is about. And contrary to its name, there are no dinosaurs or technology here. Like the L.A. County Museum of History, Science and Art, the all-purpose museum that existed in Exposition Park until 1961, this museum does not need a theme.
The museum's founder, David Wilson, offers one thread of a theme: the institution's unofficial motto, translatio natura or "nature as metaphor." This motto is found almost nowhere, save for the museum's crest.
A polymathic curator, Wilson opened his museum in 1988. After the journalist Lawrence Weschler wrote an article in Harper's Magazine about the museum -- and later expanded it into the 1995 book, "Mr. Wilson's Cabinet of Wonder" -- the MJT became something of a legend around the world. In 2001, Wilson was awarded a MacArthur prize.
Wilson says they're interested in phenomena that can have metaphorical interpretations. "Although," he adds, "arguably all things have that. The world is full of wonderful and amazing things. You don't even have to look -- it's all right there. It's not as if we go and really seek out the unusual. These things are just there."
I first found Wilson tending to one of his doves in the museum's rooftop aviary. The dove's lids were drooping, and it rested on a nest balancing on top a wooden chair. A patch on its neck revealed pink skin; its feathers were scattered on the ground. The dove was recovering from a rat attack from the night before.
"Sometimes, people don't exactly know what to do with us," says Wilson.
We sit down, and over the course of a long conversation, I begin to stumble towards my own understanding of the museum. We sip from glass mugs filled with too-hot Georgian black tea, from the Tula Tea Room, on the second floor of the museum. It's a small enclave that holds Russian Orthodox paraphernalia, along with an accordion that Wilson sometimes plays. The tea room is usually the realm of Nana Tchitchoua -- a Georgian artist who prepares the tea over coals and serves it from a brass samovar. The room is dedicated to the memory of Tchitchoua's beautiful, almost-regal windhound, Tula, who once curled at her feet.
We do not touch a nearby plate of cookies. (It's possible no one has ever touched the plate of cookies.) The doves that roost nearby punctuate our words with confident coos.
"[People] default to saying: the museum is quirky," Wilson says, "that the museum is about oddities. But you know, what is odd?"
Hana van der Steur, the museum's archivist joins us. She jumps in to mention that the horn is probably pretty odd. The museum features a horn: a modest, vaguely hairy horn purportedly grown on the back of the head of one Mary Davis of Saughall in 17th century Cheshire. A plaque describes the horn as "blackish in colour, not very thick or hard, but well proportioned."
Wilson concedes: "Right, OK, and there's mice on toast. But LACMA has some weird things too, you know?"
Mice on toast is one part of "Tell the Bees," an exhibit that fervently preserves "vulgar knowledge," or folk remedies.
A plaque cites miscellaneous writer Thomas Lupton's "A Thousand Notable Things:"
"Bed-wetting or general incontinence of urine can be controlled by eating mice on toast, fur and all. A flayed Mouse roasted, or made in powder, and drank at one time, doth perfectly help such as cannot hold or keep their Water; especially if it be used three days in this order -- This is very true, and often proved."
Mice on toast may not truly cure incontinence of urine, nor will powdered boar teeth necessarily cure a sore throat (another "Notable Thing") -- but these things were genuinely believed to be true.
"The World is Bound With Secret Knots," a loving exhibit for Jesuit scholar Athanasius Kircher, furthers the exploration into belief, displaying apparition-riddled dioramas of his ideas and inventions: one Magnetic Oracle, one Botanical Clock, and the endlessly-jangling wheel of bells (one source of the museum's cacophony).
It is true that some beliefs are false. But that act of believing is still real. And Wilson's museum wants to give all believers and their beliefs a chance.
Wilson considers Charles Willson Peale, the creator of one of the first American public museums, to be one of the museum's patron saints. Though the museum is often described as a modern-day wunderkammern, or cabinet of curiosities, Wilson doesn't think so. "Wunderkammern," and until recently, most European museums, Wilson says, "were by invitation. They were not for everyone, but for elite groups of people." Wilson admires American museums like the Denver Museum of Natural History (now the Denver Museum of Nature & Science), where "everyone could go, and everyone was there."
Wilson is careful to insist that his museum isn't art, and it isn't an art museum -- he doesn't intend for the exhibits to be some subversive critique. He just loves museums: "I've spent a life in museums," he says.
As a kid, Wilson would take the bus to the Denver Museum of Natural History every weekend. He particularly remembers a Pueblo diorama. "Miniatures are especially mesmerizing, when you are a kid," he says. "Some people just never outgrow it."
The museum's archivist feels the same way about the miniature. "You know how when you're young, people often ask you 'If you had three wishes, what would you do with them?' I would always reserve one of those wishes for the power to shrink myself down -- specifically in order to enter those miniature worlds," says van der Steur. "I mean, I know now it would look really different, from that size, but I never really thought about that."
Wilson and van der Steur begin to attempt to pinpoint the source of one particular feeling, that very physical feeling you get when pressing your nose against the glass to look at some miniature thing -- although, van der Steur also finds this when looking into old photographs and windows. Wilson too remembers experiencing this when he would ride trains across the country, catching brief, but significant flashes of other lives; other worlds contained by lawns, porches and windows.
"You do enter the world of the miniature, but you project yourself into it," says Wilson. "Maybe there's something about that projection point. You make a miniature of yourself to be inside the space. There's something in the tension of not being able to be there, but at the same time, you are there: in your imagination."
He continues: "In a museum, you are separated by the object, if only by a pane of glass. But the object is in its own world, and you can't get to it. It's like the object breathes its own atmosphere. The object is in its own world."
I ask Wilson what it's like to go behind the panes of glass.
Wilson replies: "It really makes you appreciate the glass."
In a sense, Wilson himself is behind the glass. He now lives in the museum, in a 1951 Spartanette trailer out back. "It's chaos but it's home," he says. "I've never lived in a place that I've loved better."
Swimming in succulents, the trailer is parked alongside a 1956 Royal Spartan trailer, once owned by the late, sympathetically-minded Chicago artist Roger Brown: one of the first serious collectors of outsider art. His studio in Chicago, now the Art Institute-owned Roger Brown Study Collection, is an explosion of knick-knacks. His trailer, host to many cramped musical performances, is a similar, if more modest, explosion. Here, find porcelain ducks and all. The two trailers perfectly complement the exhibit, "Garden of Eden on Wheels": a series of trailer dioramas modeled after various trailers in the Los Angeles area, as well as the encased collections of those who make a trailer their abode. The collections are carefully and lovingly displayed, glowing with the same glow one might find in a museum's gem collection.
In this garden of Eden, you'll find the Michelle Cole collection of crocheted baby dresses. Even today, Cole still remains in contact with the museum, occasionally bringing along her finds, which are often California-made, Americana historical objects. A few years ago, the museum displayed her cola-can Christmas trees. "There's a broad community of folks here who keep in touch," says van der Steur. "People come and go, but they do tend to come back."
Both van der Steur and Wilson stress that the museum's growth and development is organic. They talk of the museum as if it was its own, unruly creature they dare not tame. The museum workers do not actively search for items to add to their collection -- that requires a budget they just don't have -- nor do they exactly deliberately decide on exhibits to showcase.
The museum is not just metaphorically a living, organic mass. The building itself physically swells, bit by bit. "Things just keep slowly adding to each other," Wilson says.
The museum was at first a 1,600-square foot space nestled in between a forensics operation. Though the museum has now taken over the whole building, remnants of the forensics operation still exist, if in small ways.
Later, when we walk through the studio, Wilson points to one room, and says, "And here is what we call Stinky Hollow." It doesn't smell -- apparently the room used to hold formaldehyde and other such pungent chemicals. Now it's mostly storage for the gift shop: stacks of Borges' "Ficciones," disappearing dice erasers, biographies of Athanasius Kircher.
Wilson remembers the swelling started with the discovery of one untapped door. "We were -- probably not cleaning, because we never clean -- but adjusting something, and suddenly we discover this door."
The door led to an empty space, exactly 1,600 more square feet. After asking around, he was offered the space, and "we couldn't afford it, not even remotely, but of course we took it," Wilson says. He beams.
The museum is swelling yet again as all are hard at work building a bestiary, which they hope will go up next March.
Back in the day, the medieval bestiary -- or a beautiful illuminated manuscript which would attach allegories and meticulous illustrations to observations of animal behavior -- was second in popularity only to the Bible.
Creating an entire wing in order to bring the bestiary to life makes all the sense in the world for the museum -- its "nature as metaphor" in action-- and Wilson has been thinking of making one since the museum first opened.
The walls of the bestiary will be drenched in murals by Jose Clemente Orozco, "the grandson of a very famous muralist of the same name." The bestiary's architectural style uses motifs inspired by his many trips to Eastern Europe. "Of course, everything here is drawn from something else," Wilson says.
Though Wilson considers his museum to be a continuum, he says that its relationships and connections are all found after-the-fact. "We don't build from concepts. We just know, collectively, instinctively, intuitively, where we need to go. It's like reading literature -- the more you read it, the more things come to you. You can't tell what you're bringing to it, and what's already there. But it's there, it's all there. If it's in your mind, it's there."
When I leave the museum, stumbling back out into the blinding, bright world of palm trees, screaming Metro buses and hamburger fumes, I begin to realize everything can be drawn from something else. The museum's wonderful and amazing things begin to make sense. The interconnectedness of it all. And I remember the words of Valentine Worth, the mysterious author of much of the museum's mysterious literature: "All of nature in its awful vastness and incomprehensible complexity is in the end interrelated -- worlds within worlds within worlds: the seen and the unseen -- the physical and the immaterial are all connected -- each exerting influence on the next -- bound, as it were, by chains of analogy -- magnetic chains. Every decision, every action mirrors, ripples, reflects and echoes throughout the whole of creation. The world is indeed bound with secret knots."
---
Dig this story? Sign up for our newsletter to get unique arts & culture stories and videos from across Southern California in your inbox. Also, follow Artbound on Facebook, Twitter, and Youtube.