In Partnership with SOC(i)AL: Art + People, a series of discussions around LA about Socially Engaged Art, September to November 2012. Instigated by Anne Bray of Freewaves.org
For the final interview in the SOCiAL: Art + People series of discussions on socially-engaged art, I had the pleasure of discussing the Occupy movement and its manifestations (or erasures) within academia with scholar Noura Wedell and artist A.L. Steiner. They will be joined by Cornelia Butler, Jack Halberstam, Santi Vernetti and Kelly Akashi, and students from the USC American Studies Program, MFA program, and MA in Art and Curatorial Practice in the Public Sphere for a panel on Friday at USC titled Occupy the Mind: Pedagogy, 'Capitalocentrism', and the Arts Fantasy. This cross-disciplinary discussion will investigate the precarity of workers in our current economy, the relationship of the university to activism, manifestations of art in politics, and the future of Occupy.
Sue Bell Yank: What was the impetus of this event?
Noura Wedell: This panel was organized in response to an invitation by Anne Bray, the Director of Freewaves, to participate in a series of talks and events. The idea was to get a number of individuals and institutions from the different spaces of the LA artworld (larger cultural institutions, non-profit galleries, universities and MFA programs) to participate in the discussions. We thought that it would be a good idea to address the Occupy movement, not only since the topic had not yet been brought up in the series, but also because of the importance of the movement to reinscribe desire, belief, but also a sense of agency and potency to social space. As an adjunct, I feel it is fundamental to discuss Occupy in the university, and relate to the struggles defended by the movement. Not only have tuition costs risen to unacceptable rates, but the ratio of precarious workers in the university has grown dramatically in the United States and in Europe (adjunct faculty, visiting faculty, artists who are expected to teach one or several classes while maintaining a lucrative practice). Our precarious status as workers is extremely deleterious to our pedagogical work, as well as to our scholarship and our art making. How can we commit to our students as we should and build lasting mentorship relations with them when we move from institution to institution, when our salaries require us to work overtime, and do not cover the costs of responding to emails, attending meetings, and other duties that we should be remunerated for and on which successful student-faculty relationships are based.
A.L. Steiner: Another impetus was that there are not a lot of manifestations of collaboration between MA and MFA students [at USC] so that was an impetus for us to all speak with each other. The idea was to have a meeting of the minds of two departments that exist in the same building and don't have a lot of overlap in their dialogue, and only a little bit in programming. So there are interesting potentials within the two programs, so this was a way to bring them together. We discussed it, and I'm interested in Jack Halberstam's work. She's spoken to my MFA class last year. I sat in on her class last year, "Aesthetics of Catastrophe" So, I think that we all sort of contributed in some way to the idea that we could discuss these things. The title [Occupy the Mind: Pedagogy, 'Capitalocentrism' and the Arts Fantasy] notates -- well, maybe the interest came from Anne Bray's directive, "Occupy" meaning maybe its translation within academia, how the movement has been discussed, analyzed, and critiqued -- but also really what it means in the scope of our actual minds or in our bodies or in our relationship to the institution, what could be potentially discussed. "Capitalocentrism" comes from J.K. Gibson-Graham's writings. One of them passed away, but they are two women (Katherine Gibson and the late Julie Graham) who wrote under this pen-name J.K. Gibson-Graham, so they sort of skirted around collaboration by actually combining their identities and they write from a feminist perspective on economy and capitalism. So I chose that word because I've been interested in their writings, to reflect this idea of how we become who we are through civic engagement, capitalism of course being a central core issue in our communities. And the "Arts Fantasy" -- what that may mean, and how it may translate for different people in the room itself. What is the fantasy? And of course that comes from my organizing in W.A.G.E. [Working Artists in the Greater Economy], and how W.A.G.E. defines the roles that we play in the culture industry and in cultural production. So I think that the combination of several academics or adjunct academics discussing their involvement, or disassociation, or even non-involvement in Occupy or capitalism or the arts fantasy, may prove to be generative or bring up some fractures that still remain to be seen or discussed.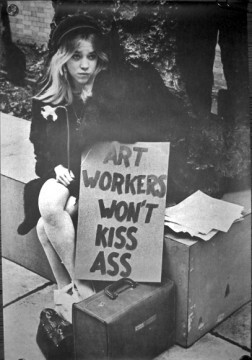 Sue Bell Yank: What is/was your relationship to Occupy?
A.L. Steiner: At USC, I haven't really had an official engagement in a discussion about Occupy. I brought my students there, to City Hall last year, and then I attended on my own, some meetings and some events there. I didn't live there, so I had a peripheral experience. And through other artists like Elana [Mann] and Julianna [Snapper] who proposed projects, and then I did a talk with Andrea Bowers down there. And I talked to Robby [Herbst] and hung out with Addie [Tinnell] and Kate [Kershenstein] who started Up the Art Union! It brought me really quickly into a community that I was peripherally interested in because of W.A.G.E. but I didn't really know. Right when I moved here, it happened. So it was an interesting vehicle to fast-track myself to get to know who identified as activists. Beginning to teach in an MFA program was my also first official engagement in that way, so that's been pretty interesting. It's been edifying and educational for me to understand the higher echelon of arts production and arts pedagogy within an MFA program, because I don't have an MFA.
Noura Wedell: I did not physically occupy the LA site, by which I mean camp there, but I did visit the City Hall encampment several times during the occupation and participated in the general assemblies there. I also participated in a few of the marches that were organized in conjunction with Occupy. I'd been quite involved in the strikes in the French University system when I was teaching in Lyon in 2008-2009. It was an interesting lesson in politics for me, really the first time that I'd witnessed and participated in general assemblies, in strikes and in all of the alternative work and thinking that the strike triggered (teaching outside of the university in public spaces, alternative forms of classes, refusal of established university hierarchies between faculty, students and staff). The research center that I worked for proclaimed what we called an "active strike," which meant that we continued our activities (seminars, a lecture series, creative writing classes), but held them outside of the university, in the Museum of Contemporary Art for instance, or in smaller cultural institutions. The Occupy movement followed on the heels of this strike, and was a welcome event especially since we had strongly suffered after we'd lost the university strikes of 2009 and the Bologna accords were implemented. I was really moved by the Occupy movement, moved, thankful and very excited. It seemed that suddenly something was possible again, that all of the theoretical discourse that I've been working with as a scholar and through my work with Semiotext(e), from Italian autonomia or Situationism to more contemporary political theory from Tiqqun and related writers (the Coming Insurrection, the Theory of the Young Girl) could move from a space of theory to a field of practice. It was also thrilling to have an experience of collectivity in the very individualized space of Los Angeles with its car culture, and lack of a pedestrian inner city center.
Sue Bell Yank: I have this question about the relationship of art to activism...it's a really big topic.
A.L Steiner: Huge!
Noura Wedell: There are a multiplicity of art worlds, art practices and aesthetic theories, so it's quite difficult to give one single answer to this question. The entire history of the artistic avant-garde in the XXth and XXIst centuries has proposed ways to think of the relation of art to politics, from the Futurists through Dada to the Situationists, or Joseph Beuys, to name just a few. And there have been such a great number of theorists to have explored this question as well, Rancière, Bourdieu, etc. There is no prescriptive response to be made. There can be real political strength in the coherence of aesthetic forms (I'm thinking of Godard, or Farocki), there can be very poorly organized and useless forms of protest, and there can also be very bad political art. What is interesting is to arrive at forms of potency, potentia as the Italian autonomists would say: the complexity and depths of questions unfolding in aesthetic forms are potent, as can be the thrill of the affect, intelligence and sensibility pulsing through a general assembly, as well as the potency of real political change to address blatant and unacceptable disparities of wealth and power. As for Occupy, what stood out to me in particular were the teaching sessions and circulating library. These were not artistic projects per say, but were involved in circulating knowledge, producing knowledge, and giving access to knowledge, things which I think are one of the important functions of aesthetic practice (although the knowledge of aesthesis occurs quite often on the sensory plane, this is not necessarily the case, certain forms of conceptual art involve the production of knowledge and processes of meaning for example).
Sue Bell Yank: I was really interested in the Occupy movement at the time, but was on my maternity leave, and was not able to make it out of the house with a newborn. So I basically engaged with all of these artists and activists through interviews on my blog to try to wrap my head around what was going on. So I saw it through that lens, of artists doing actions or projects down there at the site and elsewhere, and what they were thinking about and going through. I'm curious what your views are on that relationship of art to activism, maybe just particularly in relation to Occupy.
AL Steiner: I feel that Occupy is an undefined space. It was limited and born of a geographical location to some degree, especially the financial district or the financial industry. Then it spread and it became not necessarily connected to that. I felt that was really important, here it was at City Hall, and in New York it was near City Hall but was really focused on this financial sector. In different cities it was in different places, public parks, and schools. And schools. UC became really central to the whole movement, and I think it is a movement like feminism is a movement. It's continual, it's not something that's easily defined and that of course was one of the larger problems with it. And I did read Tidal, the Occupy theory publication, which has been really great to keep up with, they have three issues now. So I think the location, because for instance it wasn't where I teach in a private situation, where it was more in public space or public-private partnership space like Zuccotti Park, I think the nuances of what it means and where it can exist are still unclear to a lot of people and yet it seems like a very viable mindset. People are with the agenda. But that agenda, since it's largely defined by different people and different geographical situations, doesn't have representatives yet [in government]. I think that the value of dialogue or oral history and story telling becomes so central to what Occupy is. So, I guess I see artists who are down there are people engaged somewhat in the dialogue, but I see people not there, or I view people not present as necessarily part of the conversation that's happening. It's interesting to think about who's going to come to this, and to see. I think with W.A.G.E. it's similar, we knew there were some people who were signed on automatically to our cause, but it's taken three years to tell the story, to use consciousness raising as a tool, to think about what action and activism would really mean in terms of change for our cause. So I think Occupy is the same. It's going to be slow, maybe not as quantifiable as more right-wing activism like the Tea Party. It may not be people running for office or elected for office. I find that to be confusing, I don't know if that's a good thing or not.
Sue Bell Yank: Noura, how do you connect this with your ideas about the role and uses of fantasy in politics?
Noura Wedell: The sphere of politics has become increasingly divorced from public space because of transformations towards financialized capitalism which follows fundamentally "capitalocentric" economic dictates. Just as in Europe, economic dictates emanating from a financial elite seem to set the rules for what has become possible in the specialized field of politics. The Greek democracy, for example, has been forced to implement austerity policies because of decisions emanating from the European Union, which is a bureaucratic-financial institution, and not a democratic one. In America, we have been under the sway of the hyper invididualism of capitalism, and the economic discourse of the politic sphere are taken to be a given. This translates as competitiveness between individuals, it also has physical effects such as the lack of any real public space in which people can congregate, and the issues that are proposed to the choice of the people are often divorced from real political urgencies (think of the almost complete absence of the questions of poverty in the presidential election for example, when that is really what a great number of Americans are facing today), or subject to swaying by lobbyists. Since the 1960s, because of a great number of factors in addition to those I've mentioned above, there has been a lack of belief in politics, and a stubborn idea that the situation as a whole cannot be changed through oppositional political action. Of course there were always political thrusts, with appended desires and affects: around the aids epidemic, gay rights, feminism, racial equality, questions of immigration. Starting with the Arab Spring, the protests and rioting in Europe, and the Occupy movement here, a wave of desire has flooded back into the polical and the social body. Fantasy is fundamental for the belief and investment in politics.
Sue Bell Yank: Yet there seem to be so many forces marginalizing Occupy.
AL Steiner: Of course. It's powerful. The numbers attached to Occupy are huge. The numbers attached to the Tea Party are really tiny. The mechanisms that the Tea Party has as a voice are huge. Upholding the corporatocracy of the financial industry, the money behind that is huge. We know that now, especially with Occupy, it levels it to an eternal grassroots space. Those distinctions are really important to understand. I don't understand them in full and understanding them is what my goal has been. Kathy Acker wrote this essay called "Critical Languages" and she talks about the language of wonder, not of judgement, and I think that's been really important to think about in terms of my personal politics as well as huge things like social movements.
The language is just as important as the movement; academia is just as important as grassroots activism. The things that happened in the UC system were incredibly intense, shocking, but not so shocking if you already knew that these systems were corrupt and we're all financially supporting them. So the academic landscape for me, and the culture industry definitely are extremely closely related in so many ways. To bring the dialogue into perspective in a place where it hasn't been part of the dialogue is necessary to me. For whatever it's worth, for that dialogue to take place between people who feel both connected to and disconnected from the Occupy movement is really important. It's not about the experts coming forward and saying, "you people at the academic level don't understand," although that may be the case. Jack [Halberstam] inspired me and the reason I wanted to bring her in, among those I already mentioned, was she spoke at REDCAT about her book, right after people got kicked out of City Hall, and she gave this rabble-rousing...she was supposed to talk about her book but she basically talked about capitalism. It's part of her book, but she was speaking at REDCAT to this audience, most of who had never been to City Hall, you know, art people. It was really incredible to hear her voice in that context. A really respected academic talking about her book and saying, "this is fucking everything up." Jack is really great. I mean, we all find problems with each others' work, we are all really sensitive, but on a larger perspective a bunch of people supporting each other coming from a feminist perspective feels really important. Wherever that may happen, at USC or elsewhere, that should keep happening.
Sue Bell Yank: I think there are ways to have criticality but still get down to the core issues, and not the surface level stuff that maybe doesn't matter as much.
A.L. Steiner: And to figure out what the core issues are. They are changing so quickly and are really elusive.
Sue Bell Yank: I feel like this conversation is really needed, and continuing conversations like this, because there are always these questions like "Where is the Occupy movement now," and the intimation that it has died away in the popular imagination, but the underlying issues are still very much there and still extremely important.
Noura Wedell: We thought it was important to hold this event at USC because we wanted to question the absence of Occupy events on our campus. Most of my undergraduate students hadn't heard of Occupy when I probed them at the beginning of the year, and a number of MA and MFA students hadn't been involved with the movement. The aim is to bring awareness of the Occupy movement to our students, to try to understand the roots of this lack of knowledge and involvement, not to find any guilt there, but to understand the reasons of this lack of knowledge. As I noted previously, the idea is also to bring to light problems in the universities which are affecting students, faculty and staff overall. As for the Occupy movement, it is in motion, and has been pursuing a variety of new strategies, one of which I find particulary fascinating. This is the Strike Debt initiative, a program to buy health or educational debt and to forgive it. The question doesn't seem to be so much the legacy of Occupy, but rather the present and the future of the movement. What it has created, which is a legacy that it continues to live within, is a rekindling in the belief in politics, the understanding that we do not have to accept the solitary situation that competition and individualism force us into, and that forms of solidarity are empowering, powerful, and effective.
A.L. Steiner: Yeah. There's people still working, I mean OWS Arts & Labor is still active and important. Jennifer Doyle organized some talks after the [Marina] AbramoviÄ? thing [her performance at Museum of Contemporary Art Los Angeles' gala in 2011] and people still engaged in dialogue, but I think the question you're proposing is very important. What does the occupation of space mean, and if it's necessary, how or when will it reoccur? Who is responsible for that? Thinking about how Occupy started, with the alleged dozen people that turned into a hundred people that turned into thousands of people in Zuccotti, it's an open proposition. In LA it's really challenging because being at City Hall, it was really confusing. At the same time that it was important, it was also somewhat...nobody was running for office on an Occupy platform. The translation never happened. It was like City Hall, Occupy, financial co-optation, where is that happening? It was so invisible in LA. And the geography is so different.
Downtown Los Angeles | Photo: Mulling it Over/Flickr/Creative Commons
Sue Bell Yank: And it meant such different things in different places, I mean, hearing about the movement in Oakland, there were a lot of anarchist elements bubbling just below the surface that come out with any excuse. That's a very different history and a very different genesis for Occupy.
A.L. Steiner: I've thought a lot about the genesis of the Mattachine Society that started in Silver Lake [thought to be the country's first GLBT rights group, meeting for the first time in 1950], and these small pockets of activism that grew into larger events. And I feel like we have to understand those histories to understand different geographical spaces, different socio-political spaces, so I think that it could be a larger ongoing conversation.
Sue Bell Yank: How does Occupy continue, does it become an umbrella for many things, what language gets attached to it?
A.L. Steiner: Right. Similar to W.A.G.E., it feels like a consciousness-raising movement, it doesn't feel like a political party or an institution, in its early stages it feels like shifting consciousness. As feminists we know the value of consciousness-raising, I've recognized it. The Civil Rights movement, all the movements, Gay Liberation. But we see change over the long term. Thinking of Mattachine starting in the 50s, and then Gay Liberation in 1969, 1970s, if you think about those 20 years, maybe it's easier to have a perspective on Occupy. If you think about it as a time of transition and a time of change, yet we have the need to know that somehow the level of corruption will be broken. Like immediately, because it's so connected to wages and labor and things that are so immediate.
A.L. Steiner utilizes constructions of photography, video, installation, collage, collaboration, performance, writing and curatorial work as seductive tropes channeled through the sensibility of a skeptical queer ecofeminist androgyne. She is a collective member of Chicks on Speed, co-curator of Ridykeulous, co-founder/organizer of Working Artists and the Greater Economy (W.A.G.E.) and collaborates with numerous visual and performing artists. Steiner is currently Visiting Core MFA faculty at the University of Southern California and 2012 Distinguished Visiting Artist at Otis College of Art & Design in Los Angeles.
Noura Wedell is a writer, scholar and translator. She received her Ph.D. in Comparative Literature from Columbia University, and was assistant director of the Center for Studies in Poetics (now The Comparative Studies and Research Center on Creative Art) at the Ecole normale supérieure, Lyon, France from 2007 to 2011. During her time there, she co-founded a creative writing program with the Ecole Nationale Supérieure des Beaux-Arts, Lyon, and worked with both the Lyon Art Biennale and the Lyon Contemporary Art Museum. Wedell has organized a number of conferences and colloquiums, notably a symposium on the expanded field of writing in the works of Robert Morris, the collected papers of which are currently in press. Her research centers around experimental and conceptual writings, theory, the relation between politics and aesthetics. She belongs to the editorial committee of French Experimental Writing Magazine Nioques. Editor and translator for Semiotext(e), she has translated Maurice Dantec, Tony Negri, Guy Hocquenguem, Paul Virilio, as well as Pierre Guyotat. She is currently translating Guyotat's latest novel. Her first book, Odd directions, was published in 2009.
Dig this story? Sign up for our newsletter to get unique arts & culture stories and videos from across Southern California in your inbox. Also, follow Artbound on Facebook and Twitter.