Back when Riverside teemed with orange groves, the scent of orange blossom was so thick in the air, you could almost chew it.
Today, a new kind of orange grove is coming into bloom at the Riverside Art Museum, this one smelling of acrylic and clear coat. From November 1 through November 9, over one hundred 14-inch fiberglass oranges decorated by a diverse range of local artists will fill the museum's downstairs galleries with color and zest.
OrangeAID is a condensed version of the Giant Orange ArtVenture of 2006, when the Art Alliance of the Riverside Art Museum peppered the city with 4-foot tall oranges painted and tiled by local artists.
"We had a smaller mold made back then," says Event Chair Kathy Allavie, "and have just been waiting for the right opportunity to use it." The scaled down nature of the project reflects today's leaner economic times, but the participants have in no way downsized their creativity. The exhibit features established artists like Jeff Soto, who graced an orange with "Seeker Friends" from his ongoing series, as well as young artists just starting out. Allavie says she's blown away by the variety. "I thought the artists would all treat their orange like a curved two-dimensional canvas, but so many of them saw outside the orange box."
Carla Bender's orange features a collage of vintage circus images and stands on a base suitable for a ringmaster, topped with a red and white circus tent. Michael Bernbaum made his orange into a circus act of sorts in itself; when set on two cloths and viewed through 3-D glasses, "Citrus Plumbum" appears to float in mid-air. Douglas McCulloh drove all over Riverside and San Bernardino counties to find orange wood to use as the pyre-like base for his orange; a list of now-defunct area orange groves spirals beneath the orange, which is painted to look like it's on fire. The Community Works Design Group, a landscape architecture firm that builds parks throughout California, turned their orange into Mt. Rubidoux, a park whose summit they can see through the window of their office, sing clay to transform the stem and leaf of the orange into the hill's iconic Peace Tower and bridge.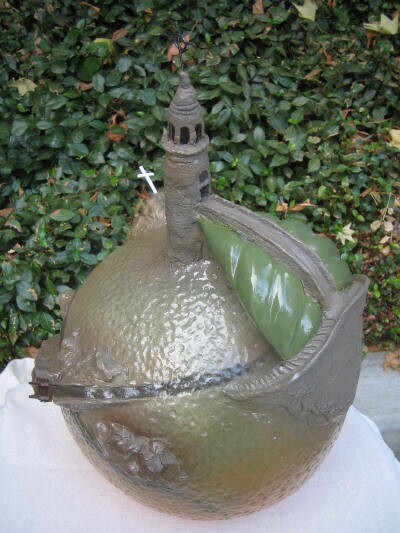 Many of the 120 artists took their inspiration from Riverside history, incorporating local landmarks and portraits of notable Riverside residents into their work. Riverside's Raincross symbol also appears on many oranges, notably "Collaboration" by local teacher Froukje Schaafsma-Smith, who had all 170 of her students paint 20 dots a day on her orange for four weeks, creating a speckled tribute to Riverside as a city of arts and innovation. Painter r. mike nichols wove his personal Riverside story into his two oranges, "Riverside Romp" and "Loring Park", placing his own home, designed by noted architect Robert Spurgeon, alongside the city's more recognizable buildings. "We were able to get our house named a city landmark, so it fits right in," he says. His French bulldog, Lilly, and his dearly departed white boxer, Blanca, also make appearances in his whimsical work.
"I've never painted on anything but flat surfaces before," says nichols, who relished the challenge. "This was so pebbly, with all those dimples. I'm usually very technical, very precise about where my paint goes, and I had to loosen up a lot."
The orange proved to be a challenging canvas for many artists. Osler B. Ladia's work is deeply informed by Baroque and Gothic art; his orange features haunting portraits of four women, some of them upside down, luminous against the dark background. "When you're painting a face that's supposed to be smooth, the texture of an orange can be tricky," he says. Ladia had been an art professor in the Philippines, but when he came to Riverside four years ago, he had trouble finding work. He used his newfound time to reconnect with his first love, painting, and is grateful for the opportunity to exhibit his work at the Riverside Art Museum. Working with the orange was different from any other object he's approached as an artist; "It's hard to know how to hold the thing," he says, "how to get to the area underneath." He ultimately used a saucepan and a large bowl to accommodate the orange as he painted its various curves. Other artists propped their oranges up in trash cans and boxes or rigged lazy Susans on piles of books to get to all the surfaces.
Laura Ryan found herself in a meditative state as she worked on her orange. She chose to honor Riverside's sister city in Japan, Sendai, which had been devastated by last year's tsunami. Ryan was inspired by how Sendai celebrated their annual Tanabata festival after the tsunami hit, even though much of their town was still in ruin. Part of the festival involves writing wishes and hopes on a special fabric and hanging them from bamboo, and Ryan sees the orange as her own prayer for her sister city, a collage of wishes and hopes. She considers the piece the most wild and intuitive she has ever produced; after she included images of crows along with images of vintage kimono fabric, all under a riot of lanterns and banners, she learned that the Japanese consider the crow a symbol of rebirth and rejuvenation--perfect for the intention of her orange.
"I'm so moved by how Sendai's tradition keeps them rooted in the past, but also keeps them moving forward," says Ryan.
OrangeAID offers a similar function--it honors the citrus heritage of the area, but also provides an important way to keep the arts alive and vital in Riverside. The project has already raised over $50,000 in sponsorships (which went for $500 per orange instead of the $5,000 required for each giant orange in 2006); these funds will support curated art shows at the museum, some of which had to be curtailed in the past year due to finances, and art education, a central mission of the museum. "This is the only place for ongoing elementary art education in the area when schools don't offer it," says Allavie. "Art suffers the most when the economy suffers. People think art comes from air."
Art may not come from air, but OrangeAID shows us it can come from oranges.
OrangeAID, November 1-November 9, Riverside Art Museum, 3425 Mission Inn Ave, Riverside, CA 92504, 951-684-7111. Admission free, except for $25 entrance to gala benefit November 9, 5:30-8:00pm. A limited number of oranges will be available by silent auction that night, and two oranges will be offered in an opportunity drawing. An Orange Pop-Up Shop featuring work from local artisans will also run the length of the exhibit.
Dig this story? Sign up for our newsletter to get unique arts & culture stories and videos from across Southern California in your inbox. Also, follow Artbound on Facebook and Twitter.