It's been three years since Robert Battle took the helm of the Alvin Ailey American Dance Theater (AAADT) and revealed his vision for the company. With a firm commitment to preserving the company's 56-year legacy, he's been busy creating a blueprint for the future that gives a leg up to emerging artists and a platform for acclaimed choreographers mounting exciting new works.
Battle's trajectory from a young boy in Miami, Fla., to artistic director of one of the country's most beloved dance companies has been influenced by AAADT throughout his training and professional career. At age 12, Battle attended a student performance by AAADT in Miami, an experience, which he says, "never left me." Later, while studying at Julliard in New York, he spent his summers taking classes at the Ailey School.
Then, while a dancer and choreographer with the Parsons Dance Company, he was asked by Sylvia Waters to create a work for AAADT's junior company. In 2003, a year after launching his own company-Battleworks Dance Company, Battle received an invitation from AAADT's then-artistic director Judith Jamison to mount a piece for the main company. "The relationship continued to grow to where I am now," Battle said. "It's been quite a journey!"
As AAADT prepares for its exclusive Southern California engagement March 27-30 at the Segerstrom Center in Costa Mesa, we caught up with Battle, only the third person to lead the company since it was founded in 1958, to discuss his tenure thus far and get a sense of the company's role in Southern California.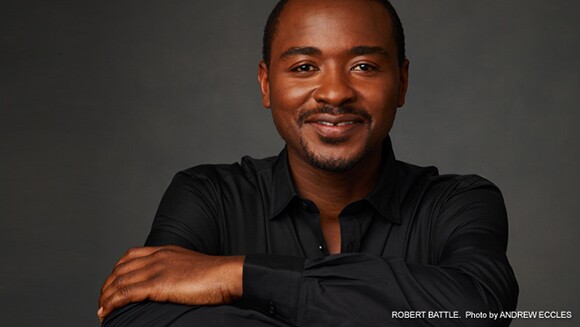 Why is it important for AAADT to perform in Southern California?
Robert Battle: When we come to Southern California, there is this sense of not just visiting, but returning. L.A. audiences have loved AAADT for so many years; they have this wonderful relationship to the company. It's always extra special when we come to perform.
Los Angeles, of course, is where Alvin Ailey was first exposed to dance in a huge way. He met Lester Horton, his mentor, there and all of those experiences really prepared him for what he would eventually bring to light with the AAADT. And that it's his final resting place has great significance.
Interesting. Given all that, would you ever consider establishing a west coast arm of the company or school?
RB: Perhaps. There definitely have been conversations--at least the beginnings of conversations -- about that.
I asked this same question of AAADT's Matthew Rushing. If you could choreograph a piece about Los Angeles, what would it look like? What would you try and capture?
RB: I'd probably create a work called Rush Hour. Traffic is pretty intense there. A place that takes 25 minutes to get to one minute, can take two hours the next. As a choreographer I would probably gravitate more toward the tension that creates. There's this dichotomy of total relaxation in a chill atmosphere with the great weather, but also the undercurrent of tension that can happen in the same time span. It's always that juxtaposition that I love as a choreographer.
(See how Matthew Rushing answered here.)
Did you have an opportunity to meet Alvin Ailey before he died?
RB: No, I came to NYC to study in 1990 and he died in 1989.
Do you ever wonder what you might have wanted to ask him had you the opportunity to meet?
RB: Absolutely! It's a simple question: What do you think so far?
I feel him all around me when I hear stories about him from Judith Jamison, Sylvia Waters and Masazumi Chaya (associate artistic director) --people who loved him and he loved them--people who were by his bedside when he took his last breath. They say: "He would have loved you."
When you took the helm as artistic director in 2011, you said you planned to keep the company "Now, alive and moving forward." Do you think you've accomplished that so far?
RB: I think so. I think there's a lot of excitement around the repertory I've brought to the company. Everything has been invigorated with a new energy, with a new infusion of excitement. I think that's what Judith Jamison had in mind when she chose me as artistic director. It's really palatable this year in particular with pieces like "Chroma" from British choreographer Wayne McGregor and "D-Man in the Waters" from Bill T. Jones. There's this whole idea of past, present and future.
One of the first things you did as Artistic Director was to start the New Directions Choreography Lab. Why was that important to you?
RB: Prior to my appointment as artistic director, I had my small company, Battleworks Dance Company. Choreographers have this unique problem in New York of having to fight for space to create; you're squeezing in three hours of space here and then moving over to downtown to get another half hour in another space there and then moving the furniture out of the way in your apartment for another period of time... And so when I joined AAADT, I suddenly had access to the 77,000 sq ft. Joan Weill Center for Dance with 12 studios and a theater. And in some ways the first thought I had was: How do I bring the outside in? How do I create opportunities for creativity?
When you become a choreographer you become more and more isolated. This notion of mentorship and having time to just create without a deadline for a commission or being product-driven is something that interests me. With the program, the two choreographers who are chosen (for fellowships) get seven weeks of creative work. They audition Ailey School students who will be a part of the process and work for five weeks straight. Then, so they have some distance from the process, they take a little time off and come back for two more weeks. We also provide a creative advisor who is an artist in the field, like Carmen de Lavallade, Lar Lubovitch, Gus Solomons jr, my composition teacher from Julliard, Elizabeth Keen. The advisors work alongside the choreographer and give feedback. It's a wonderful way of really preserving the creative process and finding new experiences around dance-making that seem richer and fuller.
Some of these works (out of the program) have gone to the 2nd company where (Troy Powell) often is looking for emerging artists that comes out of that experience.
You're premiering "Chroma," "D-Man in the Waters (Part I)" and "LIFT" on the west coast. Which is your favorite?
RB: Each is my favorite when I'm watching and experiencing it. They are so different. "Chroma" of course is spectacular not only for the dancing but also the set design by John Pawson and music by Jack White. It's new for the company to travel with a set this expansive. Often we open with this work partly because of the set. When the curtain opens and you see this structure, it's quite awesome.
To me it's also interesting to see the company to do a work created originally for the Royal Ballet, which gives you an indication of the vocabulary of the company -- it's a mixture of classical and modern: King's English and then slang. There's that dichotomy which really make it intense and the music is also very palpable.
And I also love "D-Man" for its humanity. It takes us from extreme movement into something to do with gesture; running, jumping, skipping and sliding. There's a moment when the dancers are running and then sliding on their stomachs. It has a childlike innocence to it, but it's about Bill Jones' response to the AIDS epidemic. He created it in 1989, which is the year we lost Alvin Ailey to the disease. 'D-Man' is what he would call one of his dancers Demian Acquavella who died of AIDS so it's a tribute to him and he inspired the dance. It really has to do with the tenacity of the human spirit. I really love having those two on the same program.
LIFT is a piece by Aszure Barton who has been creating amazing dances for many companies. I've known Aszure since she was 16 years old because I danced with her sister at Julliard and the Parsons Dance Company for many years. I watched her go from saying casually, 'I think want to choreograph,' to now having an amazing career as a choreographer. With LIFT, she came on a couple of our tour stops last year and watched the dancers in rehearsal on- and off-stage because she wanted to make this a really collaborative effort. Then she spent five weeks in our studio so she could pick up on the dancers' idiosyncrasies as a way to generate the movement as opposed to dictating it.
She really took her time to incorporate what she sensed about the dancers' DNA, and the dance reflects that process.
We're also dancing "The River" by Alvin Ailey, one of the works from his legendary collaboration with musical genius Duke Ellington. This is a dance Alvin Ailey created for American Ballet Theatre, and it really expresses his versatility as a choreographer to be able to flow through different mediums and styles of movement and remain true to himself. River has to do with the flow of life and all its tumbling rapids.
Alvin Ailey American Dance Theater's exclusive Southern California engagement at the Segerstrom Center in Costa Mesa runs March 27-30, 2014. For more info please visit here or call (714) 556-2787.
Full Engagement Details:
Alvin Ailey American Dance Theater Segerstrom Center for the Arts - Segerstrom Hall March 27 - 30, 2014
600 Town Center Drive, Costa Mesa, CA Segerstrom Center for the Arts
Program A
"Chroma," "D-Man in the Waters (Part I)," "Revelations"
Thursday, March 27 at 7:30 p.m. Friday, March 28 at 7:30 p.m. Saturday, March 29 at 7:30 p.m.
Program B
"The River," "LIFT," "Grace"
Saturday, March 29 at 2 p.m. Sunday, March 30 at 2 p.m.
Other AAADT activity:
Revelations Celebration
Arts Plaza Saturday, March 22 noon to 3 p.m.
Discover Ailey (mini-performance) Segerstrom Hall "D-Man in the Waters (Part I)," "Revelations"
Wednesday, March 26 at 7:30 p.m.
Dig this story? Sign up for our newsletter to get unique arts & culture stories and videos from across Southern California in your inbox. Also, follow Artbound on Facebook and Twitter.