Well-known San Diego artist and art critic Mark-Elliott Lugo had a day job as a librarian with the San Diego Public Library back in 1997. A handsome new branch in Pacific Beach was about to open and it featured an elegant design and some hospitable spaces for art. Lugo envisioned one room in particular as an exhibition space and approached a local artist with a national and international reputation about doing a show; Italo Scanga, who taught at UCSD and had a sprawling studio in Pacific Beach, agreed to do it.
The show was enthusiastically received by the library audience and critics alike. The library ended up purchasing three of his prints and two sculptures. Scanga was so pleased that he produced an original lithograph in celebration of the library with the highly respected Brighton Press and sales of the edition raised funds for what became a formal visual arts program. Lugo officially became the curator for the San Diego Public Library system in 2000 and by the time he retired in 2012 the library had amassed nearly 100 works by some of San Diego's most accomplished artists: Richard Allen Morris, Robin Bright, Vicki Walsh and the late Russell Baldwin among them.
Many of those gifts and acquisitions were an outgrowth of his excellent exhibition program. He focused on mid-to-late career artists and filled a vacuum created by the often-anemic support for San Diego artists by leading local museums. "All I wanted was to see good art in the library," Lugo told me in a 2005 interview. And his devotion to this ambition was unwavering.
In 2013, the city unveiled its years-in-the-making Central Library downtown, designed by Rob Quigley; it has a dedicated gallery space, permanent public art commissions and numerous works on view throughout. While Lugo had great support from two former directors of the San Diego Public Library, Anna Tatar and Deborah Barrow, it's safe to argue that the large presence of art in the spacious new library would not be nearly as large as it is without the tireless work he did in Pacific Beach and beyond. A good share of the collection Lugo amassed while a curator is on the walls of the Central Library, a subset of the larger Civic Art Collection. It provides many excellent moments. One of the wittiest is a work in glass with a bit of text by Russell Baldwin, "About Permanency." It is next to the elevator on one floor and reads: "Glass is a protective device/It covers Paintings and Drawings/Beyond This A Work of Art Exists/And if it is not broken/It should last indefinitely." You find yourself asking: Is the art located in the object or the idea it provokes? Baldwin suggests that you answer the question for yourself.
Kara West, the arts and culture exhibition manager for the San Diego Public Library, is clearly an admirer of Lugo. She has been trying to get him to curate a show in the new space, without success thus far. Lugo assembled most of the shows for the Taylor Library. West has taken a different approach, featuring longer running exhibitions with an emphasis on guest curators. She's been enlisting the work of two a year.
West, who earned a B.A. in art history from UC Santa Cruz and a MLIS from San Jose State University, oversaw the preservation outreach program throughout the Western United States for the Balboa Art Conservation Center before taking her current position in October 2013. Regarding the audience for art in libraries, she displays a usefully pragmatic expectation.
"When most people come to the library, they're not going to pay much attention to the art," West says. "But when they do we hope to surprise and delight them."
Surprise is a factor for those who ride the prominent main elevator in the Central Library. Its rear wall in glass provides a viewing window onto the visually extravagant and large scale "Corpus Callosum" by the Baja and San Diego based duo Einar and Jamex de la Torre. It consists of a stack of visually dense dioramas. And as in much of their work, virtuosic craft is devoted to grotesque and cartoonish figures in glass. They exist in dream-like scenes, in which historical references intersect with unadulterated kitsch.
You observe expressions of delight from those who come upon the commissioned work of Roy McMakin, an artist/designer who began his career in San Diego, became nationally known while living in Seattle and has returned to San Diego. Near the panoramic windows on the eighth floor is his "Recreations of Furniture Found Discarded in Alleys and on Curbs While Driving Around San Diego Several Bright Summer Afternoons with David." Take the artist at his word(s). This is humble furniture unified by its festive blue, one of his "recycling" projects featuring objects that wryly subvert conventional notions of what makes for good design.
A recent exhibition, "Rainmaker," is emblematic of her approach: thematically driven and featuring a variety of accomplished San Diego artists. Among the work that guest curator Susan Myrland has chosen: the wry conceptually driven and immaculately crafted work of Roman de Salvo; an elegant visually complex painting by Eva Struble; and an abstraction that doubles as formalized topography in the pigment, graphite and reflect powder painting of Adam Belt. Myrland's selections address the timely theme of water as resource, and do so in a droll way. It resurrects a moment in San Diego history, 1915, when the city was looking for a greater supply of water and turned to Charles Hatfield, a self-taught "pluviculturist." He claimed he could get the skies to produce it. Rain it did: 30 inches in four weeks. Serendipity or not, the event is called "Hatfield's Flood" to this day.
Myrland, who has curated elsewhere locally with good success, believed this theme would resonate at the library.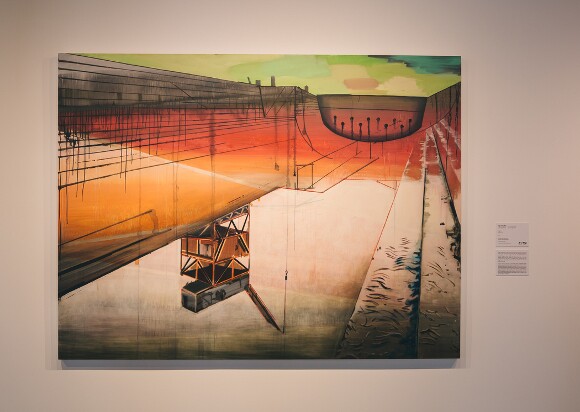 "I thought the story would get viewers interested, by blending history with contemporary art," she says. "I wanted to create a show that would appeal to anyone from a sixth grader on a tour to sophisticated followers of art."
And the exhibition is enriched in a way that a library can, with its resources: across the way from the gallery is the library's Special Collections room, where a visitor can find a substantial display of archival material on Hatfield and his travails with the local government. Legal aspects of his contract with the city prevented him from getting any payment for the heavy rains. The fact that his name and exploits endure is a bit poetic justice, but you have to think he felt a sense of injustice when he left town.
This commitment to an exhibition program that produces shows such as "Rainmaker," in the context of a library system with a strong presence of paintings, sculptures and public art, is an inspiring -- and ongoing -- story.
Exhibition "Rainmaker," curated by Susan Myrland, at the San Diego Central Library runs through November 29, 2015.
---
Dig this story? Sign up for our newsletter to get unique arts & culture stories and videos from across Southern California in your inbox. Also, follow Artbound on Facebook, Twitter, and Youtube.