In partnership with The Annenberg Space for Photography The Annenberg Space for Photography has partnered with Artbound to present five television specials that showcase the breadth of artistic works displayed in recent exhibitions at the Photography Space.
Artbound Presents Annenberg Space for Photography "Digital Darkroom" features the work of artists from the U.S., France, and the U.K. that explore the intersection of art and technology. The documentary presents altered realities using photography and digital or darkroom manipulation. Each artist is a master of different types of digital techniques: compositing highly layered imagery, working in 3D and lenticular imaging, meticulously stitching together images, using lighting in highly inventive ways, and many others.
"Digital Darkroom," based on the 2011 Annenberg Space for Photography group show of the same name, explores how technology impacts the works photographers create. How far can artists push the limits of their tools in the process of creating images? When it comes to photographers like Jerry Uelsmann, Brooke Shaden and others, it seems as though anything is possible.
This documentary features several artists who participated in the Annenberg show, as well as curator Russell Brown, Senior Creative Director at Adobe. In this half-hour collection of interviews, the artists and Brown discuss how digital technology has assisted photographers in crafting images. At the same time, the photographers discuss how their work goes beyond Photoshop and scanners. "It is the talent behind the tool that really makes it sing," says Brown.
---
Jerry Uelsmann
A photographer and former professor at University of Florida Gainesville, Jerry Uelsmann was inspired by surrealists, but refers to his art as also having "humanistic" elements. His work precedes the era of image manipulation by computer; Uelsmann created his fantastic images in the darkroom. Adobe Senior Creative Director Russell Brown calls his work "Photoshop before it was Photoshop."
Uelsmann has won numerous accolades for his work, including a Guggenheim Fellowship (1967) and a National Endowment for the Arts Fellowship (1972). In his work, a pair of lips could turn up in the middle of a road ("Untitled," 2000) and a strip of film could appear in the sky ("God's Home Movies," 1963). Uelsmann takes viewers into his darkroom, showing bits of the processes that result in these images.
---
Maggie Taylor
Describing her work as "fabricated photography," artist Maggie Taylor uses scanners and computers to incorporate found objects and vintage photos into her art. Taylor's pieces often start out with 19th century photographs that she will transform into surreal portraits. But, those old photos aren't all she scans. Taylor's love of detail has prompted her to scour flea markets for odds-and-ends that she can incorporate into her compositions. Once, she says in the documentary, she even scanned her goldfish so that she could capture the details of the gills.
---
Stanley Smith
Stanley Smith talks about how he will "build" his works. His multi-layered projects consist of many smaller photos that are pieced together to form a single, grand image that he says, "have nothing to do with reality." In the documentary, Smith discusses his work "L.A. Night." He says that the piece is "not a true depiction" of the city, but it is composed of "several hundred photographs stitched together very meticulously."
---
Joel Grimes
"A photograph is not reality," says Joel Grimes. Indeed, Grimes refers to himself as an "illusionist." The photographer has spent multiple decades working in the commercial arena and has created larger-than-life of athletes, actors, musicians and more. Grimes discusses the use of HDR technology to capture the backgrounds in his pieces. He also discusses how his color blindness has affected his process in a positive way.
---
Bonny Pierce Lhotka
"There's more to the world than what you see in a glance," says Bonny Pierce Lhotka. She describes an individual photograph as "just an ingredient" in her works, which combine both traditional and digital elements. Lhotka prints her final images on materials like plexiglass, plaster and wood panels. She describes the printer as "a brush," adding, "I can't paint with that machine."
---
Brooke Shaden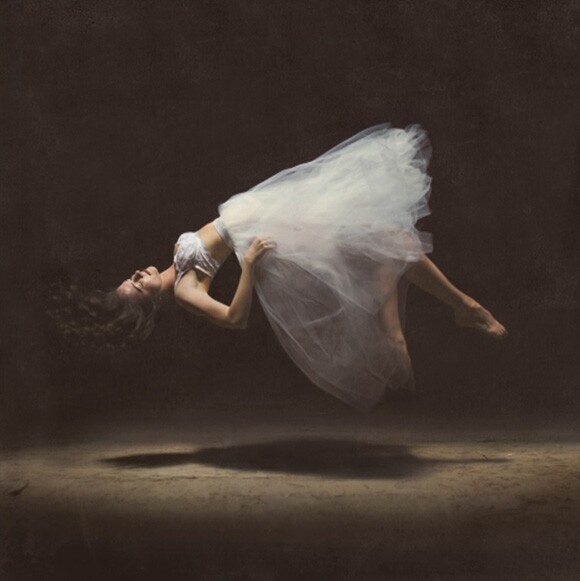 The stories in Brooke Shaden's works take place in imaginary worlds, but the start out with a real life location. Shaden takes us inside the process of finding a remote spot that will serve as the setting for her pieces. For Shaden, though, the location is just a small part of the photo. "I need to take it beyond what I can capture naturally," she says. Shaden uses models (often, herself) and props while she's shooting, but she adds digital elements after the fact to heighten the fiction of the world. "I want to create worlds that I can't live in," she says.
---
Martine Roch
Martine Roch's photography gives animals anthropomorphic lives. She takes photos of animals, like her own dog, and merges them with vintage photographs, which she then colors. In Roch's whimsical world, cats and dogs might appear as Victorian children at play, or ladies and gentlemen posed for a serious portrait. "I just want to make people feel happy," says Roch.
---
Pierre Beteille
Pierre Beteille's self-portraits are digitally manipulated for maximum comedic effect. "I wanted to modify my body and I wanted it to be funny," he says. Beteille has inserted multiple images of his head into a box of eggs. He has pumped up his biceps and built a series self-portraits inspired by famous books. "Very often, I look ridiculous," he says. For Beteille, the means by which he gets to the end result isn't crucial to his work. He says, "It's the final result that's important, not the process."
---
Jean-Francois Rauzier
French artist Jean-Francois Rauzier refers to his work as "hyperphoto." He'll take hundreds, sometimes thousands, of photos and then use them to create a massive image that comes to life on his computer screen. Rauzier works in extremely high resolution; his works can contain 120 million pixels. Photographs are taken from all angles so that he can deconstruct the components and reconstruct them into a completely new and highly detailed image.
Dig this story? Sign up for our newsletter to get unique arts & culture stories and videos from across Southern California in your inbox. Also, follow Artbound on Facebook, Twitter, and Youtube.